Driven: 2010 Chrysler 300C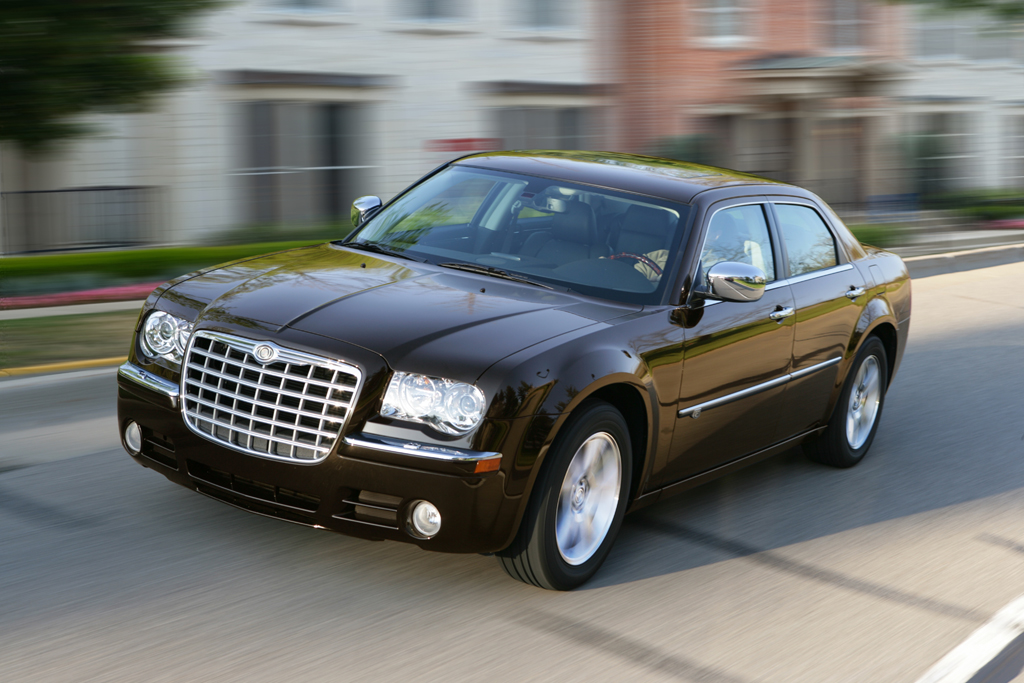 In theory Chrysler's 300C is an aging design that by now is in need of replacement, well… just because. Yet every time I climb behind the wheel of one I'm reminded of what a fundamentally good car this has been and still is. There's a lot to like, here, starting with the 300C's stout-hearted engine—the 5.7-liter, 360-horsepower Hemi V-8, which points out an ample 389 pound-feet of torque.
"Quantity," Josef Stalin is reported to have said, "has a quality all its own," and the mighty Hemi demonstrates the truth of the statement every time you tip into the 300C's throttle like you mean business. Say what you will about the merits of sweet, free-revving V-6s, but if your goal is to get a fairly large luxury/sports sedan to lunge forward with alacrity, there's nothing like having a big, stonking V-8 under the hood to get the job done. And these days, Chrysler's MDS (multi-displacement system) ensures there's little if any significant mileage penalty to pay for the privilege of having Hemi power on tap. During its weeklong stay with us, the 300C chalked up average mileage in the 23.7 – 23.8 mile per gallon range, which is pretty impressive when you consider that this big sedan could and did accelerate with a vengeance—not only off the line, but also in highway passing situations. There's just something about the sound of the Hemi when it clears its throat and spins the tach toward redline that is at once muscular and exuberant—with more than subtle touches of bad-boy charm.
Some might say the 300C shows its age in over-the-road manners that can seem a little crude and unsophisticated relative to those of more recently designed luxury/sports sedans. I suppose this is true, though I can't help but think it might be the price for having a "luxury" car that represents the successful marriage of a now two-generations-old E-class Benz platform and a full-on American muscle car. Yes, the steering could be more communicative and precise. Yes, the car would do well to go on a diet. Yes, it would be nice if the transmission offered six (or more?) forward gears, rather than five. Yes, a more modern design might offer greater chassis rigidity and a more light and lithe feeling through twisting back roads. But despite these criticisms (or wishes for the future) the fact remains that the present-day 300C is still a hoot to drive.
Springing and damping are relatively firm, and there is—Mopar engineers be praised—a really meaningful amount of roll stiffness, which means you can pitch the 300C into corners with gusto, confident that it will quickly take a set with only moderate body roll and then track along your intended lines more or less as if on rails.
The interior, in turn, is a model of uncluttered simplicity and solid functionality (unlike so many interiors we see that leave the impression that someone has set off a "gadget bomb" in the midst of a space age furniture factory). The 300C provides adequate room for five full-size adults, with good if not great space for their luggage in the trunk.
With help from Fiat, Chrysler will surely replace the 300C soon, but until that happens let's acknowledge that the old car was and is a practical and comfortable daily driver that is blessed with a heaping helping of good, old-fashioned fun.
2010 Chrysler 300C
Engine: V-8, 5.7 liters, 16v
Output: 360 hp/389 lb-ft
Weight: 4097
Fuel Economy, City/Hwy: 16/25 mpg
Base Price: $38,760
On Sale: Now