Driven: 2009 Volkswagen Jetta TDI Sedan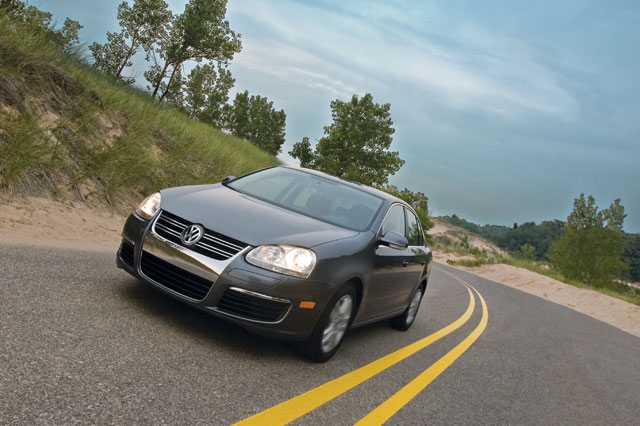 —Santa Monica, California
As recently as just a few years ago, Volkswagen sold a wide range of diesel vehicles in the States. In fact, the company has a long history of selling oil-burners in the U.S. that dates back to the 1970s. These models were slowly jettisoned throughout the years due to stricter emissions laws, and by 2007, the Touareg V-10 was the only diesel Volkswagen that Americans could buy. However, in light of today's higher fuel prices, the automaker is once again getting serious about broadening its turbo-diesel offerings in the States.

The new Jetta TDI sedan and SportWagen feature Volkswagen's first clean diesel approved for use in all fifty states. At 2.0 liters, this turbocharged engine produces 140 horsepower and 236 pound-feet of torque. That's an increase of 40 horses and 59 pound-feet over the old 1.9-liter TDI from a few years back. The engine is mated to a standard six-speed manual gearbox, though consumers can opt for a six-speed twin-clutch DSG setup instead. We tested both variants, and while the manual provides do-it-yourself fun, we can't find many faults with the DSG's quick gear transitions.
Volkswagen is serious about showing America that diesel power provides a great mix of performance and fuel economy. In fact, the cars in their newly-launched Jetta TDI Cup racing series are said to average around 25 miles per gallon during each race.
As is the case with most turbo-diesels, the Jetta does best when driven between 2000 and 3000 rpm in each gear in order to make best use of the available torque (the TDI redlines at 4500 rpm). There is a slight lag when pulling away from a stop, but once the turbocharger kicks in, acceleration is smooth and powerful. Everything in this car seems to work really well together, though we wish the steering feel were a bit more responsive during initial turn-in.
Our test route took us through the canyons of southern California and along legendary roadways like Mulholland Drive and the Pacific Coast Highway. We drove our DSG-equipped Jetta near its limit while still managing to yield an average fuel economy of 30.7 mpg. Other groups in our test drive were able to achieve ratings in the mid-40s with less aggressive driving. Volkswagen claims that the Jetta can earn real-world economy figures of 38 city and 44 highway—and we don't doubt them. Winding Road's Ann Arbor offices are taking delivery of a long-term TDI as you read this, and we'll let you know how our MPGs progress as we enthusiastically pile the miles on over the next year.
Prices for the Jetta TDI start at $21,990 for the sedan and $23,590 for the SportWagen. While that may be about $2200 higher than similarly-equipped gas-powered models, U.S. TDI buyers are eligible for a $1300 tax credit. For the 2009 model year, it is anticipated that 25 percent of all sedans and 30 percent of all SportWagens sold will be TDIs, and we wouldn't be surprised if actual sales surpass these expectations.