Driven: 2009 Subaru WRX SPT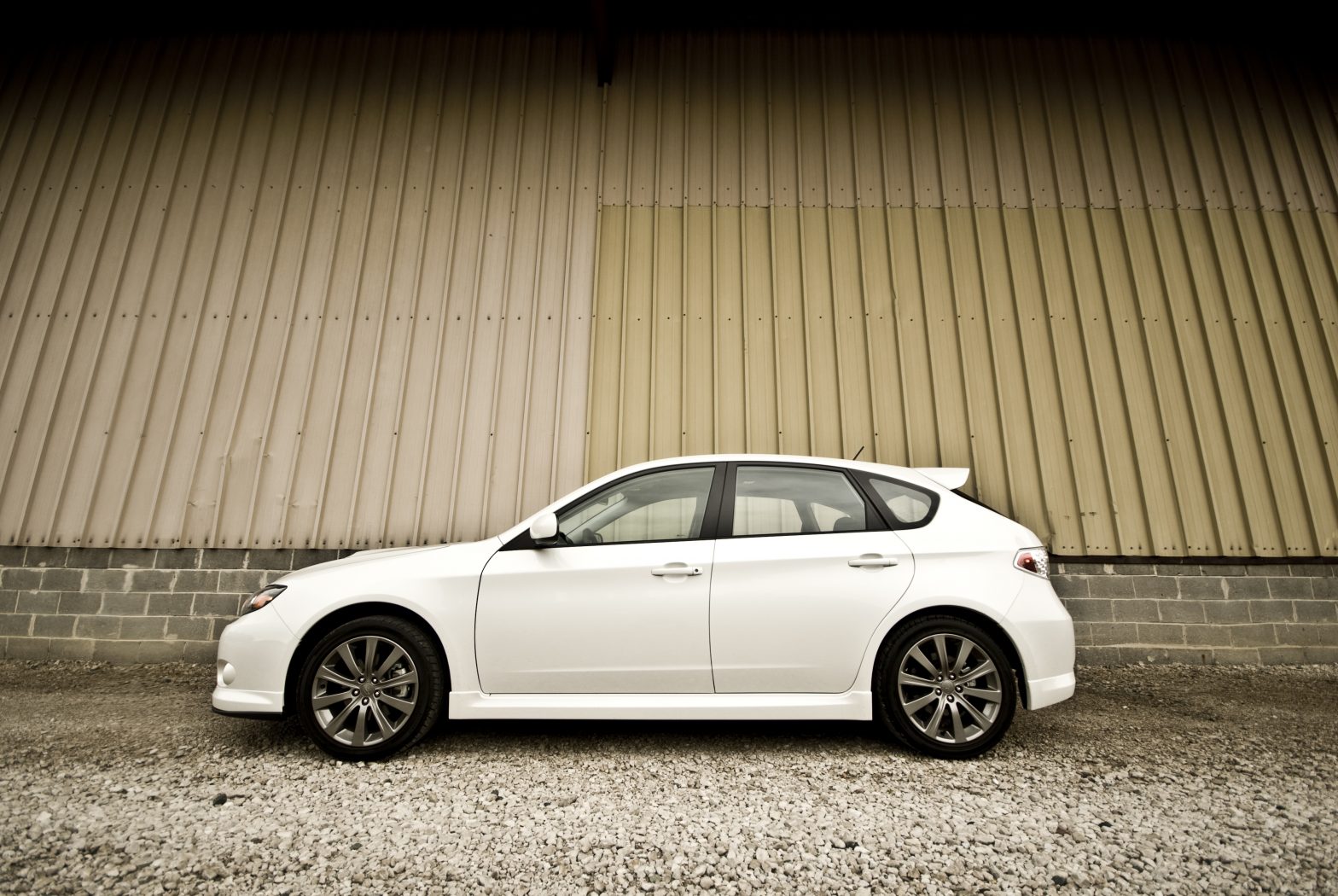 —Ypsilanti, Michigan
While this generation of WRX may have officially debuted as a 2008 model, it's the 2009 car that we've really spent most of our focus on. Subaru gave its WRX sedan and hatchback a big cosmetic refresh for 2008, but it wasn't until the following year that Subaru heavily updated this car. For 2009, the WRX received an all-new, 265-horsepower version of the Boxer four, as well as some upgraded suspension parts similar to those on the STI. And while we've discussed both our vast praise and minimal displeasure for this car many times since then, we eagerly accepted an offer by Subaru to test a WRX that had been outfitted with SPT (Subaru Performance Tuning) parts. We figured, hey, the hot little Subie is already a pretty good car to drive, so with a few simple modifications, this thing will be fantastic, right?
Even though the specific SPT tweaks didn't boost the engine's output numbers at all, it's the little things like differences in handling and overall driver feedback that really sell us on this car. Sure, there are little kitschy customizations like footwell illumination and a chrome sport grille, but that's not what we're talking about here. The important bits are things like an short-throw shift kit with STI shifter brushings, a front strut tower brace for added stiffness, a chassis brace to increase rigidity, SPT turbo heat shield to retain hot air within the turbocharger and keep it away from the intercooler, and finally, the SPT performance exhaust system which produces a sound we'd eagerly listen to each and every day. The rumble that comes from this WRX's rear end is really intoxicating—it's far from the fart-can blowholes of the riced-out Subaru crowd.
We've said before that because of how good the new WRX is, it really makes the top-rung STI somewhat of a tough sell. The middle child Impreza is substantially cheaper and most of its underpinnings are already based on STI parts. Yes, there's a noticeable power difference (the WRX is down by 40 horses and 46 pound-feet of torque), and the STI does have the adjustable differential settings, as well as better brakes, but does it really warrant the $10,000 price premium over the WRX? Hardly. All of the SPT modifications on our test car amounted to just over $2000, and though they don't do anything for the power-hungry, these simple adjustments go a long way to improve upon the already-good WRX and make the STI seem downright unnecessary by comparison.
As far as outright driving improvements go, we immediately noticed that with the chassis and strut tower braces in place, the amount of overall body roll and suspension vagueness was reduced quite a bit. This is one dynamic feature that has been a strong negative point to the WRX in its new generation—an area where the Mazdaspeed3 and Mitsubishi Lancer Ralliart easily trump the Subie without any doubt. The added strength of the front suspension reduces the instances of understeer during cornering, and when combined with the standard all-wheel drive, this improvement means that our test car was much more poised and confident while we wrung it out through some tight bends. The steering feel, however, still manages come off as somewhat numb. Have SPT tighten up the rack and put some more weight behind the wheel and we'll eat our hats.
Anyone browsing through the SPT catalog will be smart to order up the short-throw shift kit, and while you're at it, just get the STI shifter brushings (only an additional $24.50), as well. We've often felt that the standard WRX's five-speed manual box had long shift throws and somewhat of a soupy feeling, especially on shifts from first to second and second to third. The short shift kit allows for quicker change action and more solid gear engagement—a blessing for rev-matching on downshifts and steady overall acceleration.
As for the rest of the interior, it's standard WRX fare with supportive performance seats, so-so plastics, and quite possibly the world's largest tachometer right in the middle of the instrument cluster. SPT doesn't offer much in the way of interior upgrades, though we must admit that the red footwell illumination is a neat little touch.
The formula here is very simple: Take one Subaru WRX, tighten the suspension, stiffen the chassis, add a better exhaust, make the shifter more engaging, and have the whole package cost less than the starting MSRP of a brand new STI. The end result is a car that is really quite good to drive, will impress your tuner friends, and will save you a bit of coin. No, it's not as brash and bulgy as its big brother, but we like it that way, especially since we've heard a slue of degrading phrases thrown out to describe the new STI's exterior design.
What's more, because the SPT accessories are direct from the manufacturer, the standard three-year/36,000-mile warranty still covers these add-ons. So if, for some reason, the car randomly explodes, rest assured that your precious sport chrome grille will be accounted for.
All in, this is one of the most fun Subarus we've driven as of late. The eagerness of the 2.5-liter turbocharged four the stickiness of the Symmetrical all-wheel drive are not new characteristics, but the lack of body roll, the composure, and the precision that this car has over its ho-hum WRX brethren is a very welcomed change of pace. If there's a WRX in your future, be sure to ask for the SPT options list. It's a bit more money out of pocket, but the end result is worth every penny.