Driven: 2009 Mini E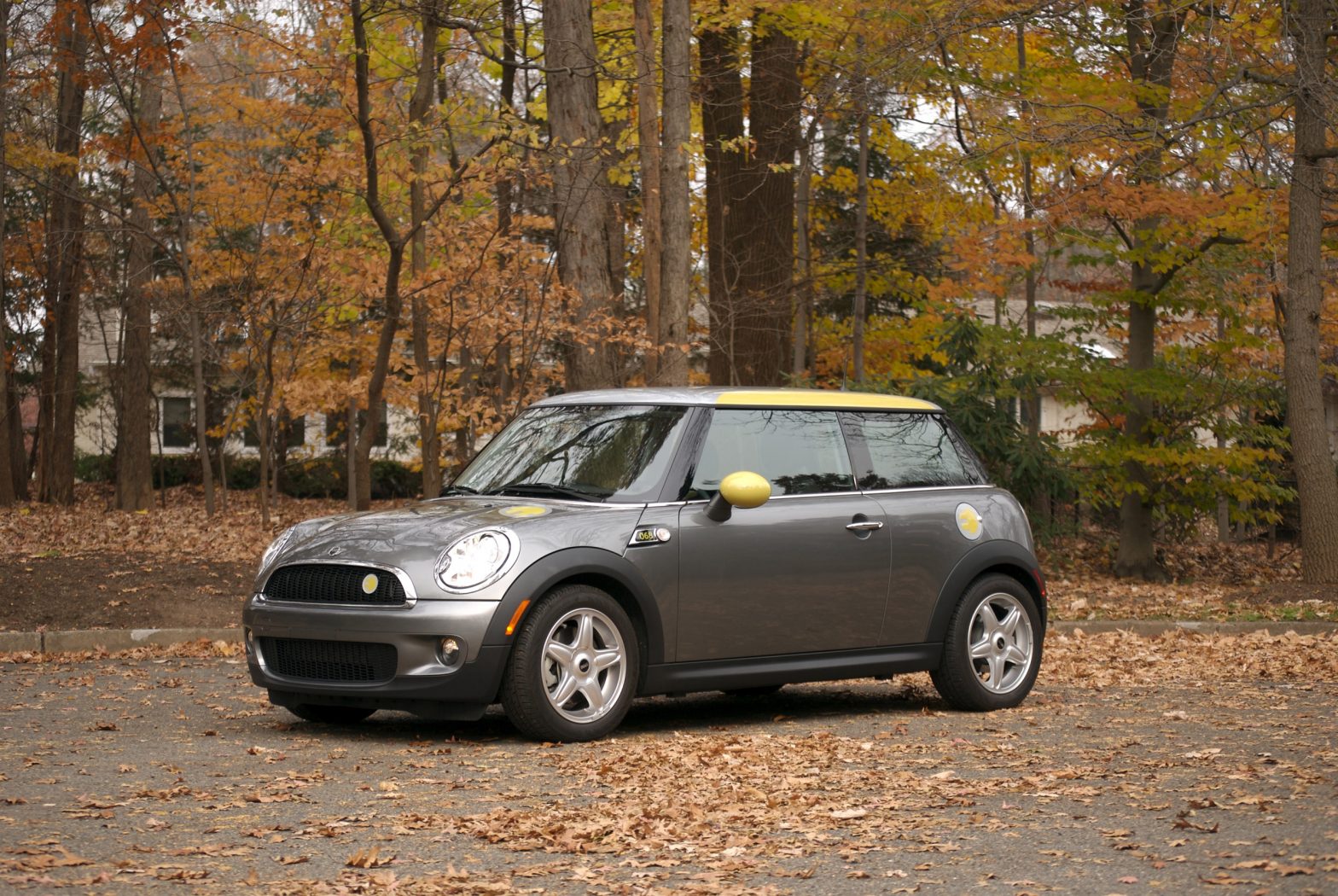 —Woodcliff Lake, New Jersey
Back in early November, we drove the all-new BMW 550i Gran Turismo around the hilly, tree-lined roads of northern New Jersey and southern New York. While we were out on the United States' eastern seaboard, the good people of BMW brought along a slew of other cars for us to test, including the all-electric Mini E. We've driven (and loved) the full range of gasoline and diesel-powered Minis, but would our affection stand true to the battery-powered E?
Aesthetically, there isn't much to differentiate the E from the rest of the Mini line, save some selective coloring both inside and out. The only major difference is the removal of the rear bench seat in favor of the housing for the 5088 individual battery cells. Because of this, the Mini E porks on quite a few extra pounds over a standard Cooper S—596, to be exact—and this extra heft was immediately noticeable on our drive loop around BMW's North American headquarters. (More on that in a minute.)
Operating the electric Mini is very simple. Get in, put the key in the ignition slot, and push the start button. There's no revving or rustling, just the flashing lights of the instrument panel saying that you're ready to go. Off the line, the E still feels very spirited—all 201 horsepower and 220 pound-feet of torque being put to good use here. Sprints from a stand-still to 60 miles per hour will happen in about 8.4 seconds, which is still relatively quick considering this is a car that doesn't consume any fuel. Keep pressing the accelerator and you'll be doing 95 mph flat out. Unlike the turbocharged Mini S and JCW, there's no immediate torque steer when you punch the go-pedal in a straight line, but accelerating out of a turn will cause the steering wheel to go all willy-nilly on you. Still, the crisp steering feel of the gas Minis is still in tact, and it's an enjoyable steer around town.
The weight, though, is the real problem. One of our favorite characteristics about the Cooper is how immensely tossable it is during quick turns and lane changes. The E isn't nearly as light on its toes, and it really feels like you're shoving a big mass around when you try to execute any sort of quick maneuver. It's something we could get used to, but it's definitely not as enjoyable as a Cooper S.
The weirdest quirk about the Mini E, though, comes in the way of braking. All battery-powered cars—whether they be the hybrids we're used to or fully charged examples like this Mini—use regenerative braking to charge the battery while driving. You won't find this to be too obtrusive in your Prius, but in the Mini E, it's a whole different world. Letting off of the accelerator generates up to 0.4 gs of brake force, which is actually higher than the standard 0.2-0.3 gs that most people use in everyday driving. During our test loop, we humored ourselves by not even using the brake pedal, except for when stationary at a stoplight. And while this fun little party trick is cool for coasting up to a stoplight, it's an abrupt experience when you only need to slow down by 10 mph.
BMW says that the Mini E has an estimated range of about 125 miles, but that will vary depending on how many of the accessories (HVAC, radio, etc.) you use. Still, it's a good example of what an all-electric car can be. It's not as exciting to pilot as a Tesla, but it's ten thousand times more involving than your run-of-the-mill Prius. The business case for mass-produced electric cars in America still has some kinks that need working out, but we'd gladly welcome an E into our parking lot any day of the week. It's a very interesting steer, this electric Mini; and while we'll still stick with a Cooper S for our everyday enjoyment, the Mini E is an interesting proposition for city-dwelling enthusiasts.