Driven: 2009 Ford Flex Limited AWD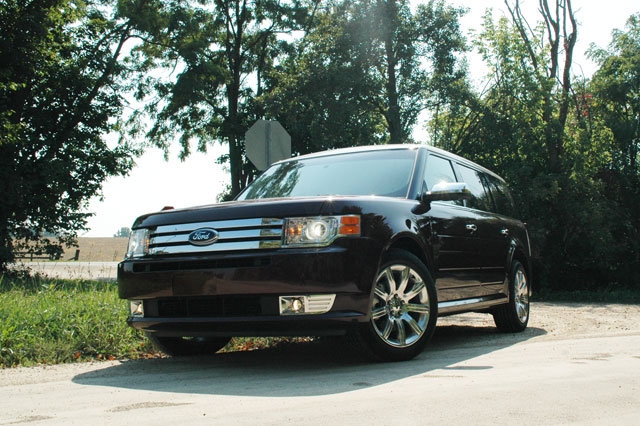 The new Ford Flex arrives into our market at a time when consumers are downsizing from their large SUVs but still need room for the spouse, kids, dogs, etc. The retro-wagon styling of the Flex may steer some customers away, but we rather liked the styling of our Limited AWD test car. Inside, plush materials and high-tech gadgets make this family-hauler a real win. Overall, the Flex proved to be a big step forward for the Ford Motor Company and we hope their future products go in this direction, as well.
David E. Davis, Jr.
Editor Emeritus
An awfully nice car. Our test car is pricey, at $43,000 and change, but clearly a family hauler to be reckoned with. The Ford Motor Company ruled the roost in station wagons for many years, and this very impressive station wagon puts them back on track. Its appearance is controversial. Everybody snaps to attention when it goes by, but some onlookers are not self-conscious about telling you how ugly it is. We disagreed, at least as far as our test example was concerned. The maroon-and-white paint scheme with stainless steel trim looked like quality to us, and the interior was better the one in your wealthy girl friend's house. The engine is smooth, the engine note is very un-Ford, and the automatic transmission's shifts are smooth as glass. I'd love to drive our test car to Alaska and back.
Chris Paukert
Editor-In-Chief
Although we've already had Ford's Flex in our fleet, this is the first time I was really able to get a good amount of time behind the wheel. By-and-large, I continue to be impressed. The looks have grown on me (full disclosure: I often gravitate toward vehicles with polarizing styling), and the drive is vice-free. It's a big vehicle that doesn't feel ponderous in the way that many of its three-row crossover contemporaries can, with good brake feel and reasonable steering response. The interior is loaded with clever options, fit-and-finish is above average, the navigation and stereo setup is first-rate, and the Flex delivers a hushed ride both audibly and physically.

There's enough poke from the 3.5-liter to get around just fine on southeastern Michigan's flat roads, although it's hardly what one would consider "quick." Still, if you're only hauling around groceries and don't regularly fill up every seat, performance should be fine. One caveat: Those who tend to load down their vehicles with trailers and heavy cargo would do well to hold out for next year's planned twin-turbo direct-injection V-6, especially if you live at high altitude or have lots of steep grades in your daily commute.

I really hope we manage to get in a base Flex soon. The couple of testers we have had have been $40k+ loaded-to-the-sills models, and I'm keen to see if I still find it as compelling when all of the frosting is stripped off. Ford has gone on record saying that they want to shift 100,000 of these things a year, a move which strikes me as exceedingly ambitious, even in light of how good it is. The base $28k Flex SE is likely to account for big chunk of sales, so if anything, it will have to be better still.
Reilly Brennan
General Manager
The Flex is a motoring machine for family and friends, encased in a hard/soft shape that mimics a four-wheeled tank that was drawn with the fat side of a magic marker. Careful to portray itself as both protective and welcoming, the Flex design is clearly the work of designers who had a tack board covered with pictures of their moms, aunts, and kindergarten teachers.

One of the interesting things about recently produced big family vehicles—crossovers and this Flex alike—is the state of the art when it comes to brake feel. Long the playground of go-fast sports cars, we're now firmly in the middle of the Great Brake age, where there's really no excuse for the sort of dead, mushy pedal feel that plagued family sedans for decades. Such is the case here—proper, firm and fast brake action that seems to cast a dim view toward the Flex's near 4500-lb. curb weight. It's a nice, safe part of the story for the Flex.

And that's what we're going for here—a family hovercraft. The white roof keeps passengers cool, the liquid carpet ride dynamics over road imperfections, and seating for seven. The entire package is reminiscent of a gold-toned time and place. If there were a rear-facing final row, we'd swear we were in a Reagan-era motoring machine. Yards of second-row legroom, ample headroom and big doors that swing open so you can climb inside with your third grade soccer teammates and orange slices. We're inside and we're safe.

If you need the Mustang to believe that Ford still remembers where it came from, look to the Flex for insight into where the company could go. There aren't many genre-busting products like this in the company's lineup, but if reception to the Flex is positive, it might awaken a Dearborn renaissance.
Seyth Miersma
Senior Editor
All the things that I expected from Ford's Flex, cleverly roomy packaging, an attention-grabbing design, and better than average fuel economy, were found in spades when I was handed the keys, but a there were a few surprises as well.

On the positive side of the equation, the Flex is remarkably fun to drive, delivering above-acceptable acceleration for a seven-seater, and driving feel much closer to that of a tall station wagon than a smallish SUV. Ford's hip MPV may still not be as dynamically sorted as vehicles like the Honda Odyssey but it's far from the bowl of mush steer that too many minivans offer their owners.

Ford seems to be aiming at a sort of modern luxury feel with the Flex's interior, not totally my cup of tea, though I get it enough to understand why many may fall for it. I did take small issue with the unique leather bucket seats in the vehicle, where the fit of the leather over the chairs put me in the mind of an especially loose-skinned Shar-Pei. Just weird.
Steven J. Ewing
Production and Test Fleet Manager
I was somewhat sad that I didn't get to spend a lot of time with the Flex, but I was still rather impressed with the overall quality and packaging. It was really interesting to hear this crossover referred to as a "poor-man's Mercedes R-Class." When's the last time that anyone noted that a Ford and a Mercedes were at all similar? This shows a huge improvement for Ford and I hope their future products follow this trend.

The interior is immensely comfortable and the vast array of technological features make this vehicle seem much more high-tech than one would think. My money is on a mid-grade SEL model being the top seller, but our Limited AWD test example was a really lovely vehicle all-around.
Nate Luzod
Art Director
The Flex rules. I love the idea of a full-sized truck built specifically for urban living and with no pretense of off road capabilities. It's certainly not the first, but so far I think it's the best.

The exterior is unique, stylishly executed, and earned tons of tracking stares and finger pointing over the weekend. The retro cues aren't over-the-top and they introduce enough innovation to make it more meaningful than just a rip-off of an old woody.

Inside was more of the same: retro inspiration meets modern comfort and bleeding-edge technology. The new nav-screen/media interface is hands-down one of the better ones on the market, and absolutely the best you can get without throwing down Benz-money. It's easy to understand and operate, beautifully presented, and seemingly omniscient. The radio even tells us when a favorite band is playing on a different channel.

The seats were comfortable and spacious. Everything anyone might need is immediately within reach, including very accommodating HVAC controls. The third row looks inaccessible at a glance but with the press of a button and a nudge the second row seats folds forward to provide impossibly easy entrance. Trunk space with the third row intact leaves something to be desired, and even with the rearmost seats folded forward you have a somewhat odd configuration to work with – but this is overshadowed by everything else the car has to offer.

Steering is responsive and the vehicle's lower center of gravity makes handling at speed very solid for something this size. That said, the 262-horsepower V-6 isn't going to deliver many kicks, and the car seems underpowered with more than two passengers. Perhaps a V-8 would do the trick, but at the cost of precious MPGs it might not be a popular option. With its progressive styling and name, something like a hybrid or alternative fuel option would seem like a much more sensible path.
2009 FORD FLEX LIMITED AWD
Engine: V-6, 3.5 liters, 24v
Output: 262 hp/248 lb-ft
Transmission: Six-speed automatic
Weight: 4640 lb
Cargo Capacity: 83.2 cu ft
Fuel Economy, city/hwy: 16/22 mpg
Price as Tested: $43,875