Driven: 2008 Maserati Quattroporte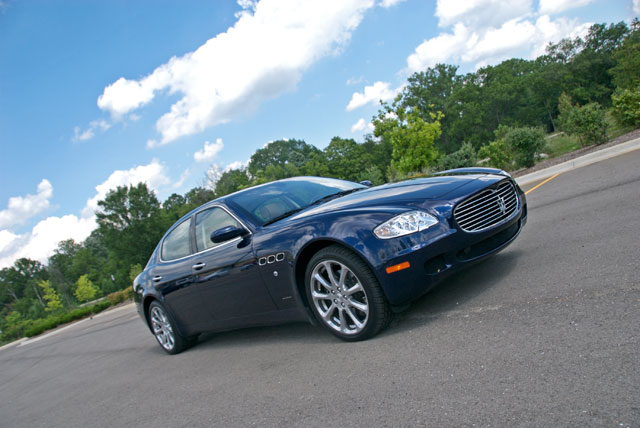 We at Winding Road and NextAutos frequently get the chance to sample luxury offerings from Audi, BMW, Mercedes-Benz, et cetera. And while all of those German manufacturers make wonderful vehicles, it's a rare occasion that some Italian blood works its way into our test fleet. Our Maserati Quattroporte test car proved to be a sporty, elegant cruiser, and can turn heads in a way that none of the German automakers can.
Chris Paukert
Editor-In-Chief
Admittedly, I wasn't in the Quattroporte for any great stretch of time (I instead chose to abscond with the GranTurismo on an out-of-state run), but I absolutely enjoyed my limited time behind the wheel. My fellow WR staffers are going to gripe about some dated switchgear and a recalcitrant nav system, telling you how they limited their enjoyment of this car, and they're not wrong—these fitments aren't cutting edge. But most great Italians—Maseratis included—aren't about button feel and direction finding. They're about voluptuous curves, amazing noises, rapid progress, and the glory of getting lost… or at least making the scene. This, the QP delivers in spades.

Contort your way into a Lamborghini or bed down with a Ferrari, and almost invariably, you find much the same thing—partsbin buttonry and questionable tech sharing is the cost one pays for focusing one's resources on other more important things: the drivetrain, the leather, and so on. I'm not suggesting that the QP should get a total pass on these things (and indeed, Maserati has already shown that an update is in the works for 2009), but to expect an exclusive, small-volume manufacturer to nail cost-intensive items like these and still come in around the same price point as manufacturers who deal in exponentially higher volumes strikes me as hoping for too much. Example: By far the worst nav systems I've encountered in the past couple of years have also been in some of the most expensive and entertaining vehicles I've had the pleasure of driving—the Bentley Brooklands and the Lamborghini Murciélago LP640 Roadster. Chalk these things up as charming foibles and get over it, because both drives are singularly wonderful.

And so it is with the QP. This is an elegant and special automobile, with a well-judged suspension, gorgeous leather, and a six-speed ZF gearbox that allows for agreeable progress whether on the interstate or hammering down a twisty two-lane. While there weren't paddle-shifters on our tester, those seeking a more enthusiast-oriented drive are advised to splurge on the 2008 Sport GT S model, or hold out for the upcoming 2009 S. Models like the Mercedes-Benz S-Class and upper-end BMW 7-Series models may ultimately be more polished, but they're also less characterful. I know which one I'd take.
Nate Luzod
Art Director
This was my first time behind the wheel of any Maserati, and I must say—it's absolutely not bad. Not quite transcendent as I had expected, but far surpassing better than average. The issue: I was anticipating a luxury hotel room packed neatly into a rocket ship, but only the former was delivered. The Quattroporte's interior is unbelievably comfortable and impeccably styled; and aside from the so-bad-its-good/Atari-graphics navigation screen, I'm hard pressed to think of a more refined interior at the same price point. Insides aside, the only real evidence of the 400-horsepower V-8 is the menacing exhaust note billowing from behind. While handling and suspension were all tight enough for my particular taste, acceleration left something to be desired. I guess that's why there's the new "S" version.

The Quattroporte would be an absolute treat on any kind of road trip, but if we're talking performance—I think there are better ways to spend $120,000.
Seyth Miersma
News Writer
I've always admired Maserati's Quattroporte from afar, finding it to be one of the most compellingly designed luxury sedans I've ever seen. Getting my first shot at seat time in the car didn't change my admiration for its svelte form at all, but it did shine the harsh light of reality on my overall impression of the car.

The Quattroporte has a fairly luxurious interior—quite attractively designed—but it doesn't feel nearly special enough for this price point. The HVAC controls, navigation interface, and switchgear in general all feel as though they're a few generations past their prime. The interior in general lacks the sort of wow factor one might expect from an Italian exotic car builder, and frankly isn't as nice as some Mercedes-Benz products that cost $30 or $40K less. That being said, no Mercedes, BMW, or Audi sedan can turn heads like the QP. This is a car that passersby flock to.

There is a life to the big Maser, an energy to its driving experience that is both thrilling and difficult to explain. The more I drove the car, the more I felt compelled to rev the sweet-sounding V-8, and really felt in sync with what the car was doing beneath me. The Quattroporte is a really big sedan, but the lively chassis and quick steering response give it an overall sensation of athleticism, if not outright nimbleness.
Steven J. Ewing
Production Assistant
I didn't think much of the Maserati Quattroporte during the first few minutes of my initial drive, but a half-hour later while cruising down the highway, it hit me—the feeling that the QP gives the driver is unlike any Audi, BMW, or Benz that I've driven as of late. There's this general sense of fine Italian workmanship that makes you feel like you're driving something much more exotic.

The V-8 isn't extremely powerful, but it still has plenty of oomph to make the QP feel like more of a sports sedan than a luxury cruiser. I wish our test car would have had paddle shifters, but alas, no such luck. Still, the low seating position and elegant steering wheel made for a wonderful experience while sitting in the driver's seat. As a whole, the interior is quite comfortable, but nothing over-the-top. The HVAC controls and radio/navigation screen seem a little outdated, and hopefully the 2009 model uses a more tech-friendly setup. It's amazing to me that a $120,000 vehicle wouldn't have a state of the art graphics package loaded into the display screen. That aside, the seating arrangements for all passengers proved to be very spacious and relaxing. I had a lot of praise from rear-seat passengers, too, saying that the ingress and egress was easier and more pleasant than in other luxury sedans. Two full-size adults had no problem piling into the rear seats.

The fact that this car is so beautiful and wears a Maserati badge made it a real head-turner during the time I drove it. If I were spending the money, I might save a little money and get myself a BMW or an Audi, but nonetheless, this Maserati is an Italian work of art and there's nothing else quite like it on the road.
Chris Champion
Pit Crew
The Maserati Quattroporte was my very first encounter with an Italian car, which made me eagerly anticipate how it would compare to the German "super-saloons" I have driven in the past. Compared to the sterile, precision utensil-like aura of our German test cars, the Quattroporte presents a far more emotional voice. With smooth curving sheet metal—taut in all the right places, supple interior furnishings drenched in leather, fine wood, and alcantara. The Ferrari-sourced V-8 is a distinct pleasure to behold. The QP appeals to four-out-of-five senses unlike most mass produced vehicle could hope to.

Unfortunately, not everything about our sexy Italian on-loan was champagne and caviar. Some of the switchgear is no more opulent than what you might find in a modern Hyundai. The HVAC and nav systems, more than adequate in function, look a generation or two behind in presentation.

Regarding performance, you'll reach sixty miles per hour from a standstill in just 5.5 seconds and enjoy an intoxicating exhaust note while doing so, but a Mercedes-Benz S63 AMG will do it a full second quicker for similar money. Thankfully, the upcoming 2009 Quattroporte will receive some tweaks to the exterior styling and a bump in displacement, up from 4.2 liters to 4.7 for Quattroporte S models, adding 25 horsepower. Maserati will also be replacing the archaic nav unit with a modernized application from Bose. I'm sure that the 2009 QP will likely abolish the few nitpicks I had with this $100,000-plus "Ferrari four-door."
2008 MASERATI QUATTROPORTE
Engine: V-8, 4.2 liters, 32v
Output: 400 hp/339 lb-ft
Transmission: Six-speed automatic
0-60 MPH: 5.5 seconds
Top Speed: 165 mph
Weight: 4387 lb
Price as Tested: $120,000 (est.)