Driven: 2008 BMW 123d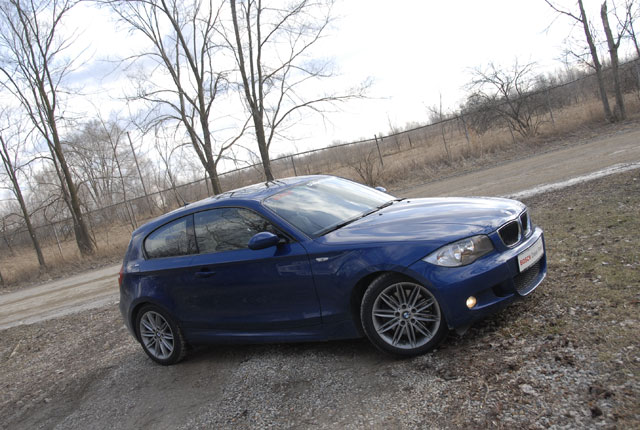 America would really like this car. The BMW 1-Series is a fantastic little creature, and we like it so much that it earned the honor of being one of our favorite cars in 2008. Furthermore, the American automotive marketplace is in dire need of more fuel-efficient vehicles, and we're slowly starting to see clean diesel cars trickle into our pond from BMW, Mercedes-Benz, and Volkswagen. Looking past the oil-burning powerplant, the 1-Series hatchback configuration is incredibly more useful than the lonely coupe and convertible options that we have currently. Americans are finally starting to warm up to the idea of hatchbacks and small wagons—it's now a well-known fact that SUVs are not the only useful tool for $200 grocery loads. What's more, we think America would find much more to like about a small, useful five-door than the seemingly unnecessary BMW X6 or even the upcoming 5-Series GT, which don't provide much in the way of space or utility, and carry ultra-premium price points.
That being said, how could we possibly not fall in love with a diesel-powered, three-door 1-Series? It's astonishingly fun to drive, surprisingly fuel-efficient, and actually has usable cargo space. Oh, and it's quite adorable, too—especially in bright blue.

BMW just launched their new 335d and X5 xDrive35d, both of which are powered by diesel straight-sixes. And while their fuel economy is decently impressive, hitting around the 30 miles per gallon mark, the engine found in our three-door 123d was a real honey and warrants some close attention. Power comes from a 2.0-liter twin-turbo-diesel four good for 201 horsepower and 295 pound-feet of torque. To put it in perspective, that's roughly equal horsepower to a Volkswagen GTI, but with about 90 more torques that come on in full swing between 2000 and 2250 rpm. As far as dimensions go, the 123d is roughly the same size as a GTI both inside and out. The portly little Bimmer weighs in at 3274 pounds, which puts it in the same weight class as the Volkswagen.
The four-cylinder diesel engine's driving characteristics are quite different from what Americans are used to in both the 128i and 135i which use six-cylinder powerplants. On a particularly engaging twisty road, we found ourselves using fourth gear for the most part, allowing us to keep the engine's revs planted around the 2200 rpm sweet spot, even moving into fifth gear while exiting turns. There's no need to rev the engine past 3000 rpm, as the power band really starts to cut off the closer you get to the 4500 rpm redline. The maximum 201 horsepower may be fully delivered at 4400 rpm, but we preferred to leave the gear lever in place during passing situations, since the torque thrust is just so rewarding. BMW says that the 123d will scoot from a standstill to 60 miles per hour in just 6.9 seconds—a number we were nearly able to achieve without even coming close to the redline in each gear.
Our test car was optioned out in M Sport trim, which is standard fare on the North American 135i and will soon be an available option for 128i cars. The combination of a slightly stiffer suspension and attractive seventeen-inch wheels was greatly welcomed, and the 123d always felt poised and planted while being tossed around. The little BMW has very direct and on-point steering which was only aided by the fact that the M Sport steering wheel is one of the best-feeling, nicest-diameter helms we've worked with in quite some time. We can't wait for American consumers to be able to experience this on their own 128is, especially since steering feel is one of the most valuable sense points found in any automobile. The diesel power is really only half the story with this 1-Series—the fact that it is so nimble and so eager to be tossed about makes it a very attractive choice for spirited driving. Having nearly 300 pound-feet of torque ready at just 2000 rpm is simply the icing on the cake.
M Sport hotness aside, the interior of our 123d was a fresh change of pace compared to the overly-loaded BMWs that line American dealer lots. It was really a treat to have supportive cloth seats, turn-dial HVAC controls, no iDrive, and not a single cup holder anywhere in the car. (Okay, maybe that last one got on our nerves once or twice.) If BMW could bring over interiors like these in the 1-Series and offer it at a lower price point, it would indeed be quite a treat.
When the folks at Bosch handed over the keys to the 123d, we were told that our combined fuel economy would be somewhere in the area of 45 mpg. And while our recorded average (39 mpg) may not be as high as the numbers printed on the spec sheet, we must admit that we weren't exactly driving for the sake of fuel efficiency. Even so, we can't find much fault with being able to get 39 mpg while still being able to drive in a way that left smiles plastered on our faces.
As BMW moves forward with their small car and diesel plans for America, we would really like to be earmarked for a four-cylinder 1-Series hatch, potentially with the model's upcoming refresh predicted to happen around 2011. Who knows, maybe America won't be so salty about diesel power, and maybe hatchbacks won't just be for trendy college kids who use MacBooks anymore. If the 123d taught us anything, it's that there's a lot to like about this sort of product packaging. After hearing all the buzz that surrounded the Volkswagen Jetta TDI in this past year, it would be a shame for the folks in Munich to miss out on an opportunity like this. America is finally ready for small diesel cars, and we can't think of a better way for BMW to feed our demand than in the 1-Series.
2008 BMW 123d M SPORT
Engine: Twin-turbo-diesel inline-4, 2.0 liters, 16v
Output: 201 hp/295 lb-ft
Transmission: Six-speed manual
0-62 MPH: 6.9 seconds (est.)
Top Speed: 148 mph
Weight: 3274 lb