Driven: 2007 Bosch BMW 535d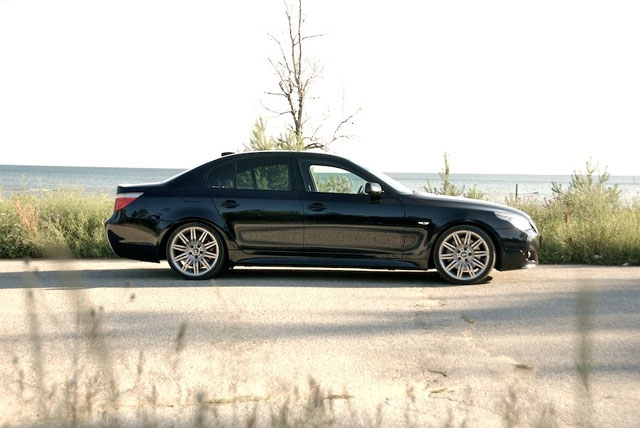 While it may be a year old, the diesel BMW 5-series was never sold in America, but it's still something we wish we could have the option to shop for in this market. Our friends at Bosch imported a Euro-spec 535d for us to test, featuring a 3.0-liter diesel inline-six capable of producing 286 horsepower and a whopping 428 pound-feet of torque. Our test car also adorned BMW's M Sport appearance package, available on the European 5-series. This, combined with tinted rear windows and a badge-less rear end made this 5-series our stealth bomber of choice for cruising.
Chris Paukert
Editor-In-Chief
I need more time with this car. America needs more time with this car. The 3.0-liter diesel we borrowed from Bosch manages to preserve all of the wonderful things we love about the BMW 5-series, while goosing it with a positively silly amount of torque—428 pound feet of the stuff.

Oh, there's a momentary clatter upon startup and a minor bout of low-idle "wet dog shake" when the car is first fired up on cooler mornings, but that soon gives way to mountains of power in a very refined package. The six-speed automatic's shift logic gamely goes about its business swapping cogs, but with all of that twist available, it could probably hang a "Back in 15 minutes" sign on its door and the average consumer would never notice it was on break.

The fact that this one looks super sinister in jet black with the M Sport kit that lends it such a great stance makes it all the more savory, and with my observed fuel economy of 34 miles-per-gallon on a spirited drive, you don't have to singlehandedly support OPEC to slake your "Darth Vader, Family Man" joneses.

Listen—I know we enthusiasts are quick to get vocally embittered and indignant about not receiving the same flow of diesels that our European friends receive, but the truth is, we don't want all of them. There are some really great units out there, a sea of middling ones, and a few genuine lumps. This one is a honey, and a quick spin in this 5-series would go a long way toward converting the diesel doubters.
Nate Luzod
Art Director
It's a blessing upon our office anytime a car rolls in with 'BOSCH' stickers adorning its windshield. That blessing is compounded whenever we have a reasonable excuse to drive that car to the end of the Earth and back. In my particular case, the car was a lovely BMW 535d and the end of the Earth was the distant shore of Lake Superior along Michigan's Upper Peninsula.

We've made the 800-mile trip before, but never in such record time and fashionable comfort, and never in such a (unexpectedly) fuel-friendly car. The 535d averaged around 35 miles per gallon, which is a delight when launching 4000 pounds up I-75 at 80 miles per hour. The diesel is an absolute beast on the highway, with torque boosted up to 428 pound-feet from the gas version's 236. In our Editor-in-Chief's words, "It hauls like a freight train." Ride and handling were as great as ever, and cruising along at ticketable speeds was entirely too easy. Fortunately, state troopers are sparse when you get that far north.

Inside the 5-series, plush leather seats and an utterly capacious cabin kept us comfortable (in my better half's case, comfortably asleep), and the cavernous trunk held a ton of luggage and camera equipment with room to spare. The smart cruise control in the 5 worked out wonderfully well for (very) long stretches of highway and, I don't care what the critics say, iDrive and the BMW nav system presented no problem whatsoever.

Europeans have long-since accepted diesel as an economical way to drive anything-but-economical cars like the 5-series. Spending hours behind the wheel of such a great car, barreling down remote highways in what is arguably one of the most beautiful parts of the Midwest, I had plenty of time to reflect on how far behind the times we really are.
Seyth Miersma
News Writer
Though my time in our European spec BMW 535d was relatively short, I couldn't help but be impressed with yet another tasty diesel offering from the Old World. The diesel Five really only showed its oil-burning nature on startup and at low speeds, where a quiet—but noticeable—rattle could be heard from the direction of the engine bay. When the car was moved at even a moderate pace though it could be as smooth as could be hoped for in any 5-series.

I was pleasantly taken aback by the BMW variable ratio steering rack as well, which changed from being ultra fast in the parking lot (causing the car to be an absolute cinch to slot into a space), to having normal Bimmer feel on the road. The transition was seamless.

Consider my hand raised in favor of bringing this 5-series to the U.S., and soon.
Steven J. Ewing
Production Assistant
I've driven just about every iteration of the BMW 5-series, and (M5 aside) this is indeed my favorite. The 428 pound-feet of torque that this car produces is absolutely stunning, but never overwhelming. When you really put the power on, there is a smooth rush from the rear wheels that gives the sensation of someone pushing you from behind. This kind of power boost feels right at home in the 5-series—it's not high-revving horsepower, it's low, smooth, and elegant torque.

The thing I love the most about this car is the appearance. The Europeans can outfit the M Sport kit on just about every version of the 5-series, and I wish we could do the same in America outside of the eight-cylinder 550i and rocket ship M5. Matched with tinted rear windows, our 535d test car looked downright intimidating when put in any parking lot, and the badgeless rear end gave a feeling of mystery when walking up to the back of the car.

On one occasion, a pedestrian walked up to me as I was getting into the 535d and asked, "What kind of car is that? Can I buy one? Is it fast? Do you love it?" Unhappily, I responded with, "It's the greatest BMW 5-series that you'll never be able to obtain in this country." Here's hoping.
2007 BMW 535d SE M Sport
Engine: Diesel inline-6, 3.0 liters, 24v
Output: 286 hp/428 lb-ft
Transmission: Six-speed automatic
0-62 MPH: 6.4 sec
Top Speed: 155 mph (electronically limited)
Weight: 3825 lb
Fuel Economy, city/hwy: 26/43 mpg (est.)