Buyer's Guide: Tire Pressure Gauges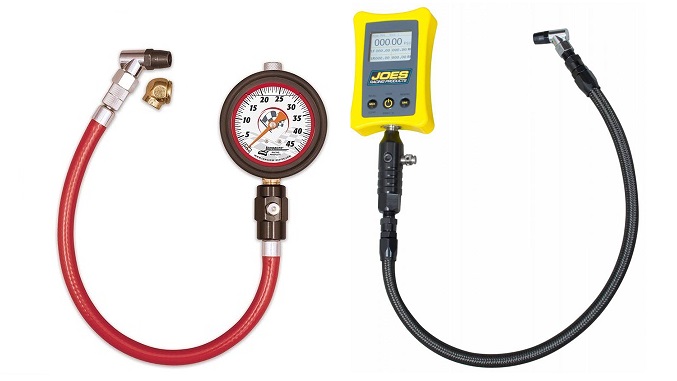 Maintaining correct tire pressure is vital for performance and safety in race cars, street cars, trailers, and anything else that rolls on inflatable rubber. Experienced racers also know that keeping your tires in the correct pressure range throughout a day at the track as ambient and internal temperatures change is obligatory in competitive racing. Longacre offers a wide range of tire pressure gauges for a variety of applications that provide durability, ease of use and highly accurate readings. Let's check out the line of Longacre tire pressure gauges available in the Winding Road Racing store: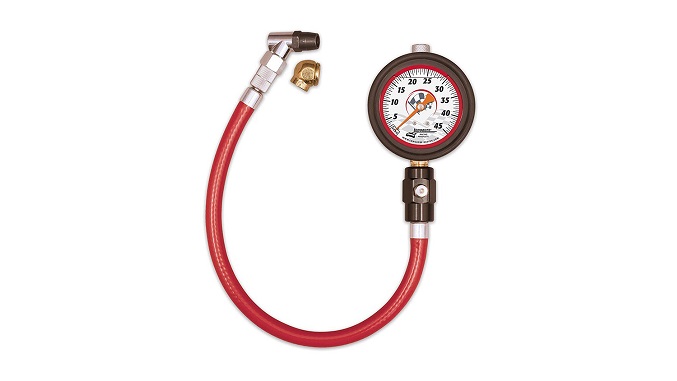 Longacre Liquid Filled 2.5" TPG 0-45 PSI Angle and Ball Chuck - With a new, easy to read gauge design featuring a glow-in-the-dark dial face, .5 pound reading increments, and a specially designed vent valve to equalize pressure and maintain gauge accuracy, this gauge can provide remarkably accurate readings without the need to compensate for fluctuations in ambient temperatures, and also comes in 0-30 and 0-60 PSI variants.
Designed to hold pressure until released, the gauge utilizes a 17" hose with swivel angle chuck installed and an alternate ball chuck also included.
Offering pressures up to 45 psi, this gauge also features a protective bumper surrounding the 2.5 inch readout, ensuring it can withstand the abuses of the pits as well.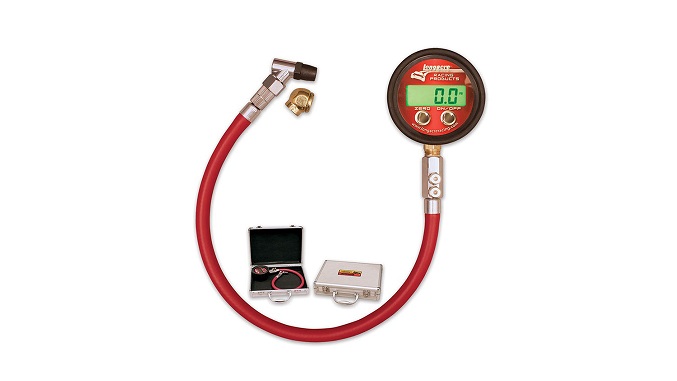 Longacre Backlit Digital Pro 2.5" TPG 0-60 PSI with Angle Chuck and Case - Designed to be easy to read and extremely accurate, this professional-caliber tire gauge features an air pressure release valve with dual bleed buttons for faster setting, 1/10 psi reading increments, and a 17" hose with angle chuck.
An auto-off feature also means you won't be left with a dead battery when you need it the most and an external gauge bumper ensures that the gauge will be able to withstand the rigors of the track.
This kit also includes a carrying case, ball chuck, and a set of batteries.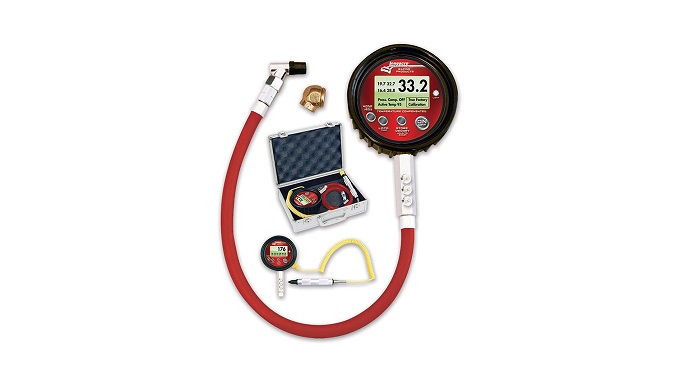 Longacre Temperature Compensated Digital Tire Pressure Gauge - When your vehicle's tire pressure is a mission-critical aspect of its performance and you need accuracy closer than +/- 1 psi, this is the tire gauge for you.
Specifically designed for competitive racing use, this gauge takes the temperature of the tire using a tire temperature probe, calculates the correction back to a standard temperature, and then indicates the pressure that the tire should be set to. What this means is that a reading that might not be the exact pressure you require while you're in the pits making the adjustment, but with this gauge's compensation, the pressure will be accurate where it really counts - out on the track, where tire temperatures are different from those in the pits.
Capable of reading pressures up to 100psi and accurate to 1/10th of a pound, this gauge also serves as a precision tire pyrometer, and offers the capability of storing and displaying the temperatures and pressures of each tire, eliminating the need to write down this information as you continue making pressure adjustments.
This kit uses a 17" hose with angle chuck, and comes with an alternate ball chuck, gauge bumper and carrying case.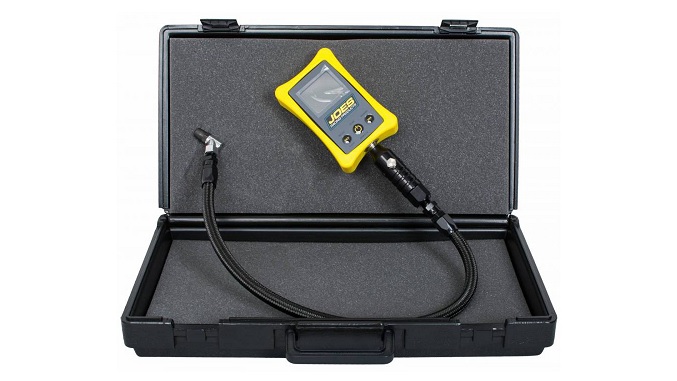 JOES Racing Precision Air Pressure Gauge - For those looking for the ultimate in accuracy and high-quality materials, this excellent piece of equipment should not be overlooked. Made in the USA of tough materials, its memory stores up to 8 sets of wheels, is accurate to 1/10th, is serviceable, and is overall a nice, precision unit to use. It's a customer favorite for sure.
Click here to shop for tire gauges in the Winding Road Racing store.