Buyer's Guide: Driver Cooling Systems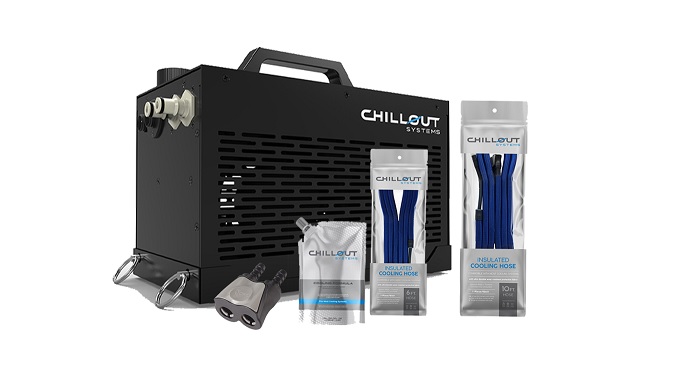 Summer temperatures are here! Out on the track in full race gear, those high temps translate to a whole lot of heat exposure for drivers – especially those participating in endurance events. Adding a driver cooling system to your racecar – which channels cold water through a specially-designed shirt worn by the driver – is a good idea not only because of the increased comfort for the driver, but also because fatigue caused by that heat can reduce one's ability to concentrate, in turn affecting not only lap times but safety as well. Here we'll explain how to go from Point A – no driver cooling system – to Point B – a race-ready system with a cooling shirt. Along the way we'll explain what components you'll need to accomplish this, as well as ways to ensure that your system is compatible with the cooling shirts that the car's driver (or drivers) will be using. All the products discussed here are, of course, available in the Winding Road Racing store:
Garments
The two brands of garments we'll be going over here are made by CoolShirt and F.A.S.T. It's important to note that CoolShirts are inherently compatible with CoolShirt, F.A.S.T., and MOMO cooling boxes. F.A.S.T. and MOMO shirts are not compatible with CoolShirt boxes unless you replace the connectors with CoolShirt connectors.​ Note: MOMO boxes and shirts are no longer produced.
CoolShirt 2Cool Water Shirt
: Also offering native compatibility between CoolShirt, Momo and F.A.S.T. cooling systems, this shirt also features moisture-wicking material to help keep skin dry. This shirt is available as a
fire-rated long sleeve
design.
CoolShirt 2Cool Water Pants: To truly maximize driver comfort, you can also add these pants to a CoolShirt system for lower body cooling as well. These pants are made from the same moisture-wicking material as the 2Cool line of CoolShirts.
Cooling Systems
Chillout System Quantum Cooler All in One Kit: This kit contains everything required for a complete installation of the amazing Chillout Systems Quantum driver cooling system. What's quite… cool, about this system is it does not require changing out cold water and ice; it uses its own food-grade, proprietary coolant in the lines. It's easy to use with CoolShirt-branded shirts, just cut off the old connectors and use Chillout's dual prong adaptor. It's also easy to connect a second shirt to, can be controlled via a dash-mounted, wired remote control, and wires in directly to the vehicle's power.
F.A.S.T. Complete Helmet Blower System:
The complete system to get relief from the heat of your race car. Winding Road Racing has teamed up with F.A.S.T. to get you everything you need in one convenient kit.
CoolShirt Club System All-In-One Kit: Offering a choice between 12-quart and 24-quart sizes and various hose lengths, this system can also be had with a temperature control switch, which allows the driver to regulate his/her temperature much more efficiently and evenly than a simple On/Off switch allows for. This system is natively compatible with CoolShirt shirts, but can be made compatible with all shirts (CoolShirt, Momo and F.A.S.T.) by adding CoolShirt parts found here.
Replacement and maintenance parts for these cooling systems can be found here.
Self-Contained Systems
Techniche Self-Contained Cooling Vest: Drivers of track-day cars, formula cars or sports racers often do not have sufficient room in the cockpit for the box of a cooling system. Or you may be a driver or instructor who sometimes finds himself/herself in cars owned by others. These drivers can still stay cool with a self-contained cooling system. Self-contained systems consist of a vest that holds mutliple cooling packs front and back — there is no box or plumbing and no electrical hookup. The cooling packs, which stay cold for up to three hours per use, contain a special fluid that freezes at 58 degrees F. That temperature is more comfortable against the skin than 32 degrees F and also allows quick refreezing by plunging into a cooler between sessions. We've tried these systems and the comfort level is surprisingly good because the "ice" packs conform to your body as they get slushy.
Shop race cooling systems and driver cooling clothing at Winding Road Racing.