Best Race Cars: Spec MX-5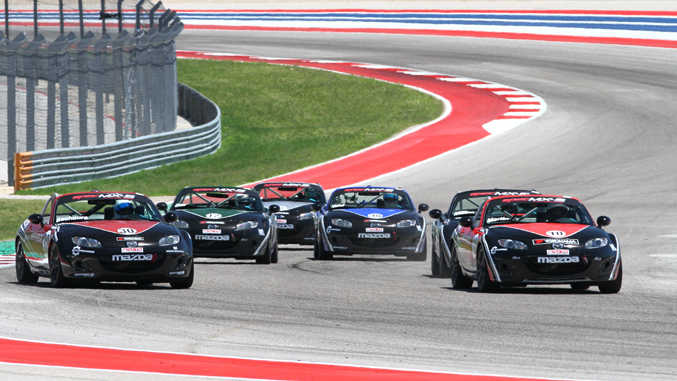 There are many ways to assess road racing cars. The obvious way is sheer pace, where lap times, ideally across a range of tracks, are used to determine merit. On that basis, a modern F1 car is better than an IMSA DPi car, which in turn is better than a Pirelli World Challenge GTS car, which in turn is better than a TC-R car, which in turn is better than a Spec Miata, and so on. In these terms, we've suggested that amateur drivers look at the Elan DP02 for a cost effective way to go really fast.
But it turns out that most racers don't think about it this way. Part of the reason is that going really fast is usually really expensive. And we don't just mean that you need a billionaire father, a la Lance Stroll, or the backing of Russian oligarchs to be able to afford F1. Even a Porsche GT3 Cup car, while only semi-fast in this company, is quite expensive (a season is going to cost $300,000 or more). As lap times get slower, the differences in sheer pace aren't as meaningful and drivers concentrate more on raceability, costs and competition.
The Spec Miata is a sort of standard here, with good raceability, relatively low costs and high car count and strong fields at many events (especially SCCA Majors and NASA events at more famous tracks). SRF and American Iron are other relatively affordable classes that have good raceability and often good competition.
New Class: Spec MX-5
In this article we want to suggest that there is a new alternative to these classes that in some way has the Goldilocks ("just right") mix of features: Spec MX-5. For purposes of clarity, we should note that Spec MX-5 (using NC based, 2006-2015 cars) is not Spec Miata (NA or NB generation cars from 1990-2005), nor is it Global MX-5 Cup (ND generation from 2016 to present). Spec MX-5 is a new class and related series and is not the same as older NC generation MX-5 Cup cars which no longer have a related series. Spec MX-5 (SMX) was created in 2018, and runs according to rules and in the Spec MX-5 Challenge Series series by Spec MX-5 (www.specmx-5.com). Sponsorship is supported by Mazda, Toyo, Pagid Racing, and more.
Spec MX-5 is built to be the cost-effective class for something we'll call benchmarking. And that means it might be the class you are looking for.
Benchmarking
The idea of benchmarking is pretty simple. Your major racing interest at this point in your career could well be assessing where you stand, mostly as a means for pushing yourself to improve. To improve, most of us need data and feedback, and we then want a class that efficiently helps us get that. Ideally, we would also run in a class that helped you advance your career so that us can keep learning if we do the job right. So you want a class that balances run cost, driver development, prize money and visibility.
Spec Racing
Spec MX-5 is specifically designed to be a benchmarking class. First of all, to really do benchmarking, you need to run in a spec class. But, as current Spec MX-5 Challenge driver John Allen noted "I had improved quickly in Spec Miata, but had no way to measure how much of the remaining gap to the front runners was my own skill set versus how much was car build and prep level". Spec Miata is a spec class, but the cars are not identical, because there are different engines, different engine builders and different setups. Spec MX-5 addresses most of these concerns by being what the series calls "true spec". All the cars are owned by the series, built to the same spec, and baseline prepped the same way by the same mechanics. The cars are even rotated event to event among drivers using a lottery system.
Driver Quality
The second element of benchmarking is driver quality. At big events, Spec Miata and SRF have this in spades. Some drivers argue that SM has a bit too much of this, with 6 or 8 top drivers who are very hard to beat, which can be discouraging. Even more, it can take a long time to hoist yourself up to the front level so that you can go wheel-wheel with the best drivers and see first hand where they outshine you. Spec MX-5, by contrast has a very strong field, based on a national application process, but tends to have a little more variation in the skill set of the front rows. Allen said "As the only two-time pole sitter in the eastern Spec MX-5 Challenge series, it's great to now have confirmation that I belong out there." In our experience, that kind of encouragement can be more important, especially for young drivers, than some want to admit.
Revealing Car
Related to this is how revealing the car itself is — does it gain from brilliant moves and punish mistakes? Cars like SM and SRF tend to vary in speed based on subtleties. And the ability to recover from a bump or minor error can be frustratingly limited. Spec MX-5 cars are significantly faster than SM cars (3-5 seconds per lap at most tracks), and the braking and power difference, plus a bigger drafting wake, make it more obvious who is driving well and who is slightly off. At the same time, the Spec MX-5 car supports recovery, so drivers often get to try again and again.
Raceability
It helps to have a car that is very raceable as well. When you are trying to push yourself to develop, you very much want a car that doesn't surprise you and doesn't seem to want to throw you off the road. SM is good on this score, and the Spec MX-5 Challenge Series has tried to amplify that. Spec MX-5 driver Tom Martin III, six-time race winner and Central Series champion in 2018, observed, "The Spec MX-5 car feeds clear information about chassis and tire slip directly through the seat and steering wheel. The effect of this is a car in which the driver can feel comfortable pushing the limits immediately upon strapping in. The baseline setup and Yokohama tires also instill confidence, with a natural tendency toward mild understeer on corner entry allowing for relatively aggressive trail braking without any hint of snap oversteer. On corner exit, understeer is nowhere to be found, with a firm application of throttle planting the car into an easily controlled dance all the way through the exit curbs. High-speed corners, a tricky situation at the true limit in any car, are still confidence-inspiring because the chassis responds exactly as it should–mild understeer or oversteer can be quelled with slight adjustments of the throttle."
Ladder System
Finally, if you are really interested in benchmarking, you want a class that is part of a ladder system. Spec Miata is part of the ladder leading to Mazda's Road to 24, which is the best ladder system around. Spec MX-5 is also part of this ladder system (Spec MX-5 is often thought of as the rung between SM and Global MX-5 Cup). Spec MX-5 adds two elements to the ladder system beyond Spec Miata. First, it has $100,000 in championship prize money for a winner from among about 20 drivers. Those are pretty good odds, and the Challenge Series offers other prize money as well. In addition, Spec MX-5 doesn't require drivers to buy a car. This means that you can more easily do one or two seasons of Spec MX-5 and then move on without the hassle of building or selling a car.
From talking to many drivers, the Spec MX-5 value proposition is quite appealing. We've often said that the Spec Miata is the best race car, but for some drivers, Spec MX-5 might be even better.
For more information: www.specmx-5.com