7 Things Learned From a Week with the 2014 Range Rover Sport V8 Supercharged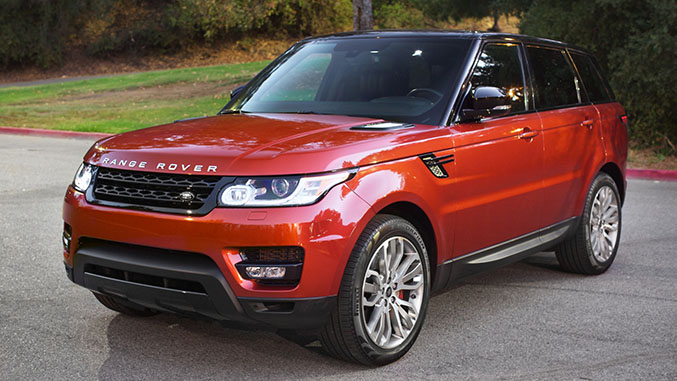 The most athletic Range Rover on the roster is all-new for 2014. We spent a bit of time with the Sport in Detroit
earlier this year
, but we were left wondering how this split-personality SUV would fare on the city streets of Los Angeles and along the twisting canyon roads of the San Gabriel Mountains. Range Rover Sports of the past garnered a reputation that preceded them, for better or for worse depending on who you talk to. But regardless of what context you're referring to the 2014 V8 Supercharged model in, the fact that it's got a whole new bag of tricks isn't up for debate. To go along with our POV test drive through Los Angeles and along Angeles Crest Highway, we've put together a list of some of the new SUV's most notable highlights.
The new Range Rover Sport is almost half a ton lighter than last year's model.
Unlike Range Rover Sports of the past, which were essentially uprated and revised versions of the LR4, the new Sport benefits from Jaguar Land Rover's recent move to aluminum-intensive construction, and is now based off its larger sibling, the Range Rover. Clocking in at about 5000 pounds, the Sport still isn't going to be confused with a Lotus anytime soon, but it is a jaw-dropping 800 pounds lighter than the outgoing model, thanks in part to the new all-aluminum frame. And to go along with all that weight loss, the new SUV is also 25 percent stiffer than the last one, making this Sport a substantially more dynamic vehicle to drive than ever before.
The Range Rover Sport V8 Supercharged sounds like a V8 Jaguar F-Type
There's a good reason for that – it shares its engine and transmission with the F-Type V8 S. With 510 horsepower and 461 pound-feet of torque from its 5.0-liter V8 (a carryover from last year's model), the burliest of the Sport models is seriously fast for its size, hitting sixty miles per hour from a standstill in a Porsche Cayman-beating five seconds flat. The same ZF 8-speed automatic used in the F-Type is on hand here as well, and like the many other cars we've found this gearbox in recently it performs admirably just about everywhere, with quick shifts and smooth stop-and-go transitions. The overly complicated gear selector does take a bit of time to get acclimated to, though.
It has massive Brembo brakes.
With all that thrust, we're certainly appreciative that the new Range Rover Sport V8 Supercharged also comes with brakes that can bring the pace down in a hurry. To that end, the Sport has been fitting with four-pot Brembo calipers and 15-inch discs up front and a two-pot, 14.3-inch setup in back. It's enough to get this two and half ton SUV to a halt from 60mph in about 125 feet.
The hunkered down suspension setting won't stay lowered if you exceed 22mph.
It looks great in pictures, and it definitely gives the Sport a certain level of "street cred", but setting the air suspension to its lowest setting is for the loading and unloading of passengers (and cargo) only. If you exceed 22 miles per hour for long enough, the suspension will automatically reset itself to the normal height – that's the warning chime you hear when we set start to set off in the clip below. Sorry low riders, this look is really only going to work while stationary.
Simplicity is a virtue in the Range Rover Sport's interior.
In many luxury vehicles, the necessity for packing in a ton of comfort and convenience features usually requires a busy interior layout, especially when your attention is turned to the center stack. The new Range Rover Sport not only offers a handsome, simple design, but because of its touchscreen interface and intuitive design, the center stack also stays clutter (and frustration) free for the most part.
The Range Rover Sport can now seat seven people.
Although it's referred to as a 5 + 2 instead of a seven-passenger SUV outright (perhaps for marketing purposes), for the first time, the Range Rover Sport now offers third row seating. Due to the Sport's sloped roofline, that third row is probably better suited to small adults and children though, at least for any extended amount of drive time.
It's the little details that make the Range Rover Sport feel special.
The new Range Rover Sport feels legitimately opulent, even compared to many competitors in the segment that are known as the standard bearers in that realm. While soft-touch interior materials, 20-inch wheels and an incredible audio system are more or less obligatory for an $80,000 SUV, the Range Rover goes a step further with a cache of subtle details found throughout the vehicle that make the whole experience feel distinctive, like the Range Rover-emblazoned parking lights hidden on the underside of the rear view mirrors that illuminate the outside of the Sport when you're getting in or out, and the design touches that are so understated, they're only really noticed on a subconscious level:
All in, the 2014 Range Rover Sport has evolved substantially from the outgoing model. Its blend of "sport" and utility is much more convincing this time around, and with a towing capacity now at nearly 4 tons, along with the Range Rover's legendary off-roading capability (this model is capable of fording three feet of standing water), it might now be the one to beat in the segment.
2014 Range Rover Sport V8 Supercharged
Price: $79,100 (base) / $94,085 (as tested)
Engine: 5.0-liter supercharged V8
Output: 510 HP / 461 LB-FT
Fuel Economy: 14 city / 19 hwy / 16 combined
Towing Capacity: 7700 pounds
On Sale: Now