2011 Winding Road Involvement Index Awards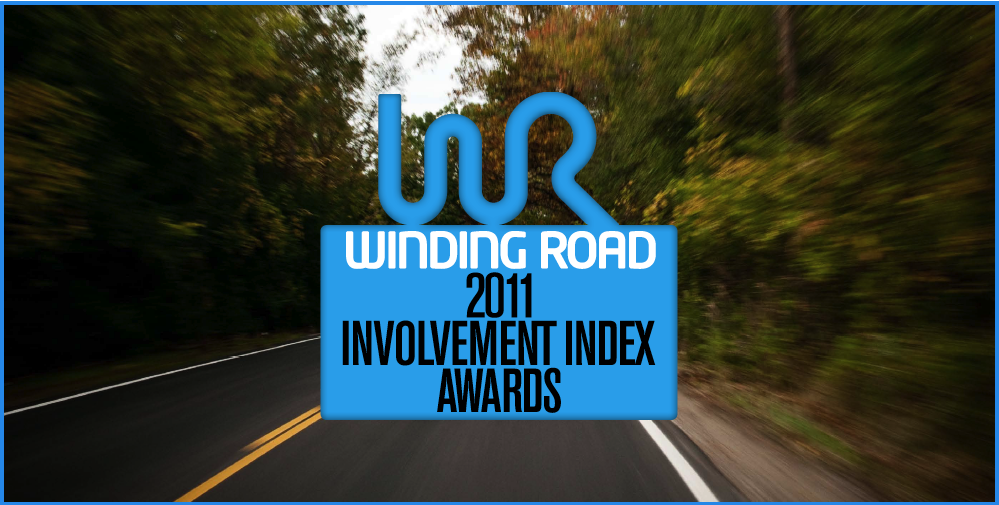 Involvement matters. That's the heart of the sermon we've been preaching for the last six years now. To drive fast is fun, to go around a corner neatly is admirable, to be luxurious is lovely; but to do all of those things and more in a way that enhances the driver/machine relationship is special indeed. When we first started Winding Road, we made it clear that we wanted to have a conversation with readers about the vehicles that we found to be exciting, not because they measured well, but because they inveigled many of our senses most of the time we were driving.
To carry forward this championing of driver involvement we invented the Involvement Index. Then we reinvented it with the 2.0 version that exists today. From that latest update until now, we've tested and scored nearly 200 vehicles in five broad categories comprised of 31 individual points of measure. That hyper-geekiness has resulted in an index that we think is a pretty interesting and useful tool for the enthusiast driver and car shopper.
Considering that the Involvement Index goes a long way towards expressing our core beliefs about what makes a car good in one number, it's probably past high time that we hand out formal awards for the best of the best. Here then are a dozen cars in a dozen categories that stand apart from the crowd, because they're better tuned to the soul of the driver. That may sound like an odd compliment out in the wide world, but it's high praise around here. Enjoy.
Supercar: Ferrari 458 Italia
Involement Index Score: 99
It may not be surprising that the top prize, in the top category, in our first ever Involvement Index Awards gets handed out to a Ferrari, but it is fitting. And, while one of our favorite parts of the Index is that it allows us to compare involvement in slightly-less-than-inspiring vehicles, too, the truth of the matter is that it is cars like the Ferrari 458 Italia that set the gold standard for driver-machine engagement.
Only the mighty Bugatti Veyron 16.4 Super Sport has, to date, scored as highly as the Italia. And even with the statistical dead heat, we had little trouble picking the 458 as the clear winner. Why?
Because, even though the net result of these two very different supercar-building efforts are equal—viciously fast, supremely well mannered, thoroughly entrancing—we can't help but like the way that Ferrari gets there more. The 458 has less power, but its high-revving V-8 engine is purer, and sweeter sounding, and ultimately better soul food for real drivers. Being light, and rear-drive, and ungodly good looking don't hurt the Italia either.
The Ferrari 458 is, simply, one of the best cars we've ever driven. Scoring top involvement points means being able to inform without battering—a balance that Ferrari manages like few other carmakers we're familiar with. It is at once intense and smooth, effortless and willfully engaging, precise and still willing to play with the very bravest of drivers. This is why we care about cars, friends.
Sports Sedan: Mitsubishi Lancer Evolution X
Involvement Index Score: 87
Let's face it, there are a lot of cars that we enthusiasts care deeply about in this Sports Sedan playground. BMW M3, Mercedes-Benz C63 AMG, Subaru WRX STI, and the Cadillac CTS-V—just to name a few—are all cars that gearheads will go out of their way to defend. Making the argument harder (or the fight more interesting) are the facts that each of these cars has inspired hugely loyal followings, and each plays its sports sedan card in a slightly different way.
But, while the CTS-V may be more brutally fast, or the C63 smoother, or the M3 more of a legend, according to our reckoning the Mitsubishi Evo X is the most involving of the bunch. With steering that is highly caffeinated, a short wheelbase that begs to rotate, and road surface information coming through every inch of the driver's seat, steering wheel, and pedals, the Evo envelops the driver in the sort of feedback-rich environment that's needed to handle a car this scalpel-like.
In its most basic trim, the Evo GSR is purely mechanical, with a manual transmission, few creature comforts, and a loud-as-hell on-road demeanor that is impossible to miss. We must admit a serious fondness for the SST dual-clutch transmission offered in the slightly higher-dollar Evos, though, as that whiskey-quick trans can offer up shifts that are inhumanly fast without dialing back the engagement a whit. Go all the way up to the MR Touring trim, and you'll find an Evo that's just a bit quieter in the cabin, with a few more creature comforts, and probably the best example of "livable hardcore" that we've ever seen from Mitsu.
Greenformance: Tesla Roadster
Involvement Index Score: 87
Sometimes things that sound good on paper actually are good. Tesla's paper exercise a few years ago started with a Lotus Elise, a car that is a model of driving involvement because of its low weight, superb steering and wonderfully progressive chassis. Since the Elise isn't known for impressive torque, why not replace the Lotus' small Toyota gas engine with a huge battery and a powerful electric motor? Electric motors make maximum torque at very low rpm, so the Elise should be transformed from a nervous sports car to a muscle car over night. Voilà!
Well, folks, this idea works. In fact, it works impressively well. The potent electric drivetrain in the Tesla Roadster Sport adds about 800 pounds to the tiny Lotus. But since the Tesla only tips the scales at around 2800 pounds, it still manages to weigh well less than most sports cars (e.g., a Porsche 911 weighs 3200 pounds). A surprisingly large percentage of the superior handling feel of the Lotus is preserved in the Tesla.
No one on staff though, prior to a test drive, has been prepared for the transformation wrought by having massive electronic torque available at the touch of your toes. Not only does the Tesla accelerate hard (0-60 in 3.7 seconds), but it does so with a responsiveness that reveals how much slack there is even in the best conventional drivetrains. In the Tesla, when you say "hit it," the car pretty much just goes. It only has one gear, so there is no shifting and no torque converter to spool up.
With the Tesla, "thrilling efficiency" isn't an oxymoron.
Coupe: Ford Mustang Boss 302
Involvement Index Score: 86
When we originally drove the Boss 302, we pointed out that it was in many ways a better driver's car than the BMW M3. That idea chafes a bit, but when you look at the data, you are forced to admit that you have assumptions and they aren't always right. The Mustang has a better powerband, sounds better, has livelier steering, and handles at least as well on a track. It is faster on a track, too, not that it really matters. But on the road, which does matter, these qualities show up, too, and the Mustang is just plain more entertaining to drive.
Just to balance out the picture, the BMW M3 is a better luxury coupe than the Mustang Boss 302. Good as the M3 is, it may be that traditional BMW dual-purpose nature that compromises the M3 a bit on the road.
Since few people will consider both the Boss and the M3, we supply the above to indicate the greatness of Ford's achievement. But if we look at more reasonable cross-shopping choices, we still find the road littered with the Boss' victims. The WRX STI isn't really as integrated a package. The Camaro SS seems flaccid and unfinished by comparison. The Challenger SRT8 is relatively massive and isolated. The 370Z is down on power and no more communicative.
The soul of this car is about as far as you can get from a "trim package." The magic of the Boss 302 is based on real engineering and serious knowledge of what drivers need. We love it.
Convertible: Mazda MX-5 Miata
Involvement Index Score: 81
In many ways, the MX-5 Miata is the perfect driver's car. Mazda's long-running favorite is lightweight, has a brilliant manual gearbox, makes use of the purist-choice rear-wheel-drive layout, and, of course, it's a convertible. Any "enthusiast" that can't get excited about top-down driving deserves, at best, a skeptical glance from us.
And while individually the Miata's components are a bit mundane—on paper a sub-200-horsepower, naturally aspirated four-cylinder motor is no big draw—the combination of elements makes this car truly magical. Handling is fluid with super responsive steering and turn-in, and progressive roll through the suspension that allows one to find the car's limits naturally (and without drama). Power goes down in a similar, linear fashion and is just enough to make the MX-5 feel quick without overwhelming the other underpinnings. (Though the car could handle more power without losing its composure, we'd guess.) Overall lightness helps to make the average-sized brakes feel particularly effective, too.
Some passionate Mazdaphiles have bemoaned the growth of the Miata since its introduction as an utterly bare-bones roadster two decades ago, but we think the car still offers a package that is rare and desirable. It's just hard to beat the MX-5 for affordable, thrill-filled motoring. So, while there may be one or two convertibles that score higher than the Mazda in terms of involvement, none offer such fine overall performance for such a reasonable sticker price. The perfect second car? Unless your salary is bigger than your phone number, then we say yes.
Large Sedan: Jaguar XJ Supersport
Involvement Index Score: 80
Ever since we first got behind the wheel of the new XJ, we've been smitten. Following the decades-old and beloved styling of the outgoing car wasn't ever going to be easy, but the new model is so lovely—new and rich, while still being utterly evocative of Jaguar values—we were quickly under its spell.
How could we not be? Still large enough to dice properly with the likes of the Mercedes-Benz S-Class and the Audi A8, the XJ felt light over the road and far pointier than a car of this stature really should. Steering feel and effort are just right for a car of this class, allowing for rather rapid turn-in without being overly light. The aluminum body structure is both light and rigid, which helps the big cat to corner flatly and stop quickly.
Now, about that "Supersport" tag after the XJ. While this model doesn't offer a disappointing engine—the naturally aspirated 5.0-liter "base" motor is plenty strong—the supercharged Supersport's 510 horsepower and 461 pound-feet of torque are titanic. Just a toe-tap of accelerator pedal is enough to send driver and luxuriously ensconced passengers into low Earth orbit. Of course even the fantastically silly levels of power are managed in a very seemly, very British sort of way. Where an American or Japanese car of this ilk might offer something like a 21-gun-salute exhaust note when the engine is caned, the Jag just rumbles in a deeply expensive baritone of superiority.
Ready the carriage house at the country estate; we'll be there before you can say, "upper crust."
Wagon: Cadillac CTS-V Sport Wagon
Involvement Index Score: 80
Close your eyes and imagine a Cadillac. The overall shape of what you see is largely dependant on when you were born, but some elements are probably common to us all: large flowing dimensions, an abundance of chrome, big wheels, a laidback seating position. Now open your eyes and look at this picture of the CTS-V Sport Wagon. Know that it has the capacity to hold a few dog crates in the back and make your eyes bleed on a 0-60 run; understand that the Cadillac we know has changed from being familiar to being formidable.
The CTS-V wagon formula is gonzo nuts but fairly simple: take all that is good about the standard CTS-V, place in long-roof CTS body, stir thoroughly, and then lay two big black strips of rubber on the nearest piece of pavement. Unlike American performance cars of yore, though, the V Wagon is still an engaging car to drive.
Slide into the heavily bolstered Recaro seats (a $3400 option that is pretty much mandatory), and grip the nicely padded, Alcantara-and-leather steering wheel, and slot the heavy suede shifter into first (oh yeah, you're going to want the manual trans). The engine itself is extremely controllable, despite its diabolical 556-horsepower rating, making takeoffs a breeze.
Once rolling, the CTS-V Wagon doesn't feel too different from the standard car. The ride is slightly choppier, due to the stiffer V-spec suspension and larger wheels, but it's hardly jostling. Testing done at the famed Nürburgring really shines through, as the steering weights up and delivers high levels of communication. Body roll is nonexistent, and, despite the massive brakes and insane horsepower, there isn't any noticeable squat and dive.
It's funny, Americans are supposed to hate wagons. Cadillac has never built a wagon before. And here's one of the best American performance cars of a generation, with a Cadillac crest out front and a big, wagony rear end. Irony tinged with tire smoke is okay by us.
Crossover: Nissan Juke
Involvement Index Score: 72
Don't be scared off by the brazen styling of Nissan's fun-to-the-last-drop Juke—be encouraged by it. This is the punchy crossover that's ready to hit hot hatches where they live.
The Juke's 1.6-liter engine may be small, but it packs a wallop. Turbocharged and directly injected, it produces 188 horsepower in the upper rev range, and 177 pound-feet of torque from 2000 to 5200 rpm. That's plenty of oomph to break the front tires loose, and to create a feeling of outright speed while the sub-3000-pound Juke gets underway.

Shifting through the gears of the manual transmission-equipped car is a rewarding experience, with a light clutch and a compliant gearbox giving it a really sporty feel. Its upright driving position and ride height provide a good view of the road. For how city-friendly the Juke is, it has a lot of rally spirit built into the driving experience.

Despite its extra bit of clearance, the Juke is remarkably stable in the corners. As tall as it feels, it doesn't get tippy or roll under heavy lateral g forces. Instead, it rotates quickly and flatly, leaving the car feeling ready for its next maneuver. Driver confidence, therefore, builds quickly, and the eagerness of the motor means instant acceleration out of the turn. The electric power-assisted steering is speed-sensitive, too, which means there aren't a lot of hand-over-hand or shuffling maneuvers required.

Being small, light, peppy, and economical, while feeling tall and commanding make the Nissan Juke a great package for the practical driver with a spunky streak.
Sport Utility: Porsche Cayenne S
Involvement Index Score: 79
Long ago, when it introduced the Cayenne, people were aghast at Porsche doing an SUV. Then they drove the car and said, "Hmmm, pretty good for an SUV." Problem was (and is), most SUVs were about as interesting to drive as a lawnmower. Porsche didn't completely conquer this problem with the first generation Cayenne, though it tried. But now, along comes the second generation, and (Porsche taking its assigned role seriously) it shows that "Sport" and "Utility Vehicle" make sense together.
We see nothing wrong with the idea of a sporting car that can haul gear and go off-road. In fact, we find the idea rather desirable because, truth be known, a lot of real-world driving involves either hauling gear, and/or traveling on roads that are, shall we say, less than optimal. The problem lies in execution.
The new Cayenne succeeds in part because it went on a diet, shedding many hundreds of pounds. In addition, Porsche has offered a vast array of handling technology that really works. Porsche basically offers an active suspension (with active anti-roll, dynamic spring/damper rates and an active differential) in four different pieces. The combination works a charm, with flat handling and plenty of feel in corners. The final bit of magic here is the Porsche focus on responsiveness. You can get it with the V-6 in the form of a manual gearbox, on the Cayenne S with a strong V-8 plus well-programmed automatic, or in the Turbo with a monster motor under the hood.
The Cayenne's genius is that it doesn't try to be a sports car, but instead is a sport wagon for the way people actually use their cars.
Three-Row Vehicle: Ford Explorer
Involvement Index: 69
As a general rule, it's difficult to build crossovers that work well as involving driver's cars. With very large, three-row CUVs, the task gets even trickier. Add in the tall, butch looks that make the new Ford Explorer read much more like a proper SUV than CUV (despite its lack of a true low range and its unibody construction), and you're looking at a really tough sell. So, it's even more impressive that Ford has turned out a volume crossover that is not only really good to drive, but downright class-leading where our Involvement Index is concerned.
For starters, the 3.5-liter V-6that powers the Explorer is a seriously solid engine. No, it isn't the stonking EcoBoost powerplant that is found in the Taurus SHO, Flex, or F-150 (although we are wholeheartedly behind Ford slotting this motor into the Explorer at some point). This is still an engine with a great deal of mid-range kick, though, and a pleasant acoustic signature to boot.
All that power and the Explorer's big body could, conceivably, lead to some pretty dismal ride and handling characteristics, but that's not the case here. Ford has made use of a slick new Curve Control system to help mitigate understeering tendencies by way of engine torque control and judicious application of wheel braking. The result is a large vehicle that can slither through bends in a manner that would have been unattainable just a few years ago. The family is going to really enjoy the next road trip.
Pickup: GMC Sierra Denali 2500 HD
Involvement Index: 67
Let's get one thing settled right away: this is a powerful truck. The optional 6.6-liter Duramax turbo-diesel V-8 that can (should) power your Sierra Denali HD puts out 390 horsepower and an absolutely mind-bending 765 pound-feet of torque at an ultra-accessible 1600 rpm. Can you say "stump-pulling thrust" from just above idle? Sure you can. And if you press the accelerator pedal like you mean business, the big GMC will respond with an astonishingly firm shove in the small of your back and a downright authoritative burst of acceleration. Who knew that such a massive vehicle could be made to, um, jump forward with such alacrity?
But lots of trucks have big motors. What sets the Denali apart is its offering of a modicum of honest-to-gosh steering feel, complete with centering forces that actually build up as corning loads do. Lotus Elise with an eight-foot bed? Well, not exactly, but in this world of workaday behemoths, we'll take every little piece of driverly input that we can get. We felt that the big GMC offered better overall steering feel and path accuracy than most every other full-size truck we've driven, which is doubly impressive when you consider that this is one of the beefiest GMC pickups that money can buy.
Plainly, the Sierra Denali HD would make a great working partner for truck enthusiasts who are in it for the long haul (yes, pun intended). Big, bad, and for drivers, of course.
Budget Thrills (Under $20K): Fiat 500 Sport
Involvement Index Score: 74
There is reason to doubt the Fiat 500. You don't think you'd feel comfortable driving something that small. You don't trust Chrysler to get the small car thing right. Your dad owned a 1978 X1/9 whose floorboards rusted out in the first three years. You think maybe you really want a Mini instead.
Forget all of that. This 500 is a special small car.
After spending the last few years winning plaudits and praise from both the public and the motoring press in Europe, the newly entwined Fiat and Chrysler have brought a revised version of the characterful city car to our shores. And for once—with tidier handling, a nicer interior, and better crashworthiness—our version is actually superior to the one you can buy across the pond.
Though it's roughly the same size as the Mini Cooper you're probably familiar with (a bit smaller, but with similar interior space), the Cinquecento actually offers a far different driving experience. Where BMW's Mini feels heavy, planted, almost anchored to the road, the Fiat dances over it, with a bit less grip and more willingness to dart at the flick of your wrist. Feedback through the steering wheel is particularly good for a front-driver, and great forward visibility with utterly nimble turn-in and rotation make the car wildly tossable within its limited spectrum of speed.
The 500 may not be fast, sure, but its engine note is so lively, its steering so good, and its brakes so quick that you end up being more engaged with keeping speed up than you would be with cars that offer easy, mindless power.