WRR Broadcast Guide: February 12th – February 15th, 2015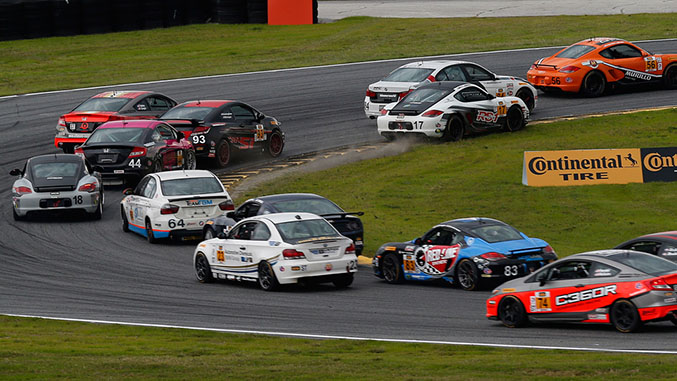 The onslaught of series racing for 2015 season starts in just a few short weeks, led by Formula One, Trans Am, Pirelli World Challenge, and the TUDOR United SportsCar Championship. In the meantime, let's brush up on our racing technqiue, shall we?
Ride along as BMW Factory Driver Bill Auberlen leads us on some very helpful instructional laps around The Circuit of The Americas in the 2015 BMW X6 M.
While not how one might first envision a track day vehicle, the X6 M packs some fairly serious firepower. 0-60 mph happens in 4.0 seconds, aided by the the new eight-speed M Steptronic transmission and the new M TwinPower Turbo V8 making 567 hp and 553 lb-ft of torque. Top speed is electronically limited to 155 mph, and the X6 M is fitted standard with low-weight 21-inch forged wheels with Michelin Pilot Super Sport UHP tires.
The first few laps are spent learning the track and incrementally picking up the pace, but it's not long before Bill's expert tutelage gives us enough confidence to start pushing the big BMW hard, reaching speeds of nearly 150 mph on the main straight and finding the limits of grip in the corners.

In this video, Winding Road Racing driver Tom Martin comments on the basic approach to driving a lap of Buttonwillow's popular 13CW configuration in a Viper T/A. With 640 hp, turns come up quickly. And with street tires, cars like this require thinking your moves out in advance to get braking and turning right on a track day.
Lastly, let's hitch a ride with Tom Martin III again, this time in a 1991 Spec Miata during the 44th annual Midwestern Council of Sports Car Clubs Loooong Race at Blackhawk Farms Raceway in South Beloit, IL.
The Loooong Race runs about an hour and fifteen minutes, or approximately 50 laps. With multiple classes running simultaneously (ITA, SRF and IB), it means there's lot of opportunity to pass and be passed.
When you're done with those, get your hands on
some classic DVDs
to keep you busy when the pros take the weekend off.
Event: (No Race Event This Weekend)
Event: (No Race Event This Weekend)
Event: (No Race Event This Weekend)
Event: (No Race Event This Weekend)
Event: (No Race Event This Weekend)
Event: (No Race Event This Weekend)
Event: (No Race Event This Weekend)
Event: (No Race Event This Weekend)
Event: (No Race Event This Weekend)