Wilkins and Lewis Win 2019 IMSA MPC Drivers' Championship In Hyundai Veloster TCR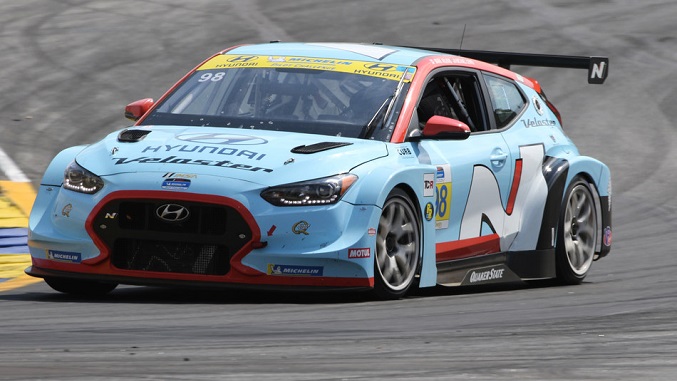 Hyundai had a spectacular 2019 season in TCR. Their Veloster N proved to be quite capable on track, just look at the nice shade of sky blue painted on the podium at Road Atlanta this past weekend. Not just on the podium, either; Hyundai also scored the 2019 MPC Drivers' Championship, Team Title, and a close second place in the Manufacturers' Championship. Not bad at all for such a short stint in TCR. We really dig the Veloster N, in race- and street-form, and look forward to seeing how it fairs next year in TCR (competition will be tough with Mazda entering their 3), as well as some hints that they'll be campaigning other chassis in international racing.
From HMA:
BRASELTON, Ga., Oct. 12, 2019 – Mark Wilkins and Michael Lewis, drivers of the #98 Hyundai Veloster N TCR Race Car for Bryan Herta Autosport (BHA) with Curb Agajanian, clinched the 2019 IMSA Michelin Pilot Challenge Drivers' Championship yesterday with a victory at the Fox Factory 120 at Michelin Raceway Road Atlanta. Bryan Herta Autosport secured the Team Title and Hyundai finished a close second in the Manufacturers' Championship.
It was a tight battle throughout yesterday's two-hour finale. Both BHA Hyundai Velosters led the race, and ultimately it was Lewis and Wilkins who scored their third victory of the season en-route to their first IMSA Championship. Teammates Harry Gottsacker and Mason Filippi had a grand finale, finishing fourth in the race and catapulting them from fifth to second in the series standings.
Bryan Herta, co-owner of Bryan Herta Autosport commented on his team's success: "I am so proud of this team and to represent a great manufacturer like Hyundai. The Veloster N TCR is a great race car, its been a very competitive and reliable package. Our drivers and this team have done a great job…very fast and very consistent."
Bryan Herta Autosport and Hyundai have enjoyed a lot of success in their short partnership, winning back-to-back championships in their first two seasons of competition. BHA and Hyundai won the Team and Manufacturer titles last year in Pirelli World Challenge before transitioning to the more challenging format of endurance racing in IMSA this season.
"Winning these championships is a huge step for Hyundai Motorsports, our dealers, the N performance brand and Veloster, said Michael O'Brien, vice president of Product, Corporate and Digital Planning, Hyundai Motor America. "In the world of racing, we are certainly a challenger brand and to beat great competitors like Audi, Honda and Alfa Romeo far exceeded our expectations in our first year in the series. We could not be prouder of our dedicated drivers and the level of precision in preparation from Bryan Herta's crew."
The championship is now complete, but the season is not over. Earlier this week, Bryan Herta announced his two-car entry in the second annual Michelin IMSA SportsCar Encore at Sebring Raceway on November 9–10. This was the same event he announced his entry into IMSA competition last year. The four-hour endurance race is a non-points event, featuring LMP3, GT4 and TCR specification race cars.