Update: Honda CR-Z Gets a Shot in the Arm with HPD Supercharger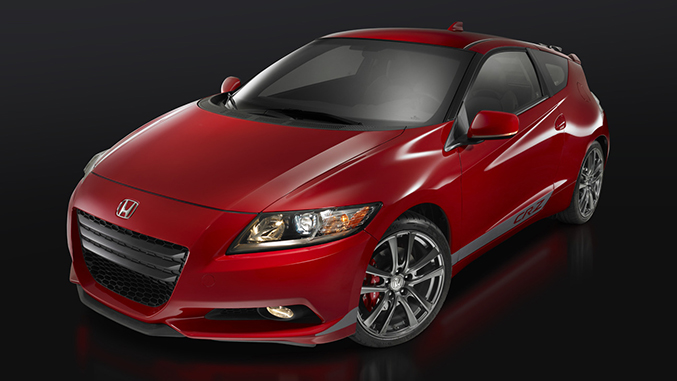 When the Honda CR-Z was first announced, it generated more excitement than your typical hybrid. Its design recalled the simple, light and sporty form of the Honda CRX, and it promised the seemingly impossible combination of offering both performance and fuel economy. It was intriguing. Unfortunately, when the CR-Z landed it only made 130 horsepower, its fuel economy ratings fell well short of other hybrids, and any resemblance to the 80s hot hatch icon ended beyond the sheetmetal. But Honda Performance Development looks to be remedying at least one of those issues with a factory-backed supercharger kit, now available for 2013 and 2014 models equipped with the six-speed manual transmission, which offers a fairly potent horsepower increase of more than 50 percent over a stock CR-Z.
Under development since 2012 and first seen on the JDM-only CR-Z Mugen RZ, in final specification the supercharger kit is said to offer an increase in the CR-Z's output to the tune of 197 horsepower and 176 pound-feet of torque, an improvement of 67 horsepower and 36 lb-ft. The kit will include an air-to-air intercooler, high flow fuel injectors, a redesigned air flter and an ECU recalibration for $5495 – before installation. Owners who opt to have their HPD supercharger kit installed by the dealer will retain the balance of their 5 year/ 60,000 mile Honda limited powertrain warranty.
For those seeking even more performance from their CR-Z, HPD also offers addtional go-fast bits and pieces as well, such as a limited slip differential for $1,375 and sport clutch for $640. Check out the press release below for additional details about the supercharger kit and other performance accessories available from Honda Performance Development.
CR-Z Sport Hybrid Gets Supercharged with HPD Street Performance
08/21/2014 – TORRANCE, Calif.
Accessory supercharger kit boosts powertrain output to 197 hp
Full range of CR-Z street performance parts from HPD now on sale
Supercharged performance for the street is now available in the Honda CR-Z Sport Hybrid Coupe through a new dealer-installed Honda Performance Development (HPD) supercharger kit. Best known as Honda's North American racing company, HPD developed a full line of street performance accessories for the CR-Z and first revealed them at the 2013 SEMA Show. With the debut of the supercharger kit this month, all of the HPD street performance components for the CR-Z are now available at Honda dealers in the United States.
"The CR-Z was the first hybrid to prove that efficiency doesn't have to come at the cost of sportiness and fun," said Art St. Cyr, president of Honda Performance Development. "With HPD street performance accessories, including the new supercharger kit, the CR-Z will surprise everyone again with even higher levels of performance directly inspired by our on-track racing efforts."
Available for the 2013 and 2014 CR-Z, the HPD supercharger kit boosts total powertrain output to 197 hp1 (vs. 130 hp in the stock 2013 and 2014 CR-Z with manual transmission) and includes the HPD air-to-air intercooler, high-flow fuel injectors, an ECU calibrated to meet CARB AT-PZEV regulations with 91 octane fuel and the HPD air filter system. Honda's Suggested Retail Price of the kit is $5,495, not including dealer installation, which is priced similarly to popular aftermarket supercharger kits but is engineered and backed by Honda. The HPD supercharger kit maintains the balance of customer's 5 year/ 60,000 mile Honda limited powertrain warranty when installed by a Honda dealer. The HPD supercharger kit is available exclusively for CR-Z manual transmission models and HPD has developed an optional limited slip differential and HPD sport clutch for those customers looking for an even higher level of performance.
When equipped with available HPD street performance accessories, the CR-Z (automobiles.honda.com/cr-z/hpd.aspx) can feature a variety of track-proven, street-reliable performance upgrades. HPD-developed powertrain modifications – tested on-track – include a high-efficiency centrifugal supercharger; HPD air-to-air intercooler; high-flow fuel injectors; an ECU calibrated to meet CARB AT-PZEV regulations with 91 octane fuel; HPD air filter system; and HPD sport exhaust. Chassis improvements include HPD sport dampers, coil springs with reduced ride height, 300mm diameter disc brakes and HPD 18-inch wheels fitted with Michelin Pilot Super Sport tires. The CR-Z is completed by a graphics package including front lip and tail spoilers, rear diffuser and HPD badge.