Toyota Announces Prius Plug-In Hybrid Lease Program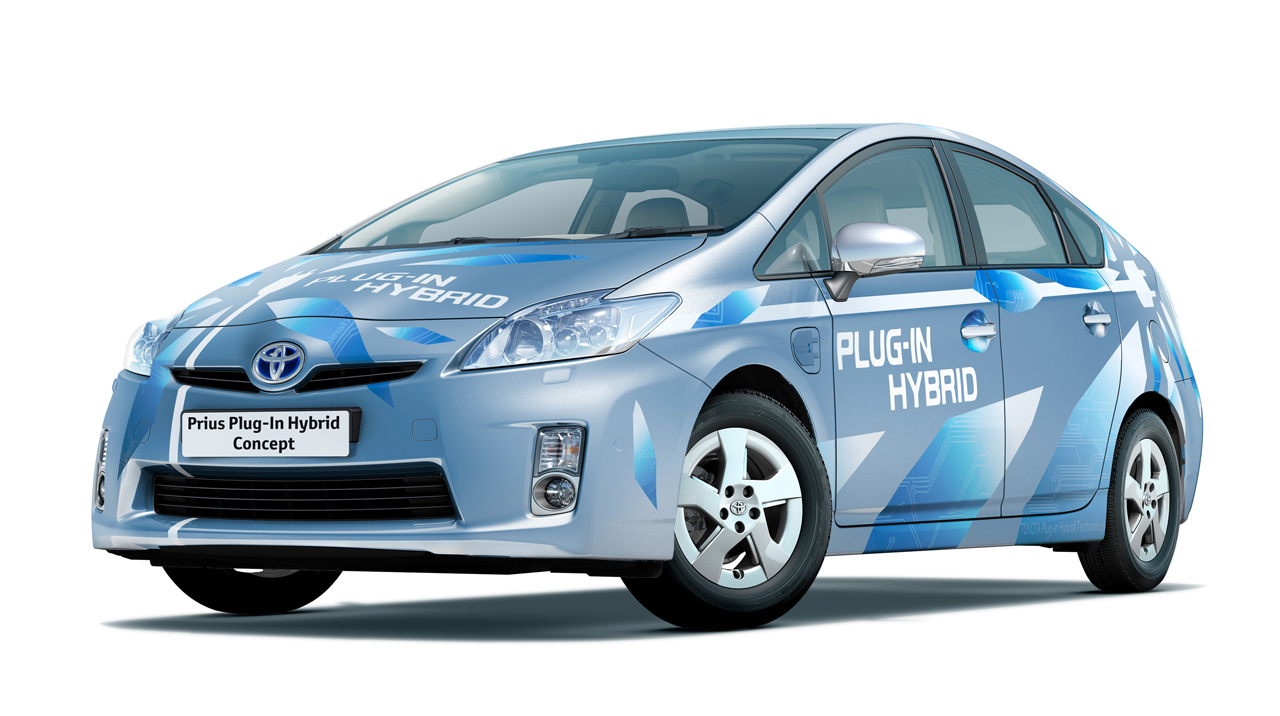 We knew it wouldn't be long before we'd see a plug-in version of the Toyota Prius, the world's most well-known hybrid vehicle. Today, Toyota has officially launched the Prius Plug-In Hybrid (PHEV) lease program, which will provide 600 examples of this car for testing in Japan, Europe, and the United States. These cars will be leased to commercial, government, and universities for testing on how PHEV vehicles exist in real-world use.
This Prius gets a 5.2 kWh lithium-ion battery pack instead of the standard car's metal hydride unit, with the motor and other Hybrid Synergy Drive parts staying intact. Toyota says that the PHEV Prius will run just over 14 miles before completely depleting the battery, but even so, the addition of a plug-in system means that this Prius can achieve up to 72 miles per gallon, combined with the standard hybrid drive system which already nets 50 mpg in the U.S. cycle.
Japan will get 230 cars, Europe gets 200, and another 150 will be coming to the United States. Toyota is also targeting late 2011 for limited retail sales of the PHEV Prius, though pricing is not clear at this time. Scroll down to read the official press release with all of the details.
TOYOTA MOTOR CORPORATION (TMC) announces the introduction of the "Prius Plug-in Hybrid", a plug-in version of the third-generation "Prius" gasoline-electric hybrid vehicle, into key markets. Approximately 600 units will be introduced in Japan, the United States, and Europe over the first half of 2010, for use by governments and businesses.
In Japan, TMC will lease approximately 230 units to government ministries, local governments selected for the Japanese Ministry of Economy, Trade and Industry's EV & PHV Towns program, corporations such, as electric power companies, and other entities. In the United States, approximately 150 units will be provided to government agencies, corporations, universities and research agencies for use in a demonstration program aimed at collecting driving data and spurring the development of battery-charging infrastructure. In Europe, TMC will lease approximately 200 units, with approximately 100 going to the City of Strasbourg, France. The Prius Plug-in Hybrid will also be introduced in the United Kingdom and Portugal, with the company also considering 10 other European countries, including Germany and the Netherlands, along with countries in other regions, such as Canada, Australia and New Zealand.
The Prius Plug-in Hybrid can be charged using an external power source such as a household electric outlet, and is the first vehicle produced by TMC to be propelled by a lithium-ion battery. Further, due to the battery's expanded capacity, the vehicle has an extended electric-vehicle driving range, enabling use as an electric vehicle (EV) for short distances, while for medium and long distances, after battery power depletes to a level no longer allowing EV driving mode, the vehicle functions as a conventional gasoline-electric hybrid vehicle (HV). Thus, use is not constrained by remaining battery power or availability of battery-charging infrastructure.
Furthermore, plug-in hybrid vehicles (PHVs), such as the Prius Plug-in Hybrid, are expected to achieve fuel efficiency superior to conventional gasoline-electric HVs, reduce consumption of fossil fuels, and reduce CO2 emissions and atmospheric pollution. Verifications and rules that gauge the performance of a PHV differ from region to region, but in Japan, the Prius Plug-in Hybrid has a cruising range in EV mode of approximately 23 km with a fully charged battery, and an average PHV fuel efficiency of 57km/L and CO2 emissions1 of 41 g/km under specified driving conditions combining driving performance both as an EV and as a HV. (Results are based on the JC08 Japanese test cycle2 and verified by the Ministry of Land, Infrastructure, Transport and Tourism of Japan.)
TMC believes that, to meet the diversification of energy sources, plug-in hybrid vehicles are a highly suitable environmentally considerate option. TMC is therefore actively encouraging market introduction and aiding understanding, and to promote the soonest widespread use of PHVs, TMC will analyze feedback regarding the Prius Plug-in Hybrid, with an aim to begin sales in the tens of thousands of units to the general public in two years.
TMC promotes the use of energy sources other than gasoline, such as electricity, to limit the consumption of fossil fuels and to reduce CO2 emissions. Thus, the company is accelerating the development of electricity-related technologies honed by experience gained from 12 years selling gasoline-electric HVs, the market introduction of the "RAV4 EV" SUV and the leasing of fuel-cell HVs.
(1) Includes only CO2 emissions generated during vehicle operation, not those generated in the production of electricity used to charge the vehicle's battery.
(2) Newer Japanese test method than the preceding 10-15 test cycle that better approximates actual driving conditions, meaning that the fuel consumption rates tend to be slightly lower than those measured under the 10-15 test cycle. Fuel-consumption rates and cruising distances are values from specified test conditions. Average fuel consumption and cruising distances will vary markedly depending on such variables as driving conditions and driving methods, particularly, daily driving distance, the battery's charge level and air-conditioner use.
Vehicle Outline
The Prius Plug-in Hybrid features the Toyota Hybrid System (THS) II Plug-in, based on the THS II hybrid system used for the Prius, with a new, battery-charging system to facilitate highly efficient charging of the vehicle's lithium-ion battery from an external power source.
Use of electricity from an external source dramatically decreases gasoline consumption, with the vehicle measuring an average plug-in hybrid fuel efficiency of 57 km/l. In EV mode the vehicle has a cruising range of 23.4 km (under the JC08 Japanese test cycle) and top cruising speeds up to 100 km/h.
Exterior
The vehicle comes in Light Blue Mica Metallic-exclusive to the Prius Plug-in Hybrid-while the side-view mirrors, door handles and trim around rear license plate is in high-gloss silver. This color combination creates a cutting-edge image befitting such a next-generation vehicle.
A standard Prius Plug-in Hybrid decal (suggested) placed on both sides of the vehicle further distinguishes the vehicle from other grades of the Prius. Vehicle-exclusive emblems also feature on the fender and charging port lid.
Displays for PHV-specific Information
Special selectable screens that display information for PHV operation have been added to the Prius-base car navigation system and the Eco-Drive Monitor. The screens display information to assist EV-mode driving (using battery power only), as well as provide an enjoyable way to check battery-charge level and resulting fuel consumption.
* Energy Monitor Screen displays possible in EV mode driving range
* EV-Drive Indicator on the Hybrid System Indicator Screen also indicates possible EV cruising range; driver notified of potential accelerator use with current battery charge level, thus supporting environmentally friendly driving through use of EV mode
* Electric Vehicle Cruising Ratio Screen-exclusive to Prius Plug-in Hybrid-displays difference between driving in EV mode (using battery power only) and driving in HV mode (using both gasoline engine and battery power)
Vehicle Specifications
Engine displacement – 1,797 cc
Transmission – Electric automatic
Powertrain – Front-wheel drive
Length – 4,460 mm
Width – 1,745 mm
Height – 1,490 mm
Wheelbase – 2,700 mm
Track – 1,525 mm (front), 1,520 mm (rear)
Weight – 1,490 kg
Seating capacity – 5
Minimum turning radius – 5.2 m
Tire size – 185/65R15
Environmental Performance (Japan) (1)
1) Fuel efficiency when using only electric power from external source – N.A. (no gasoline consumed)
2) Gasoline-electric-hybrid fuel efficiency – 30.6 km/L (CO2 emissions 76g)
3) Plug-in hybrid fuel efficiency (2) – 57.0 km/L (CO2 emissions 41g)
4) Cruising range when using battery power (3) – 23.4 km
5) Electricity efficiency – 6.57 km/kWh
6) Electric vehicle mode cruising range (4) – 23.4 km
7) Battery charging power consumption – 3.56 kWh
Emissions reduction level under 2005 standards – 75% or greater
(1) Items "1" to "7" are guidelines developed by the Japanese Ministry of Land, Infrastructure,Transport and Tourism; (2) Equals combined fuel economy of EV drive and post-EV-drive HV drive; (3) When also using electric power from external charging (in the case of the Prius Plug-in Hybrid, same as "Electric vehicle mode cruising range"); (4) When using electric power from external charging only
Hybrid System Specifications
System – THS II Plug-in (with motor speed reduction device)
Engine – 1.8-liter gasoline 2ZR –FXE (high-expansion ratio)
Maximum output – 73 kW (99PS)/5,200 rpm
Maximum torque – 142 N-m (14.5 kgf-m)/4,000 rpm
Motor – 3JM (permanent magnet)
Maximum output – 60 kW (82 PS)
Maximum torque – 207N-m (21.1kgf-m)
Drive battery – Lithium-ion
Capacity – 5.2 kWh
Rated voltage – 345.6 V
Charging time – Approx. 180 minutes (AC100 V)
Approx. 100 minutes (AC200 V)
System maximum output – 100 kW (136 PS)
System voltage – Max. 650 V
EV mode maximum speed – approx. 100 km/h