Top Gear America To Make Its Triumphant Return On Motor Trend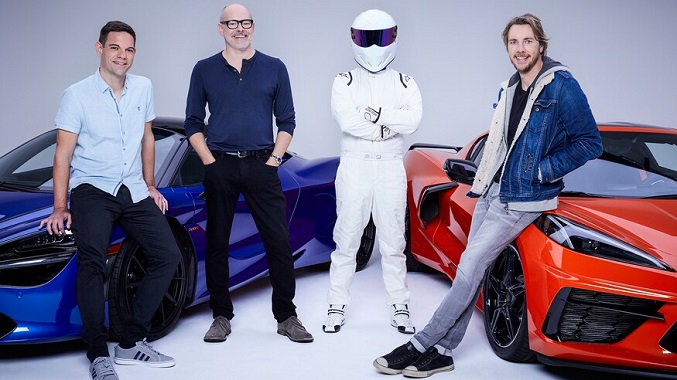 Photo: MotorTrend.com
Today, it was announced that Top Gear America will return to the airwaves exclusively on the Motor Trend app in Spring 2020. We were pondering whether it would return, and this move certainly makes a lot of sense, since the automotive media powerhouse already hosts the extensive catalog of Top Gear UK.
We've been hoping for TG America's return for quite some time, we just weren't sure who the hosts could be, or if they could achieve the level of chemistry that Top Gear UK had during the Jeremy, Richard, and James era. There's certainly been great on-screen chemistry since that trio left, just with some occasional awkwardness. Considering the credentials possessed by the new hosts of TG America, however, it's sure to be great! Here's a quick rundown of who they are:
Jethro Bovingdon is an automotive journalism heavy-hitter, having written for Automobile, Car, and evo magazines, and currently holds the title of co-host with Jonny Lieberman on Motor Trend's hit show Head 2 Head. It's fair to say that he's got solid racing credentials: he won the SP8T class with Mercedes-AMG at the Nurburgring 24h in 2018, as well as in 2017 with Securtal Song Rennsport in a BMW M4 GT4 car. He's also quite funny to boot.
It's no surprise that Dax Shepard is in the ranks, as he hails from the suburbs of Detroit and it's well-documented that he's doing the Lord's work with his daily driver choices. He's got some wheel-to-wheel experience, too. Dax also has a strong background in comedy, having honed his craft at The Groundlings in Los Angeles followed by a successful film career. Notably, he starred in, wrote, directed, and produced the 2017 iteration of CHiPS, which is a very underrated film that any car or motorcycle enthusiast would dig.
Finally, Rob Corddry tops off the hosting talent and brings an extensive background in sketch comedy to the table. His CV includes working on legendary Comedy Central shows Upright Citizens Brigade and the Daily Show, and has had a massive amount of film and tv roles. He's an enthusiast, too! While it might not be quite as documented as the other hosts, Corddry states he's always been a car nut and currently rolls around Southern California in a Porsche 911 Carrera S.
Photo: Motor Trend
Three hosts, two of whom with excellent comedy chops, one with a huge automotive journalism resume, and all of whom being enthusiasts through-and-through, what's not to like? The chemistry and dynamic is looking to be quite entertaining, which was also hinted at by Corddry on MT:
"If we're ever given a script, I promise the viewers that I'm going to light it on fire and throw it away," Corddry said. "So you can count on me for that, at least. I really think that the strength of this show is going to be an honest interplay between the three of us."
"It's not going to be my role to talk about the technical (stuff)," Corddry said, also working blue, "as much as it's going to be to just go, 'Ooh,' and 'Aah,' and then pit Jethro and Dax against each other, because I want to watch those nerds fight it out."
But hang on, who will don the white Alpinestars firesuit and Simpson Diamondback helmet, and fulfill the role of the Stig? Place your bets now.
We can't wait.
Photo: Motor Trend