Tokyo 2011: Nissan Previews Juke Nismo Concept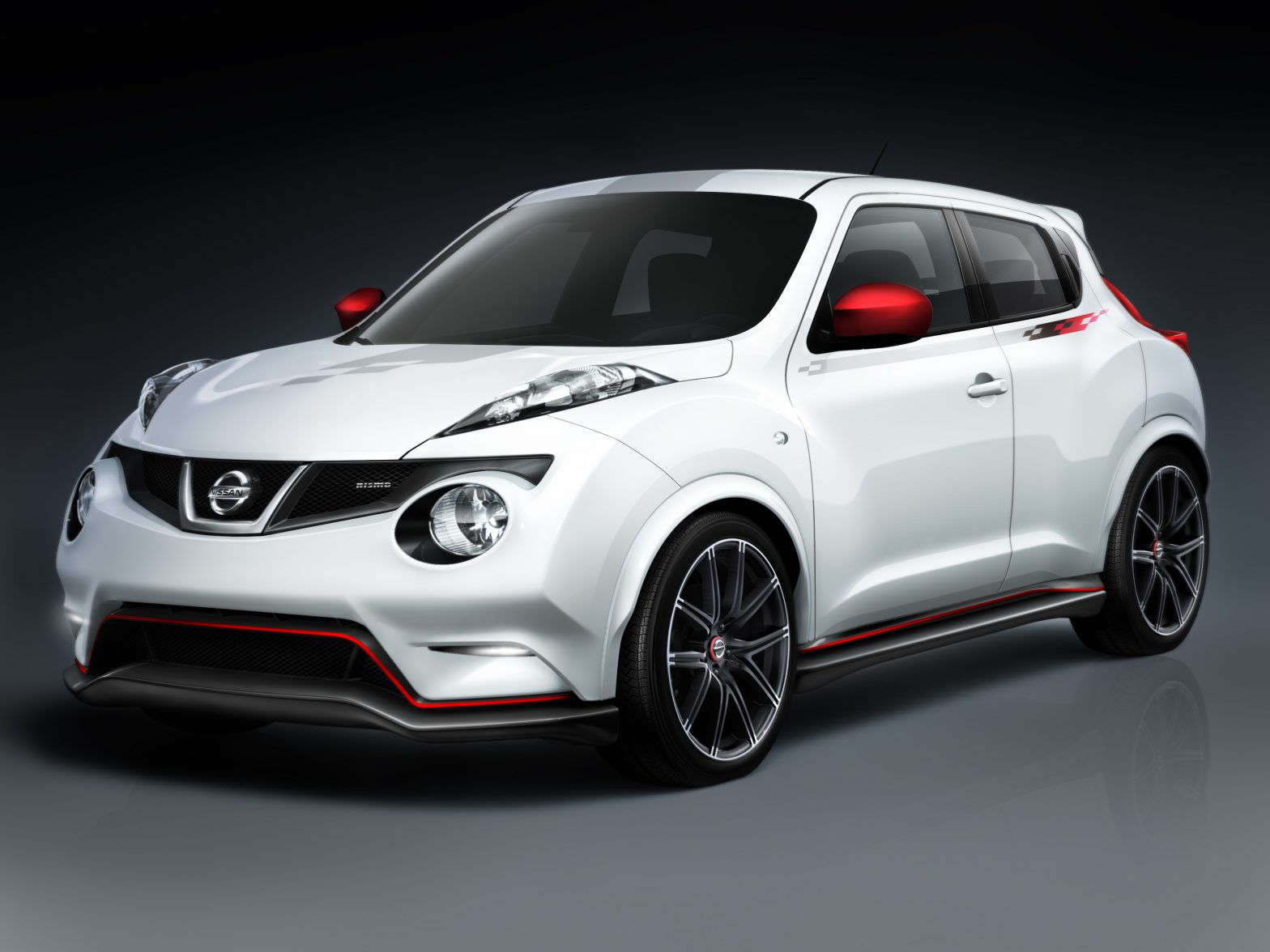 Just before its premiere at the Tokyo Motor Show, Nissan has previewed the exciting Juke Nismo Concept. It takes the the popular, young compact crossover, and makes it even more in tune with the enthusiast mindset and driving style.
To start, the Juke Nismo squeezes more power out of its 1.6-liter turbocharged engine, though exactly how much is still unspecified. To match the improved performance from the motor, the Nismo gets a stiffer chassis and larger tires, promising even more dynamic handling than the already capable Juke. It is slightly wider and lower than the original too, which should help lower the center of gravity. The exterior is updated for style and aerodynamics, while the interior gets a sporting makeover, as well.
Scroll down for more details from Nissan in the official press release, below.
11.29.2011 , TOKYO, Japan
NISSAN REVEALS JUKE NISMO CONCEPT IN TOKYO
Lower, faster and visually even more dramatic, Nismo know-how redefines the Nissan Juke
Nissan Juke Nismo Concept gives first glimpse of Nismo's future
Purpose-designed body kit enhances looks and aerodynamic efficiency
More power from tuned engine
Stiffer chassis and larger tyres for even better handling
Distinctive sporting interior treatment
Finished in Nismo signature colours
Nissan Motor Co., Ltd will reveal a bold new future for its Nismo performance arm. One of the undoubted stars of the Tokyo Motor Show will be the Nissan Juke Nismo, an idea of how a premium sports version of the hugely successful compact crossover could look.
With its distinctive styling Nissan Juke has redefined the highly competitive B-segment, but the Juke Nismo Concept is even more dramatic. It's lower, wider and has a tougher stance. Even standing still, it's clearly a performance car.
Aimed at a car-loving audience looking for a car that reflects an edgy personality, Juke Nismo Concept magnifies the standard car's unique mix of compact car agility, coupé-like responses and SUV strength.
"The global sales success of Nissan Juke has proved beyond doubt that customers are looking for something different," said Andy Palmer, Executive Vice President, Nissan Motor Co., Ltd. "The Juke Nismo Concept takes that idea to the next level. It's energetic, distinctive and highly desirable."
Finished in signature Nismo colours of pearl white with red highlights, the Juke Nismo Concept wears a body kit created by Nismo's aerodynamic specialists whose skill has been honed perfecting racecar bodywork.
And as on a racecar, the Juke Nismo Concept body kit is designed not just to look good, but also to be dynamically highly efficient. New parts include revised lower bumpers front and rear, wider fenders and sill side skirts.
The grille pattern has been changed while the tailgate spoiler has been modified by the addition of side elements to control airflow more efficiently. Even the shape of the door mirrors has been altered to enhance the car's aerodynamic performance and reduce front and rear lift without increasing drag.
This reduction in lift means the contact patch of the tyres has been increased to improve grip, which is further enhanced by the arrival of stylish new 19-inch alloy wheels.
Naturally the Nismo treatment extends to the chassis which has been lowered and stiffened using proprietary parts of the sort that will be available from the expanded Nismo's parts catalogue, while the 1.6-litre direct injection turbo gasoline engine has been uprated to deliver more power and performance.
And Nismo touches can also be found in the interior of the Concept, where parts that interact with the driver's sense of sight, sound, look and feel -­ such as the steering wheel, pedals, gauges, shifter knob and door trims – have been redesigned to provide greater involvement when driving. Further underlining the performance aspects of the car, special leather-trimmed bucket seats have been added while the importance of the tachometer means the dial and needle are illuminated in red.
A feeling of enhanced sporting quality in the cockpit can be attributed to a matt effect applied to previously reflective surfaces, while the dramatic centre console – shaped to resemble a motorcycle fuel tank – has been given a metallic coating to enhance the purposeful feeling of the Concept.
"As the Concept shows, Nismo brings new levels of individuality to mainstream Nissan cars like Juke. The future for Nismo is to develop premium sports designs for an ever-widening range of customers," said Nismo President, Shoichi Miyatani.
"Our forthcoming range of cars will be just as accessible and innovative as every Nissan product, but with added Nismo energy they will be even more fun to own and drive," he added.
About Nissan
Nissan Motor Co., Ltd., Japan's second-largest automotive company, is headquartered in Yokohama, Japan, and is part of the Renault-Nissan Alliance. Operating with more than 248,000 employees globally, Nissan provided customers with more than 4.1 million vehicles in 2010, generating revenue of 8.77 trillion yen ($102.37 billion US). With a strong commitment to developing exciting and innovative products for all, Nissan delivers a comprehensive range of 64 models under the Nissan and Infiniti brands. A pioneer in zero-emission mobility, Nissan made history with the introduction of the Nissan LEAF, the first affordable, mass-market, pure-electric vehicle and winner of numerous international accolades, including the prestigious 2011 European Car of the Year award and 2011 World Car of the Year.