Tokyo 2011: Mitsubishi PX-MiEVII Concept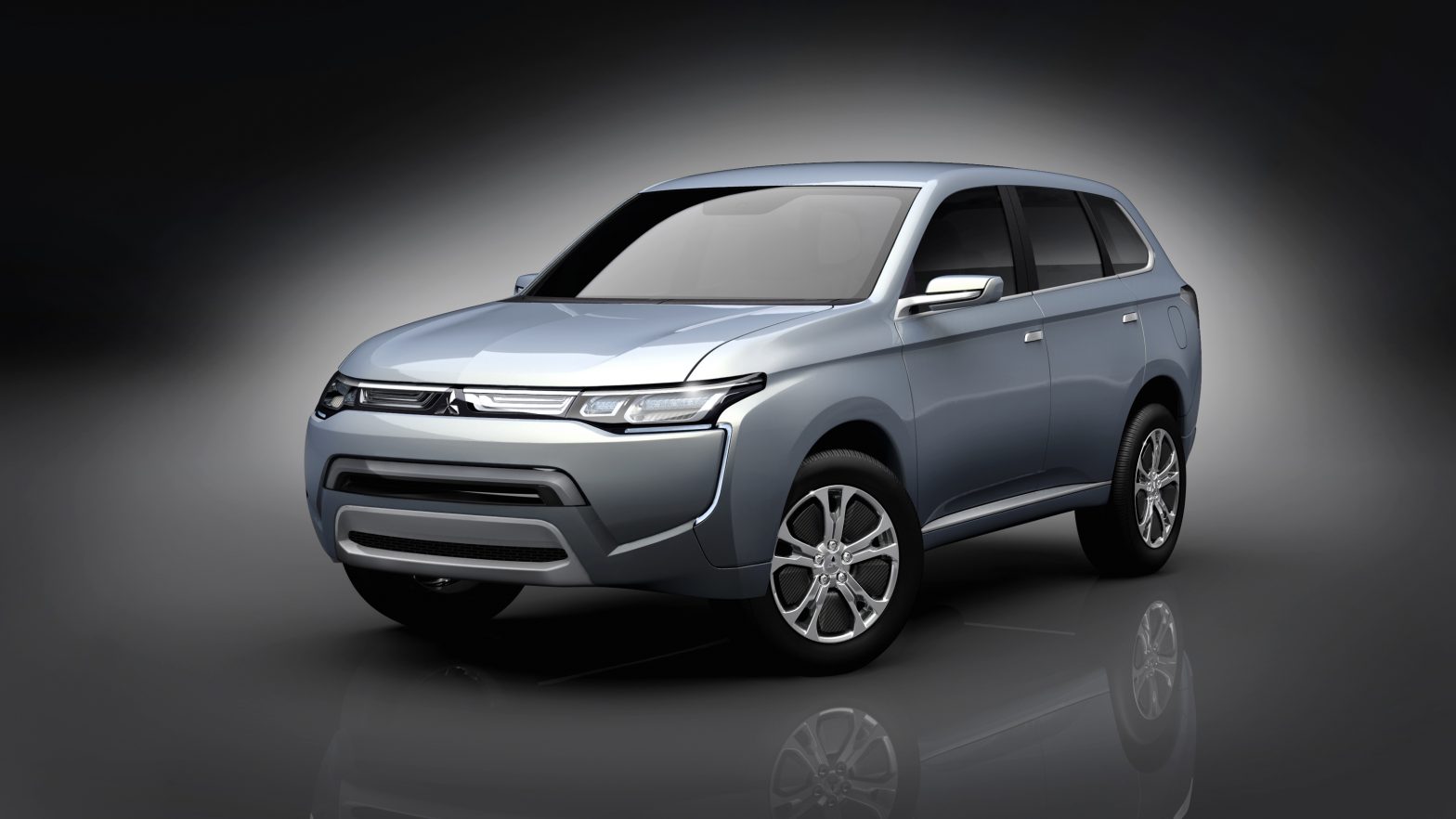 At the Tokyo Motor Show, Mitsubishi has shown its newest plug-in hybrid concept vehicle, the PX-MiEVII.
This mid-size crossover features a 2.0-liter gasoline engine good and two electric motors that power all four wheels. The PX-MiEVII features Mitsubishi's Super-All-Wheel-Control system, based on that of the sporty Lancer Evolution.
With a full charge, this five-passenger vehicle has an all-electric range of 31 miles, with an extended range of about 500 miles.
Scroll down for more information in Mitsubishi's press release, below.
MITSUBISHI Concept PX-MiEVⅡ
MMC has been focusing its EV technology in the Japanese minicar class. MMC became the first major automobile manufacturer to bring a mass-produced electric vehicle to market when it rolled out the i-MiEV next-generation EV in 2009. The company will introduce its second mass-produced EV—the MINICAB-MiEV minicar-class light commercial EV—in December this year. These models are very popular as city commuters—vehicles used for transporting small groups of passengers over short distances in urban areas.
Not anymore. The MITSUBISHI Concept PX-MiEVⅡ is Mitsubishi Motors' idea for a mid-size plug-in hybrid PHEV model that offers a long cruising range demanded by mid-size (and larger) vehicles. The MITSUBISHI Concept PX-MiEVⅡ contains a state-of-the-art drivetrain derived from MMC's already existing EV technology that delivers the environmental performance and quietness inherent to an EV in an SUV package that provides more comfortable motoring and allows for higher utility outside of a city commuter. The MITSUBISHI Concept PX-MiEVⅡ, with its high environmental performance and fuel efficiency, effectively extinguishes many negative perceptions of SUVs.
MMC's unique plug-in hybrid system fuses EV technology derived from the i-MiEV with a small conventional engine that features MMC's latest fuel and environmental efficiency technologies. This combination provides not only a combined fuel efficiency (3) of more than 60km per liter, far superior than that of a conventional engine-driven car, but also very high levels of environmental performance while maintaining a cruising range on a par with conventional engine-driven vehicles (over 800 km).
3: Representative fuel efficiency figure based on a combination of the vehicle's fuel efficiency when driven in all-electric mode, called the plug-in fuel efficiency, and when driven in hybrid mode, called the hybrid fuel efficiency.
MMC's plug-in hybrid system uses high-capacity batteries that allow the vehicle to cover over 50 km in all-electric mode alone, allowing it to be driven solely as an EV for most everyday situations. Depending on power consumption and remaining battery charge the system will start the engine automatically as a generator, and the engine can also be used to help drive the wheels as necessary. In addition, with the push of a button, the driver has the freedom to select Battery Drive Mode when he/she wishes to drive quietly and emissions-free (at sufficient battery levels) in residential areas or the countryside using pure EV power. At the same time, the driver can also switch to Battery Charge Mode while on the move, controlling use of battery power and using the engine as a generator to charge the batteries.
A socket fitted to the vehicle allows the electricity stored in the drive batteries to be used to power electric appliances when camping or in other outdoor pursuits, or to provide an emergency power source. In addition, the quick-charge port is vehicle-to-home (V2H) compatible.
Another feature of the MITSUBISHI Concept PX-MiEVⅡ apart from its outstanding environmental performance is its drivetrain which uses a newly developed twin-motor four-wheel-drive system mated to Mitsubishi's S-AWC (Super-All Wheel Control) advanced traction control system. Based on the four-wheel-drive technology developed and honed in the Lancer Evolution X models, S-AWC delivers pure driving pleasure by maneuvering effortlessly to the driver's will while maintaining high levels of stability and safety. In addition to superior handling, the MITSUBISHI Concept PX-MiEVⅡ provides 100% instant off-the-line torque inherent to electric motors, giving it acceleration comparable to that of a 3.0-liter V6 engine. The MITSUBISHI Concept PX-MiEVⅡ takes environmentally-friendly vehicles to a new level with its unique blend of fuel and environmental efficiency, performance, and utility.
MITSUBISHI Concept PX-MiEVⅡ specifications
Overall length

4660 mm

Overall width

1830mm

Overall height

1680 mm

Occupants

5

Motors

(front and rear)

Type

Permanent magnet synchronous

Max. output

60kW each

Engine

Type

2.0L MIVEC 4-cylinder

Generating capacity

70kW

Target motor-only driving range

> 50 km

Target combined cruising range

> 800 km

Target combined fuel efficiency

> 60 km/L

Drivetrain

Twin-motor 4WD with S-AWC

Tires

235/55R18