The New Land Rover Defender Makes Its Official International Debut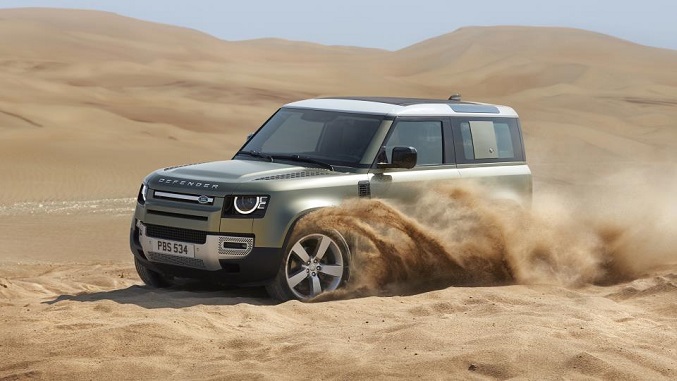 The new Land Rover Defender has debuted, and so far all signs point to it being a modern, well-equipped, and capable truck that does its heritage proud.
Staying true to its principles inherited from previous generations, the all-purpose platform exits the assembly line as either a short-wheelbase 90 model, or longer, more family-friendly 110 model. We think the styling is brilliant and adheres to the brand's classic design language nicely.
Though it's not all looks. According to Land Rover, during development testing, prototype models covered more than 1.2 million kilometers across some of the harshest environments on earth, ranging from the extreme heat of the desert and subzero cold of the Arctic, to altitudes of 10,000ft in the Rocky Mountains in Colorado. They've certainly put it through its paces, and its stamp of approval before this official unveiling came with more than 62,000 tests to back up its capability and technology.
Word on the street is the Defender's capability might surpass the Jeep Wrangler's in terms of ground clearance (though we look forward to a solid, real-world comparison review). The new generation stands tall with a gap of over 11 inches. It's off-road geometry is nothing to scoff at, either: the 110 model's approach, breakover, and departure angles are maxed at 38, 28 and 40 degrees respectively with standard air suspension. It's maximum wading depth is 35 inches, and comes with intuitive wading technology to ensure drivers don't knock into anything like a boulder, a deep hole, the Edmund Fitzgerald, etc.
Well gone are the days of creaky, body-on-frame off-roading as well, as this latest generation is comprised of lightweight aluminum monocoque construction that is three times stiffer than generations of yore.
The interior is incredibly functional and basic-yet-very-nicely-appointed, with gobs of modern technology, and a lot of attention paid towards making the most of interior space. One aspect we find to be quite cool is the center jump seat in the 90 model to expand seating; this definitely makes us reminisce about big American sedans made until the mid-aughts. It's unfortunate that this is a feature that has largely vanished!
Engines are a nice selection of diesel and gas variants, with the base gas engine being a 2.0-liter turbo 4-cylinder, possibly (not confirmed) the same engine found in the current, base Land Rover Discovery Sport (which happens to be the 2.0 Ford EcoBoost). Topping the price range is a plug-in hybrid powertrain which not only provides the prospect of silent EV-only operation, but also accompanies a powerful six-cylinder turbo engine.
We're excited for this generation to arrive on in the US as actual new cars, unlike all of the previous-generation Defenders (some of which as grey-area imports). We'll be waiting patiently, embracing our inner Anglophile, and daydreaming of towing a B-Spec Mini Cooper behind a nicely-appointed 110.
What do you think of the new Land Rover Defender?
photos from www.uk.media.landrover.com