The Merits Of Diesel: 1000 Miles In A BMW 320d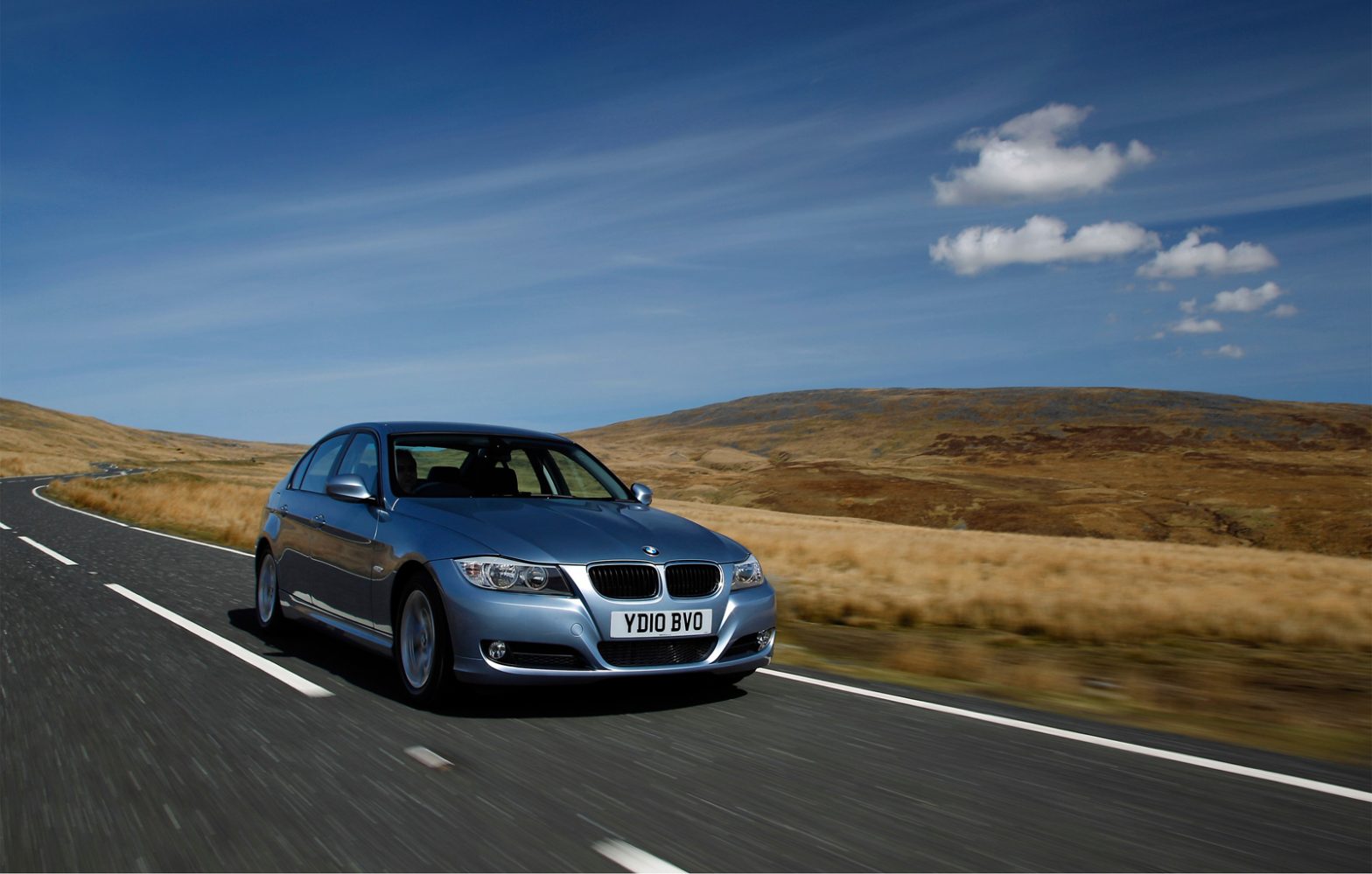 BMW has just unveiled a new iteration of the 3-Series, and it is making quite a splash in Europe. It won't be coming across the pond, but we sure wish that it were.
Called the BMW 320d EfficientDynamics, this four-door sedan features a 2.0-liter, turbodiesel I-4, which produces 163 horsepower, and a healthy 265 pound-feet of torque. It'll scoot from 0-62 miles per hour in a Prius-crushing 8.2 seconds, and on to a top speed of 137 miles per hour. On paper, the 320d ED should average 68.9 Imperial miles per gallon (57.3 American).
Recently, English automotive journalist Tom Ford drove a 320d ED from the Channel Tunnel in Dover, to Munich, and then turned around and came back. He made it to Lille, France before the Bimmer sputtered to a halt. Here are the important numbers from the journey: 1013 miles covered, maximum miles per gallon of 75.9 (63.1 American), average miles per gallon of 68.9 (57.3), average speed of 59.3 miles per hour. To put this epic feat in perspective, if you start off on Interstate 75 in Detroit and get the exact same numbers, you could drive to Tallahassee, Florida in under seventeen hours, and still have a bit of gas in the tank.
Ford claims that he drove in, "A feather-footed manner," and with the exception of the air conditioning and radio being off, used no other hypermiling tricks. The 320d ED features a lot of fuel-saving technologies, including automatic stop-start, regenerative braking, aerodynamic wheels, low-rolling resistance tires, a lowered suspension, and longer transmission ratios. BMW, bring it to America.
Please scroll down for the official BMW press release.
The 1,000-mile BMW
BMW's cleanest and greenest 3 Series ever has just completed a record-breaking journey from the UK to Munich and back – on one tank of fuel.
Filled up at the Channel Tunnel, the new BMW 320d EfficientDynamics Saloon made it to Munich, then as far as Lille on the return leg – a staggering total of 1,013 miles on a single tank of fuel – before needing to be refuelled.
To put it in a UK geographic context, the distance achieved would have meant being able to drive from Land's End to John O'Groats, and still having 200 miles range left in the tank.
Just as impressive was that the intrepid driver – motoring journalist and TV presenter Tom Ford – didn't use efficient driving techniques such as coasting, or drive deliberately slowly for the trip, coverage of which appeared in yesterday's Sunday Times newspaper.
Although switching the air con and radio off as a concession to fuel saving, Tom managed a reasonable motorway pace all the way there and back, proving that in the real world, the new BMW 320d EfficientDynamics Saloon delivers what its promises on paper – an official combined figure of 68.9mpg and CO2 emissions of only 109g/km.
On the way to Munich, Tom achieved highs of 75.9mpg, and didn't dip below 65mpg for the entire trip. With an average speed of 59.3mph, the car achieved 68.9mpg overall.
He said: "I was prepared for this car to fail in the real world. I was wrong.Although I did try and be careful and drive in a feather-footed manner, I did cruise at a reasonable 65ish mph on the autoroutes and autobahns, so faster than the usual economy run pace.
"Think about it in the context of everyday motoring: comfortably more than 1,000 miles on one tank of diesel means just 12 fills a year for the average motorist – and even driven normally I still think you're looking at 750-800 miles per fill. BMW's EfficientDynamics: it does what it says on the tin."
The BMW 320d EfficientDynamics Saloon develops 163hp between 3,500rpm to 4,200rpm and 360Nm of torque from 1,750rpm to 3,000rpm. This equates to a zero to 62mph time of 8.2 seconds and a top speed of 137mph ensuring that while it might be extremely efficient, it still offers sporting performance – a fact not lost on Tom.
He said: "It's difficult to tell the difference between this model and a standard 320d in terms of driving performance which is brilliant. It means that as well as the obvious financial advantages, this special 320d is a car for the environmentally conscious who still want a car that drives superbly."
For drivers choosing the BMW 320d EfficientDynamics Saloon, there is no VED to pay for the first year of purchase due to its low CO2 figure and a 13 per cent benefit-in-kind company car tax rating and sporting ability thanks to its 163bhp. For a business buying one, the sub 110g/km emissions mean 100 per cent first year writing down allowances, allowing the model's full first year depreciation against to be offset against Corporation Tax.
The BMW 320d EfficientDynamics Saloon comes with the existing suite of BMW EfficientDynamics technologies, including Auto Start-Stop, Brake Energy Regeneration and Electric Power Steering for optimum performance. However it also achieves its class-leading emissions with the addition of innovative engine construction, a longer transmission ratio, lowered suspension and the use of specially designed aerodynamic alloy wheels with Michelin EnergySaver tyres.