The First Girls-Only, All-Female Team Takes To The Nürburgring 24-Hour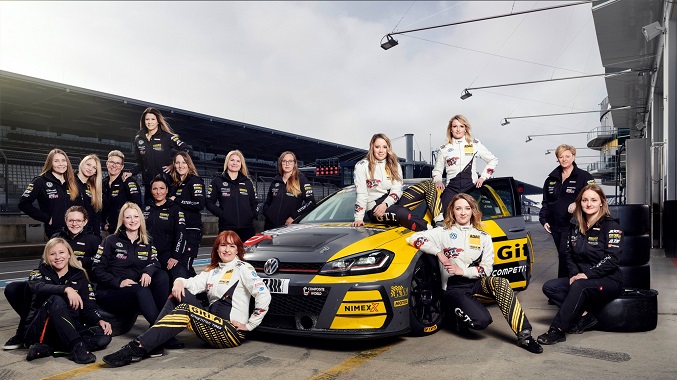 Giti Tire
It's great seeing more and more women getting behind the wheel in professional racing, piloting many different platforms and at all levels. Recently, we caught wind of a team competing in the upcoming 24 Hours of the Nürburgring which not only has an all-female driver list, but an all-female crew as well.
The Giti Tire WS Racing team will campaign a TCR VW GTI next weekend at the legendary race, and is carrying a lot of momentum from their previous German endurance racing entries. Last year at the 2019 Nürburgring 24, the suffered an unfortunate setback: a punctured radiator from on-track debris, which blew the engine and led to a 13-hour-long repair to get the car back on track and finish the race. This determination to finish the race was met with tons of admiration and kudos from the rest of the grid, as well as the large number of fans in attendance.
Giti Tire
At the final VLN race of 2019 (now dubbed NLS in 2020, or Nürburgring Langstrecke Serie; Nürburgring Endurance Series), they earned a class win in SP3T, and so far during 2020's post-COVID races, they've had a lot of great results.
With this momentum, we hope they have much better luck this year at the 24-hour event. Their driver list and crew are stacked; check out some of the credentials they've got to help hustle their angry little GTI to a class victory.
The 2020 Nurburgring 24-Hour goes down next Saturday and Sunday, the 26th and 27th. We're not quite sure where it will be streaming, but keep an eye out here, as well as here on YouTube.
Giti Tire