Suzuki Planning 200-MPH Kizashi For Bonneville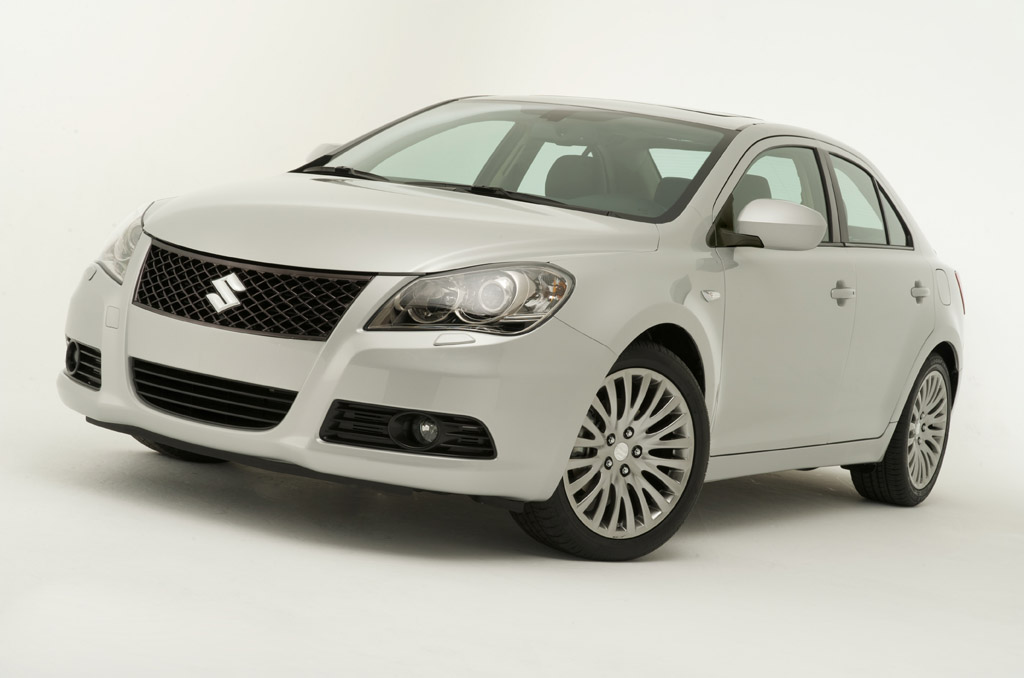 Now this is a project we can get behind. Suzuki is heading out to the Bonneville salt flats with a 200-mile-per-hour Kizashi to prove how fast the brand that brought us the XL-7 and Reno can go.
Obviously, some modification is going to be needed, so Suzuki went to Advanced Product Engineering for some upgrades. Originally a pre-production Kizashi, APE gutted the interior and replaced it with a roll cage, racing seat, harnesses and a window net. Flowed and ported cylinder heads, a new intake manifold, new header, forged rods and pistons, and a Turbonetics turbocharger were all installed. The turbo generates twenty pounds of boost (!) and works in concert with an air-to-water intercooler. The six-speed manual transmission got a new clutch and pressure plate from ACT, while a custom 3.5-inch exhaust was fabricated.
Suspension work included new coilovers, while seam-welded steel wheels were mounted on Goodyear Front Runner tires. Finally, an aerodynamic nose and a parachute are fitted. All said and done, the formerly 185-horsepower Kizashi is now closer to 900 horsepower. Piloting the monster Kizashi will be Road & Track's Sam Mitani, with the run taking place during Speed Week, which starts August 14th through August 20th.
Please scroll down for the official press release from Suzuki.
BONNEVILLE KIZASHI – SOMETHING GREAT IS RUNNING
• Bonneville Kizashi builds on Suzuki's winning tradition.
• Boosted powertrain moves sport sedan into new segment – Over 200 mph.
• Modifications void America's #1 Warranty.
BREA, Calif. (August 9, 2010) – Since its introduction to the press in July of 2009, Suzuki's Kizashi has been recognized as a midsize sedan with a difference – or two. Boasting a rigid structure, composed platform, suspension tuned on the famed Nurburgring and available all-wheel drive, the Kizashi has enjoyed accolades from both media and consumers; most notably, the Kizashi ranked first in AutoPacific's 2010 Vehicle Satisfaction survey. And with 185 horsepower from its 2.4 liter DOHC four, the 2010 Kizashi boasts class-leading power in the four-cylinder segment.

Fast forward to August 2010, and Suzuki moves the Kizashi into a category typically reserved for Bonneville streamliners. With extensive modifications supplied by Richard Holdener and Tom Habrzyk of Advanced Product Engineering and with Road & Track's Sam Mitani behind the wheel, American Suzuki's first-ever automotive assault on the salt begins on August 14 in Wendover, Utah. There, the Bonneville Kizashi – competing in the Blown Gas Coupe category – will rocket its way toward the 200 mph benchmark and, if successful, into Suzuki's already remarkable motorsport history.

The Bonneville Kizashi began with a pre-production Kizashi prototype. In May 2010, construction of the Bonneville racer began with interior disassembly, underscoring Kizashi's initial design premise. "Premium without the premium" is, suddenly, completely without the premium, reflecting a bare metal working environment intended for but one mission. Its upscale appointments removed, the Holdener/Habrzyk team installed the SCTA-approved roll cage, an aluminum bulkhead in the rear, racing seat, seat harnesses and window net.

With the cockpit modifications made, it was time to take a look under the hood and build on, with this Kizashi, the performance tradition rooted in Suzuki's first win on Mt. Fuji some 55 years ago. The spare motor was disassembled to confirm the stock measurements, while the cylinder head was flowed and ported. The Bonneville Kizashi benefits from a new intake manifold, a tuned 'long tube' header and – for high rpm durability – forged rods and pistons. With up to 20 pounds of boost from the Turbonetics turbocharger, the Kizashi's increased horsepower required air-to-water intercooling (and Snow water/methanol injection) – while its output demands a new ACT Clutch and Pressure Plate. A scattershield is added, the oil pan is welded for a new drain fitting and a new 3.5-inch exhaust is fabricated aft of the turbocharger. Additional protection for the high-boost, high-rpm turbo motor is provided by full synthetic 5W-20 racing oil from Lucas Oil.

The Kizashi platform – and its Nurburgring heritage – is morphed into a salt-specific recipe with new coilovers, steel wheels seam welded, and speed-specific 15×7-inch Goodyear Front Runner® rubber. An air dam keeps the Kizashi's nose planted, window straps and hood pins ensure the hood and glass stay in place, and a parachute can bring the high speed show to an emergency stop. Finally, a dual fire system provides the extra assurance so important for Mitani, with some 900 boosted horses but only a few feet in front of his now high-speed capsule.

With the build completed at the end of July, the first week of August provides a narrow window for the chassis dyno tune and over-the-road (closed course, professional driver) testing. Then it's on to Bonneville and the week of speed, beginning Saturday, August 14 and ending on Friday, August 20. If the week goes as planned, and the Kizashi performs as designed, the SCTA will have two new members among its 200 mph ranks: Road & Track's Sam Mitani and the 2010 Suzuki Bonneville Kizashi.

Technical Specifications – 2010 Bonneville Kizashi
Wheelbase: 106.3 inches
Overall Length: 183.1 inches
Overall Width: 71.7 inches
Engine: 2.4-liter, four-cylinder, 16-valve DOHC engine
Horsepower: 500 wheel hp @ 7000 rpm
Torque: 420 lb.-ft. @ 5100 rpm
Transmission, Manual: Six-speed manual transmission
Brakes: Front ventilated disc brakes/Rear disc brakes
EPA Fuel Economy Estimates: EPA test cycle does not include 200 mile-per-hour evaluation

About Suzuki
The Brea, Calif.-based Operations of American Suzuki Motor Corporation (ASMC) was founded in 1963 by parent company Suzuki Motor Corporation (SMC) and currently markets its vehicles in the United States through a network of more than 300 automotive dealerships and numerous other motorcycle, ATV and marine distributors in 49 states. With global headquarters in Hamamatsu, Japan, SMC is a diversified worldwide automobile, motorcycle, and outboard motor manufacturer. In 2009, SMC sold more than 2.3 million new cars and trucks and more than 2.8 million motorcycles and ATVs. Founded in 1909 and incorporated in 1920, SMC has operations in 196 countries and regions. For more information, visit www.media.suzukiauto.com. Suzuki can also be found on Twitter (@SuzukiAuto), Facebook (www.Facebook.com/SuzukiAuto) and YouTube (www.YouTube.com/SuzukiAutomotive).

# # #