Sneak Peek: Mercedes-Benz AMG Shows Off New Engine, New "Red Pig"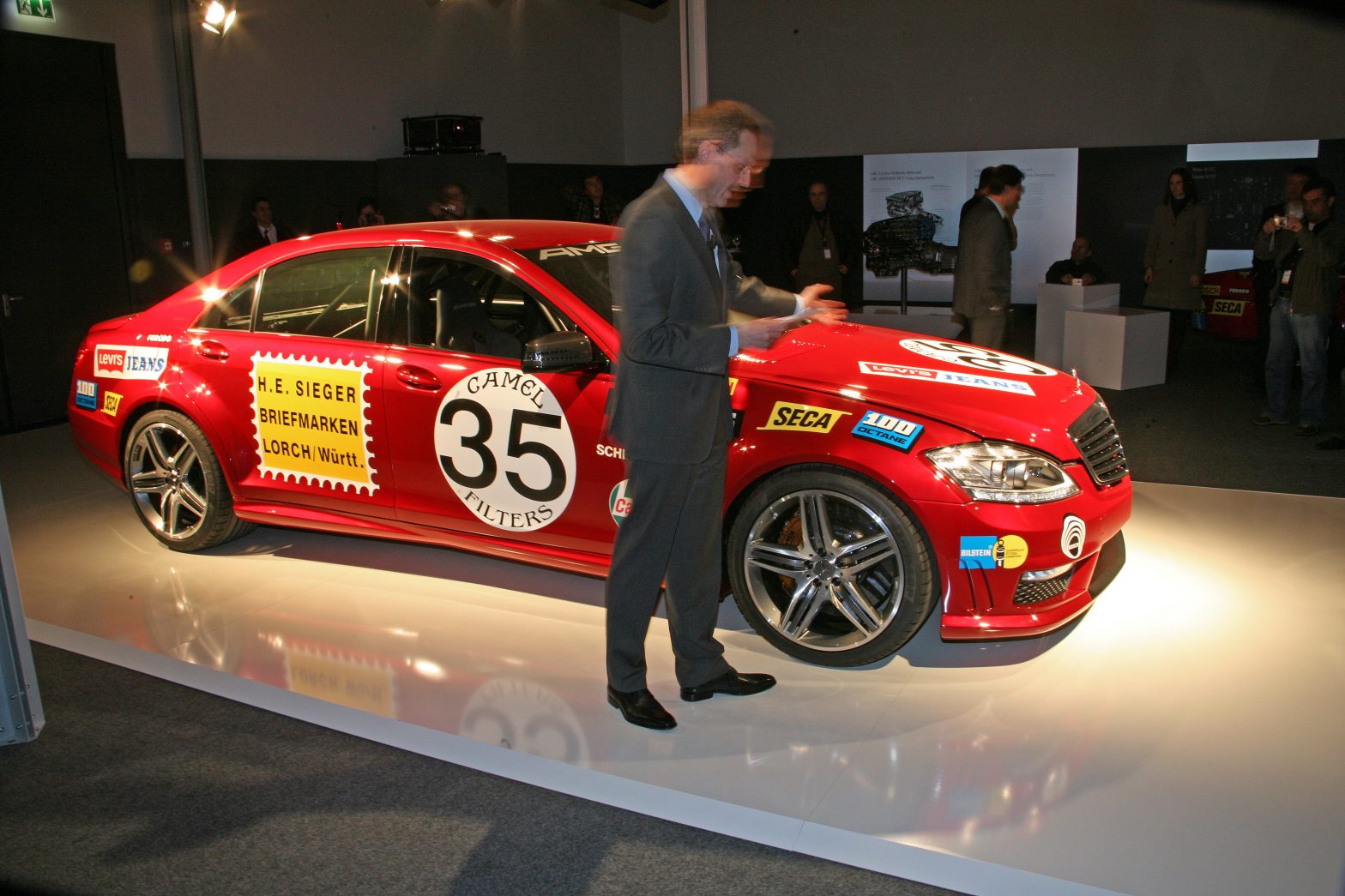 —Stuttgart, Germany
Out here on the flight-connection expressway, we're right now in Stuttgart just before the Geneva auto show. We're at this stop first and foremost to see Mercedes-Benz's new direct-injected and twin-turbo engine called M157 that will fully replace the current M156/M159 (the latter in the SLS) within two years' time. It's still a big-cylindered V-8, but it's now an all-aluminum AMG-specific version from scratch of the former Benz 5.5-liter motor that AMG had been using for a long time in previous-gen models (and still uses in the SLK etc).
In addition to a bit of a tour of the facility that will be soon running at full gas in Affalterbach for the M157, Mercedes AMG revealed the very first car shown to the press that carries the engine. Using the carcass of an S63 AMG, the folks at Affalterbach have created a new-age version of the famous 1971 racing 300SEL 6.3, referred to affectionately as the "Red Pig." That car had a 6.8-liter version of the V-8 that made 420 horsepower and drank fuel like a waterfall.
The new "Red Pig," though it still has the S63 AMG messaging on the trunk lid, is actually carrying the 5461cc, M157 motor, good for 563 horses at 5000 rpm with the Performance Package Plus treatment. This is also pumped to 664 pound-feet of torque between 2400 and 3600 rpm. Besides getting 25 percent better fuel efficiency than the naturally aspirated, port-injected 6.3-liter V-8 currently in most AMGs,, acceleration to 60 mph model for model is due to improve by over one second. In the case of the new Red Pig, that means a sprint of only 4.3 seconds.
The first cars to get the new motor with two Garrett Honeywell turbochargers, good for 18.9 PSI of boost pressure in the Performance Pack (14.5 PSI in the normal trim), are the S- and CL-Class by the end of 2010. In civilian trim, the all-new stock S/CL55 AMG will have power at 536 horsepower between 4400 and 5900 rpm, plus torque of 590 pound-feet between 2100 and 4600 rpm.
This Red Pig will not be shown at the Geneva Motor Show and there are no announcements yet as to where it will be seen again, running or static.