SEMA 2010: Mazda Displays MX-5 Cup Car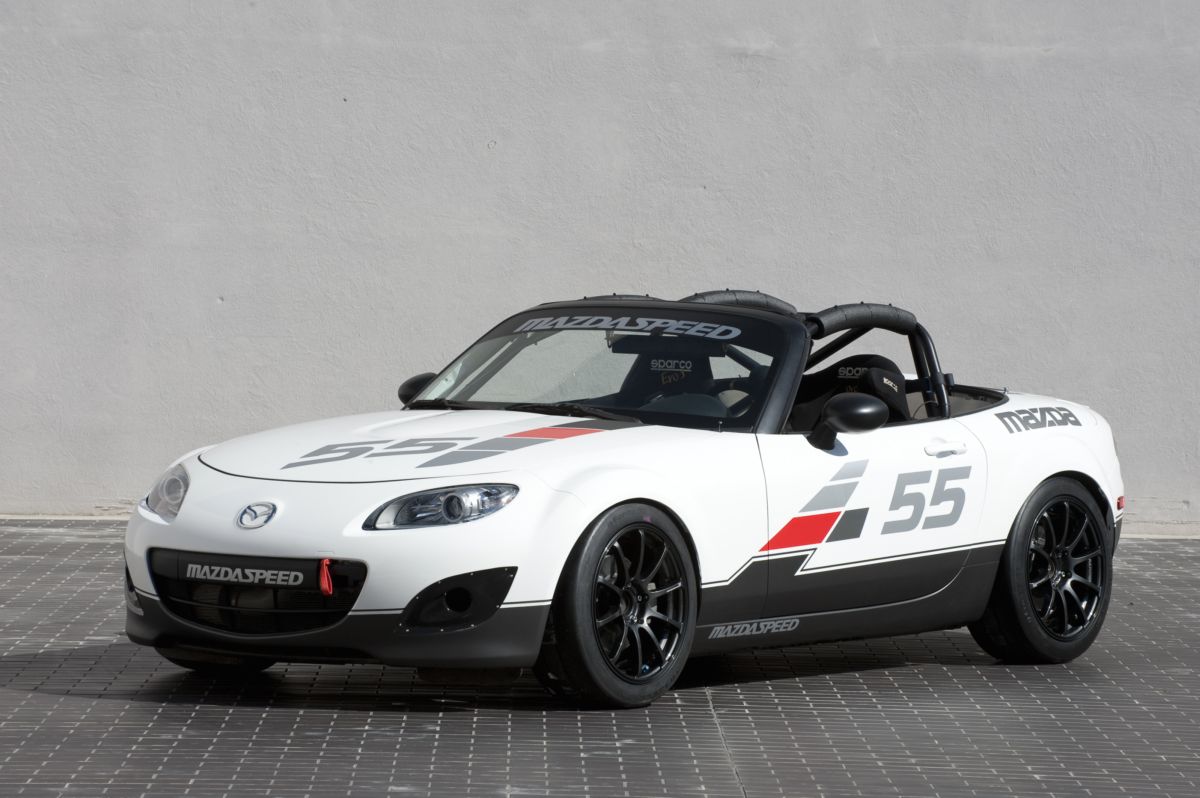 This year at SEMA, Mazda is displaying the Mazda MX-5 Cup car, built to the specifications of the MX-5 Cup racing series.
The engine has been modified with a Mazdaspeed cold air intake system , allowing for 195 horsepower. That power is put to the ground via the MX-5's stock six-speed transmission. Also under the hood, one will find a three-piece strut tower brace for stiffness under cornering.
The suspension for the Cup car consists of double adjustable shocks, series-spec springs, and threaded-perch coilovers. Wheels are standard MX-5 seventeen-inch alloys, wrapped in BFGoodrich G-force R1 tires. Brakes are stock as requires by the series.
To meet safety spec, an eight-point rollcage is weldede into the car. The MX-5 Cup car also includes a racing seat, head and neck restraint, an electrical shut-off switch, and a fire-extinguishing system.
This just goes to show that, comparatively, it doesn't take a lot of work or money to modify an MX-5 for the racing series, which has been going on since 2006.
Scroll down for more details in the press release.
MX-5 Cup Car
The most road-raced car in the world — as well as being the best-selling two-seat roadster in the world – the MX-5 Miata is no stranger to the track. The MX-5 Cup is a series that pits similarly modified MX-5s together on the track. The MX-5 Cup car weighs just under 2,600 pounds and features an authoritative 195-horsepower motor. The series was launched in 2006 and has since enjoyed strong fields and close competition.
Engine Modifications: A MAZDASPEED cold air intake system is required.
Chassis Modifications: The only modification is the addition of the 3-piece front strut tower brace that comes with the sport package.
Transmission/Final Drive Modifications: The stock six-speed gearbox is used by all cars.
Suspension/Steering Modifications: The MAZDASPEED Motorsports Development MX-5 Cup kit is comprised of double adjustable shocks, specified springs and threaded-perch coil-overs. All cars also run identical anti-roll bars and end links.
Brake System Modifications: Brakes must maintain stock brake rotor specifications.
Wheels: All cars run their choice of the stock alloy 17×7" wheels available on MX-5 Miatas.
Tires: The series spec tire is the BFGoodrich g-Force R1, size: 225/45/17.
Body Modifications: None
Safety Modifications: All MX-5 Cup cars run with full safety equipment, including an eight-point rollcage that must be welded into the car. Other safety equipment includes a racing seat, head/neck restraint, an electrical shut-off switch and an incorporated fire-extinguishing system.
Headquartered in Irvine, Calif., Mazda North American Operations oversees the sales, marketing, parts and customer service support of Mazda vehicles in the United States, Canada and Mexico through nearly 900 dealers. Operations in Canada are managed by Mazda Canada, Inc., located in Ontario; and in Mexico by Mazda Motor de Mexico in Mexico City.
# # #