SCCA Announces Another Historic Venue For 2017 Runoffs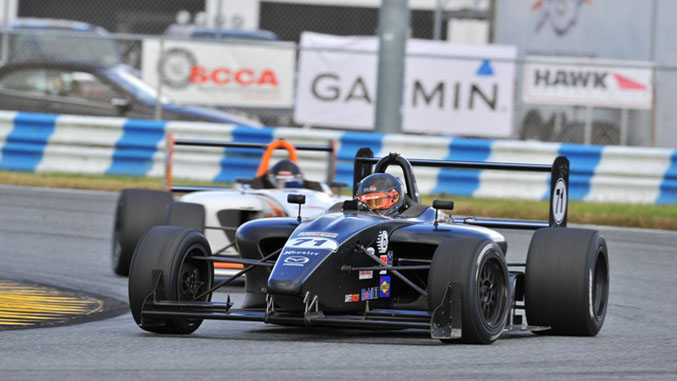 For Club racers who never thought they'd get a chance to compete at the Brickyard, the
SCCA
has some very interesting news for you: Officials have just announced that the 2017 Runoffs will be held on the Indianapolis Motor Speedway road course.
The event is unprecedented for both the Club and the Indianapolis Motor Speedway, pitting the amateur National Championship event on the fourteen turn, 2.439-mile road course that hosted the Formula One World Championship and the Verizon IndyCar Series' Angie's List Grand Prix of Indianapolis. The road course, of course, utilizes part of the famed oval that hosts the Indianapolis 500.
"In 2013, we announced that the Runoffs would go on an annual rotation, moving around the country with the goal of hitting bucket list tracks," Eric Prill, SCCA Vice President/COO said. "We've done that, having gone from Road America to Mazda Raceway Laguna Seca to Daytona International Speedway, and will be at Mid-Ohio in 2016. But the visit to Indianapolis in 2017, a track that no other SafeRacer Club Racer will have a chance to compete on prior to the Runoffs, is truly unique and a dream come true for many of our racers."
Constructed in 1909, Indianapolis Motor Speedway – also known as the Brickyard due to its original surface of hand-laid brick– is the first speedway ever built, and is the first racing facility to be referred to as such.
"As a racer, I know that the American dream of being a racecar driver starts with the Indianapolis 500," Lisa Noble, SCCA President & CEO and Formula Vee racer, said. "IMS is an integral part of our history as we are a part of theirs. Many of the Speedway's crew, workers, drivers and Indy 500 winners have their roots in the SCCA. Drivers such as Bobby and Graham Rahal, Jimmy Vasser, Mark Donohue, Buddy Rice, Michael Andretti and Lyn St. James are just a few that raced in the SCCA Runoffs before reaching the Indy 500."
The SCCA National Championship Runoffs has crowned Club Racing National Champions in a winner-take-all, single race format since 1964. Through 27 separate races over three days, the 2015 edition, held at
Daytona International Speedway
, crowned champions in 27 classes.
Prior to Indianapolis, the 2016 SCCA National Championship Runoffs will be held at Mid-Ohio Sports Car Course, September 19-25, 2016. Though a venue has not yet been announced, SCCA plans to hold the Runoffs at a west coast venue again in 2018.