Rumors: Spy Shots—McLaren P12 Prototype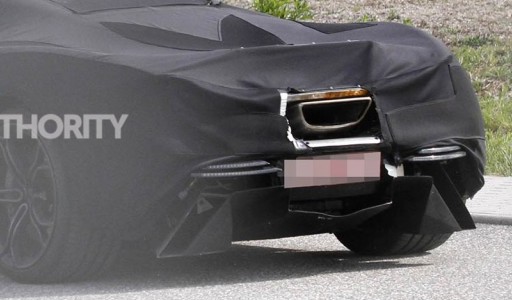 A few weeks ago, we reported in a Rumors post that McLaren was hard at work on a successor to its fabled F1 supercar. Now, new spy photos from MotorAuthority confirm that the Woking-based company is indeed creating a new halo car, currently codenamed the P12.
These spy shots reveal little about the final shape of the P12, but it will likely be wider, lower, and longer than its little brother, the MP4-12C. The prototype snapped here features an air intake on its roof, one massive central exhaust pipe, and the requisite aggressive aerodynamics package.
In terms of performance, the P12 will incorporate and build on the success of the MP4-12C. Prodigious power—rumored to be north of 800 horsepower—will likely come from a KERS-enhanced variation of the biturbo V-8 found in the MP4-12C. It will make use of McLaren's MonoCell carbon fiber monocoque, as well as other weight saving materials like titanium and magnesium. We can also expect the P12 to benefit from a host of electronic driver aids to improve handling and performance. The price for this unique blend of driving perfection? An estimated $950,000. The limited production run is rumored to be between 300 and 500 units.
A replacement for the McLaren F1 has some truly enormous shoes to fill, and it's looking like McLaren is on the right track with the P12.