Rumors: Spy Shots—2014 Lexus IS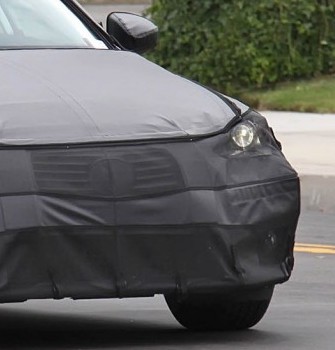 Lexus is in the midst of an important transformation and is working hard to shed its stigma of being a rather dull and conservative brand. The latest example of this change can be seen with its significant refresh of the popular mid-size sedan, the IS. The steady handed spy photographers over at MotorAuthority captured a heavily camouflaged IS prototype during testing in the US. When the 2014 IS recieves its public debut—potentially at the 2013 Detroit Motor Show—it will be adorned with the Lexus's striking new spindle grille, and should feature redesigned tailights as well as other visual enhancements. The IS may also come riding on a shortened version of the GS platform. Previous rumors had the 2014 IS riding on a stretched Toyota GT-86 platform, but that scenario is unlikely.
Under the hood Lexus should introduce an iteration of the V-6 engine found in the GS range, a new four-cylinder engine, and a hybrid powerplant. Also, if the rumors are true, a new IS-F will be unleashed to compete with the next generation BMW M3, potentially packing a significantly revised V-8 engine. Check out our May Rumors post on the forthcoming IS-F here.
Few other details are available on the 2014 IS, so keep an eye on the auto show circuit and the interwebs for the inevitable detail deluge.