Rumors: Industry Report—Next Lexus IS-F Leaked?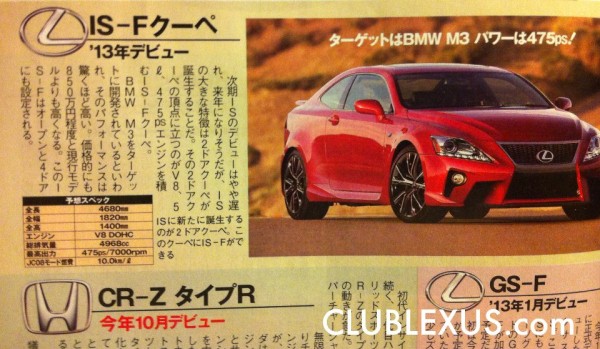 It's no secret that Lexus used the venerable BMW M3 as a benchmark when it created the first generation IS-F sedan. The company's finished product—its first crack at making an M3 fighter—packed a 5.0-liter V-8 that routed an impressive 416 horsepower through an eight-speed transmission, and dismantled the dash to 60 miles per hour in 4.6 seconds. However, like so many cars before it, the IS-F wasn't quite able to knock the M3 from the top of the super-sedan heap. A new leaked document reveals that the tables may turn on the M3 when and if the next generation Lexus IS-F hits the road.
An image from Best Car Magazine posted up on ClubLexus reveals some exciting possible features on a new IS-F. Horsepower is rumored to see an increase to 470 from a 5.0-liter V-8—no word on if it's the same V-8 in the previous car or if it stays naturally aspirated—and there may also be an introduction of several new body styles including a coupe and convertible. Previous rumors had the next generation of IS vehicles sitting on a stretch Toyota GT-86 platform and while it's not clear if that specific rumor is true, we do know there will be a new platform underpinning the IS range. If it does see the light of day—likely as a 2014 or 2015 model—the next IS-F should feature Lexus's corporate spindle grille and updated design language.
Interestingly, the image on ClubLexus also mentions a GS-F. The internet has been flush with rumors of a hot GS sedan in the same vein as the IS-F for sometime now—check out a recent article on MotorAuthority for more details. Let's hope Lexus keeps bringing the fight to the M3.