Rumors: Auto Show—Lamborghini SUV To Debut At The Beijing Auto Show?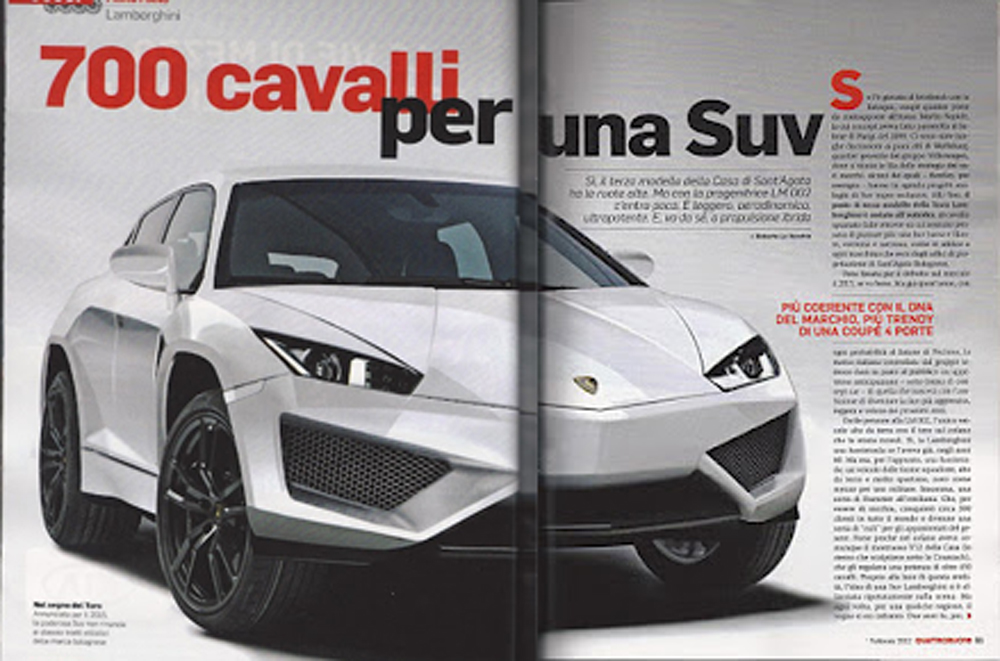 Recently published photos on
Supercarteam.blogspot
, taken from the Italian magazine
Quattroroute,
show what seem to be an all-new Lamborghini SUV. The styling looks like a cross between Lamborghini's own Aventador, the Maserati Kubang, and Audi's Q5. It is reported that if put into production, we could see the vehicle arrive in 2015, and that Lamborghini will be bringing this surprising concept to the Beijing Auto Show.
Few specific details are know about the powertrain at this point, with some speculation pointing to the new V-12 found in the Aventador, to some version of an Audi V-8, or even a gas/electric hybrid. Unlike Lamborghini's last foray into the SUV market with the LM002, this vehicle seems more suited to running the open road rather than mastering off-road terrain.
The basis of this particular rumor seem solid enough, but we'll have to wait until the Beijing Auto Show, which runs from April 27 to May 2, 2012, to find out.
Do you have a car rumor to report, a spy shot to share, or other automotive-themed dirt to dish? Drop us a line at
[email protected]
, our ears are always on!