Rumors: Auto Show—2013 Lexus RX And RX F Sport At Geneva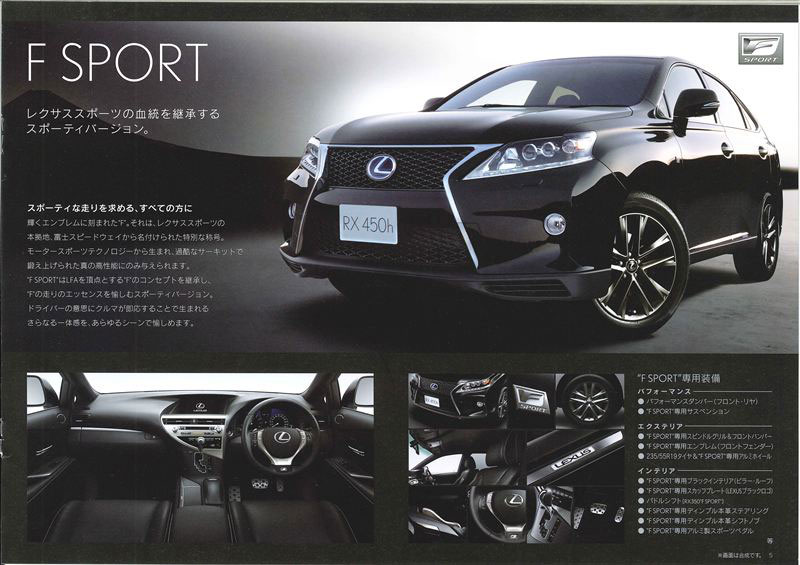 The 2012 Geneva Motor Show promises to be a special event, what with long awaited reveals of new cars, the introduction of new concepts, and plenty of exciting machinery from a range of manufacturers. Now, we can count Lexus among that collection of companies with news from Japanese site
Minkara
 (via some leaked sales brochures) that Lexus will be launching a range of hybrid cars at Geneva, as well as several under their F Sport banner.
Two of those vehicles should be the redesigned 2013 RX crossover and an RX F Sport. The RX F Sport will receive the performance treatment, but reportedly won't be as dramatic as BMW's "M" line, or Mercedes-Benz's AMG. We can expect the hotted up RX to feature minor aero and chassis tweaks, as well as special interior bits like a sports steering wheel and aluminum pedals.
Styling on both versions of the RX should be built around Lexus' new "spindle" front grill that originally debuted on the 2013 GS. Performance and power details are scarce at the moment, but it's likely variations of the GS line's 3.5-liter V-6 in both its standard and hybrid form will be under the RX's hood.
Do you have a car rumor to report, a spy shot to share, or other automotive-themed dirt to dish? Drop us a line at [email protected], our ears are always on!