Rumor: SRT "Hellcat" Challenger to Out-Muscle Current Viper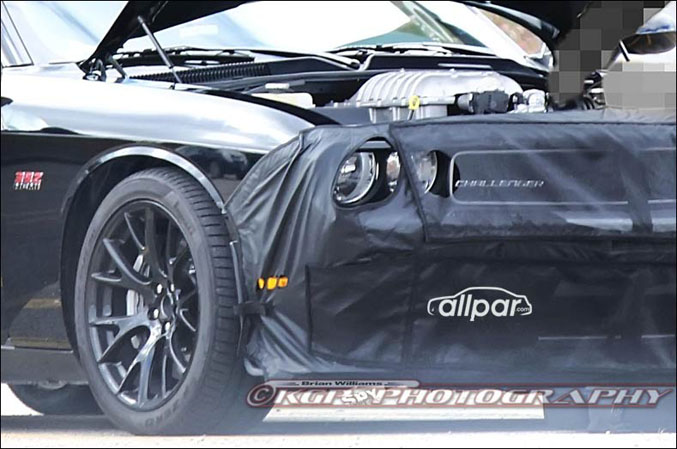 When the pony car wars ramped up a few years ago with the reintroduction of the Dodge Challenger and Chevrolet Camaro, many expected Mopar to be the company to beat when it came to horsepower, as was the case the first time around back in the late 1960s when the burly 440 six-pack and 426 HEMI engines dominated drag strips around the country. However, Chrysler's resistance to forced induction meant that when the supercharged ZL1 Camaro and Mustang GT500 hit the streets, SRT didn't have the hardware to answer back with. That may be about to change in dramatic fashion, though.
During an interview for the April issue of Hot Rod Magazine, SRT chief Ralph Gilles let it slip that once the new Hellcat motor lands in the 2015 Challenger, the V10-powered Viper may find itself outgunned by its own siblings:
"We have a situation where, you know – we may have a situation – where the flagship car is not the most powerful car in our arsenal… how do we explain that to ourselves? So we have an internal horsepower race as well as an external one."
The long-rumored Hellcat motor is said to be an all-new 6.2-liter supercharged V8. In order to fit the criteria Giles mentioned of being more powerful than the flagship SRT Viper, this new Hellcat motor would output in excess of 640 horsepower, positioning it favorably with offerings like the 580hp Camaro ZL1 and 662hp Mustang GT500, with some estimates putting the Hellcat's output figure at over 700 horsepower.
Along with the new engine, the SRT Hellcat Challenger is expected to get uprated brakes, wheels, tires, a fully revised suspension system, an optional ZF 8-speed automatic or six-speed manual transmission, and a host of interior and exterior updates. It's expected to get an updated price as well – estimates peg the Hellcat to sticker price to land in the range of the $75,000 Camaro Z/28.
The Hellcat was predicted by many to debut in Detroit back in January, and when the car was a no-show there, speculation started to revolve around the
LX Fest
, an annual enthusiast show for owners of Challengers, Chargers, Magnums and Chrysler 300s. Now that the event has come and gone with no Hellcat in sight, the current
Allpar
rumor is that the revised car will finally debut at the New York Auto Show on April 16th or 17th, with the Hellcat model making an appearance shortly thereafter. The meantime, we'll be sure to keep you updated with any Hellcat news as it becomes available.