Rumor: Redesigned Chevrolet Volt to Debut at Detroit Auto Show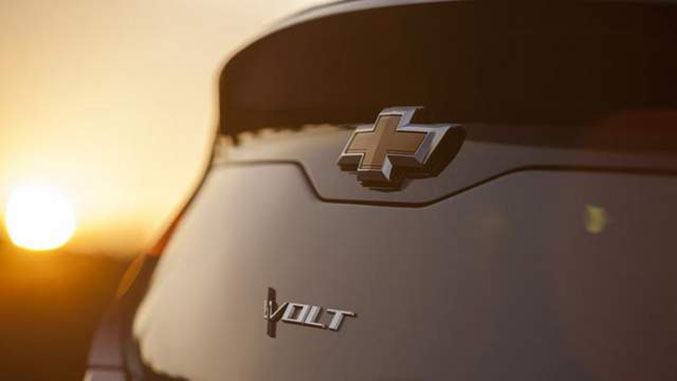 At the 2014 Management Briefing Seminars in Traverse City, Michigan, Tim Mahoney, Chevy's global chief marketing officer, revealed plans to debut the new 2016 Chevrolet Volt in Detroit. Mahoney also showed off a teaser image of the redesign plug-in, giving us a look at the more sculpted decklid of the next car.
Expected to arrive in showrooms in late 2015, the new Volt will utilize a smaller 1.0-liter three cylinder gasoline engine in place of the current 1.4-liter mill that generates power for the electric motor. A third row of seats is expected to be added as well.
While GM has sold more than 65,000 Volts to date, making it the most popular plug-in car currently available, sales have fallen short of expectations. Former General Motors CEO Dan Akerson had initially projected production of 60,000 Volts in 2012 alone.
However, the Volt has enjoyed a high conquest rate – or sales to buyers coming in from other brands. Nearly 70 percent of Volt customers are being lured away from outside the GM umbrella, with the majority of those buyers trading in Toyota Prius hybrids.
Powered by a 435 pound battery pack, the Volt has an all-electric range of approximately 38 miles, after which a gasoline motor begins running to power the electric drivetrain. GM says that Volt drivers are doing about 63 percent of all their driving in all-electric mode.
"You'll see improvements all the way across, from technology to design," said Mahoney, calling the car "a pure expression of what Find New Roads represents".