Rossi and Hamilton Swap Seats: What This Tells Us About MotoGP And F1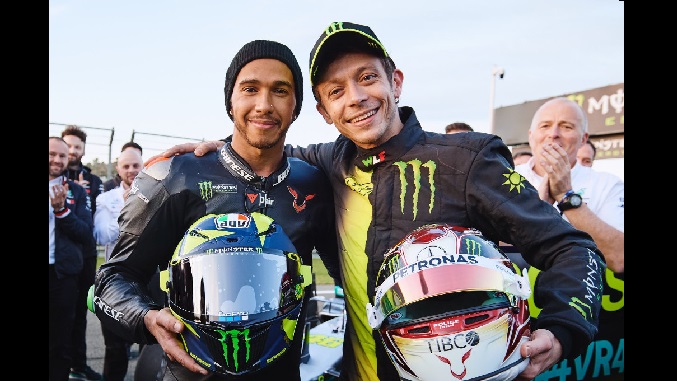 Planetf1.com
Recently, writer Darshan Chokhani posted an article on Drivetribe about MotoGP champion Valentino Rossi having his seat fitted at Mercedes F1 -a seat formerly occupied by 2019 F1 champion Lewis Hamilton.
There had been talks of such a swap happening for some time. Barring any 2-wheel vs. 4-wheel engineering shock (their engines at least sound quite similar!), It'd be quite cool to see how these two athletes, who are at the top of their respective sports, would fare in eachothers' machines and do some laps.
Sure enough, they recently gave it a shot at Valencia! Check out the video below posted to the Motor Sport Magazine YouTube channel, it's cool to hear their impressions.
What this tells us, is these two require no introduction when discussed in each other's media sources. The middle portion of the F1/MotoGP fandom Venn Diagram is massive, and both sports are at the same level of their respective professional motorsports hierarchies. Well, actually, the latter just fits nicely into the middle of this high-skill, high-stakes, and high-financial-backing Venn Diagram.
Perhaps this could also lead to a major change in their careers? It makes a ton of sense for them to trade places if its something new they're after, trying their hands at a new-yet-familiar sport, one a vehicle that they can easily apply their skill to. Heck, we'd bet green money that they can even carve out shockingly similar lines on the circuits they've gotten to know so very well in their former vehicles. It'd be really neat to see these two legends give new racing territory a hearty try.
Perhaps it also means that MotoGP and F1 could partner more in the future; a rising tide raises all 2-wheel and 4-wheel carbon fiber ships.