Race Report: SCCA Super Tour B-Spec Weekend at VIR, April 11-14 2019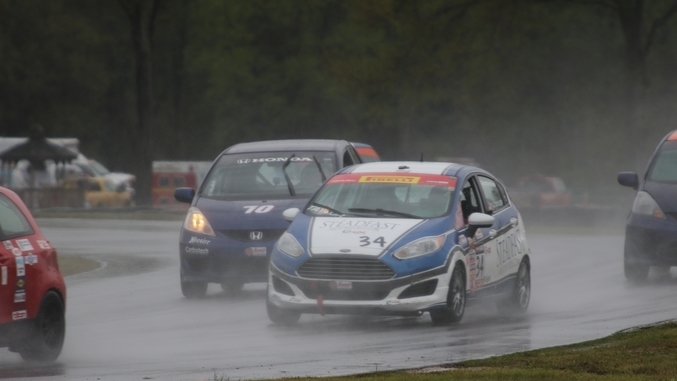 Chris Taylor operates Chris Taylor Racing Services right next door to COTA in the Austin, TX area. Follow along as Chris fills us in on how a weekend of SCCA B-Spec racing went at VIR a few weeks back. Find him on Facebook at @ChrisTaylorRacingServices, Instagram at @racerchristaylor, or visit his website www.christaylorracing.com
VIR SCCA Super Tour April 11-14, 2019
Let's get right to it: On Thursday morning one of the Honda Fits I hauled blew it's motor, which led to the owner, Kent Carter, scouring all over North Carolina and Virginia in search of a donor as well as a new radiator (unfortunately it got holed in an incident at Road Atlanta 3 weeks prior). A new engine was found, and David Daughtery, John Phillips, Willie Keeling and myself swapped it in and got it running that night. A delicious pizza dinner victory was provided by Diane, Kent's wife.
David's wife, Toni, made a 4-hour round-trip to their house to get a part for John Phillips' Fit which had an issue crop up during Thursday's test day, which required a trip to the dealer Friday morning to fully rectify, causing him to miss the morning practice session. This unfortunately was our only real dry session until Sunday's race.
Engine about to go in!
I tried to get familiar with the track and pick out some reference points during practice. I went out in the first Qualifying session on my street tires as it was still a little sloppy from a rain shower. This turned out to be a horrible decision as I couldn't get enough clear track to get any heat in them, and was seconds down on everybody else who went out on slicks. At least I got to put eyes on the track again and spot a few more reference points I needed to look for, but my times continued to be dismally slow.
Saturday morning, I went out on scrub R7s because everybody was so much faster on slicks in Friday Qualifying than I was on street tires. I started gaining confidence in the car and rubber, but our Qualifying session was cut short. I was still slowest in the group but was getting a feel for where the track went… just in-time for a torrential downpour.
Race 1 was sloppy, messy, and wet, so I opted for the street tires again. We had our own start behind the Prod cars, and I got a great jump as the 3 rows in front of me went to opposite sides of the track. I was able to sail right up the middle! I would have cleared the second row and into the 3rd if I hadn't banged it off the rev limiter in all of my excitement! I had a good few laps of racing with Cherie Storms of Vancouver, Canada, until my lack of confidence in the tires and the better grip of other racers' rains led to me making laps by myself. Cherie went on to battle hard with Joe Gersch, a fellow Texas driver. Cherie persevered for 7th after a last-lap pass, followed by a big tank slapper in Turn 3, maintaining position.
After the race we had a potluck gathering and briefly discussed some possible tire changes. Frank Schwartz offered up an exciting offer for the group: if we can get 30 B-Spec cars to SCCA Runoffs, Frank and his company Advanced Automotive Consulting Services, in partnership with RaceTrackMaps, will reimburse the entry of one B-Spec driver at the 2019 Runoffs! There is still time to qualify, and there are plenty of competitive cars for rent (from myself and many others: check out the Facebook B-Spec group linked below).
Sunday, I skipped the warmup, and put the scrub R7s back on for what would be an initially-slippery-yet-drying track. I got a decent start, nowhere near as good as the day prior, but got up in between Cherie Storms and Drew Strickland. I was able to draft by Drew with Cherie, then race with them for several laps, but eventually lost touch with them until a full course caution brought on by a Prod car punting a B-Spec car off-track and high centering him in the mud. After they got him rolling again, I sent it through the Roller Coaster and Hog Pen sections on a gamble that the green flag would be out; just in-time as the corner workers started putting down the double-yellows. I passed a ton of Prod cars. I caught up to Cherie and Drew into Turn 1, tried to hang with them, but was down on power as apparently cars burn more fuel in the dry than the wet (duh); my fuel pressure was hovering between 0 and 12.
Brian Metcalf, who had been following me and was a great drafting buddy sailed by me in the Esses. While trying to turn the tables and learn a faster line through Oak Tree from him, I went muddin' and back onto the back straight… I REALLY lost touch with the group getting to the white flag. Fritz Wilke went off to avoid contact with Frank at the front of the pack and clawed his way back on track just in front of me. He did a tank slapper through 4-5, and we went side-by-side through the Esses. I just didn't have the grunt here to get in front of him, and we came across the line 10th and 11th. David Daughtery, John Phillips, and Frank Schwartz finished 1-2-3 both days, and had their share of the fun at the front. Too bad they're too fast for me to keep an eye on and have a report their battles!
This photo and main photo by F And S Enterprises
All in all, VIR SCCA was a fun weekend and really displayed the friendliness and camaraderie of B-Spec. It really is one of the best groups in the paddock and is one of (if not the) most affordable classes in SCCA road racing. A budget racer could get half of a season out of a set of pads and could get 1-2 weekends on a set of stickers with good rotation. There are quite a few affordable rentals throughout the country; no matter where you are, you can get a taste of the cars and class before jumping in!
For more info on B-Spec racing:
B-Spec Facebook group: https://www.facebook.com/groups/203643743139368/
B-Spec For Sale/Rent group: https://www.facebook.com/groups/1963447977209282/