Preview: Zenos E10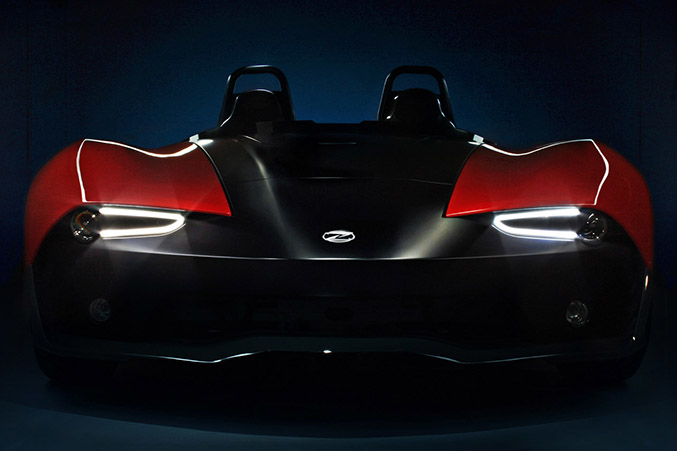 For enthusiasts in North America it can be frustrating to see the assortment of track day cars that are only available to buyers in Europe. Fortunately for us, Zenos, a company founded by former Caterham boss Ansar Ali and engineering exec Mark Edwards, vows to bring their wares across the pond to us Yanks. The first of these offerings will take of the form of the E10: a lightweight, two-seater track day car that promises a power-to-weight ratio of 300hp per ton.
Motivation comes by way of a 200hp, Ford-sourced 2.0-liter GDI engine which will send its power to the rear wheels. With a curb weight of just 1430 pounds, that's enough to push the E10 from rest to 60mph in a brief 4.5 seconds.
That low curb weight is accomplished by a design ethos centered around "simplicity and functionality". Accordingly, an innovative carbon and aluminum 'backbone' helps keep the E10 both rigid and low on mass, and it utilizes a removable rear subframe which houses the engine, making assembly and repair easier.
The E10's cockpit is designed to accommodate individuals ranging from 5'1 to 6'3 in height and the Launch Edition – which will be the initial offering in the US – sports bespoke Zenos racing seats with 4-point harnesses and a quick release steering wheel. Vehicle information will be offered by both a display directly behind the steering wheel as well as on a larger readout mounted on the center console, the latter of which can also provide track data.
The Launch Edition will also include in-board Bilstein dampers, a limited slip differential, and Launch Edition Red paintwork. Pricing for the E10 will start at $39,500 plus domestic shipping and taxes and the E10 Launch Edition will start at $43,750 plus domestic shipping and taxes, and Zenos expects to begin delivering the E10 to American customers next early year.
Take a look at the press release from Zenos for additional details on the E10, and keep an eye on the
Zenos E10 overview page
for additional details as we have them.
Zenos Cars announces USA importer Zenos Cars USA, LLC
Zenos Cars announced today that its range of lightweight high performance sports cars will be sold in the USA market by its partner Zenos Cars USA, with the first model, the Zenos E10 making it into customer hands in early 2015.
The Zenos E10 made its first public appearance at the UK's prestigious Autosport International Show in January 2014 and received wide public acclaim and industry plaudits for its innovative E-platform chassis architecture, contemporary design, and unrivalled value for money for its sector leading performance. The E10 is a road legal, track focused, step-in two seater sports car with Lotus Elise type proportions. A 200hp mid-mounted transverse naturally aspirated 2.0-litre Ford GDI engine (customer supplied) drives the rear wheels and with a curb weight of just 1430 pounds, a power to weight ratio of 300hp/ton has been achieved. The low vehicle mass is achieved thanks to the innovative integration of a single 'backbone' aluminium extrusion with a carbon composite monocoque; this architecture delivers optimal torsional rigidity, and by utilizing recycled carbon fiber with a novel thermoplastic core for the tub material, the Zenos platform delivers world class mechanical efficiency without the production – and replacement – costs normally associated with carbon-based supercars.
Keeping to the theme of affordability, the front suspension connects directly to the spine/backbone – minimizing cost and mass – while the engine is encased in a rear extruded sub-frame that is removable to facilitate assembly and repairs. Given the performance of the car, driver and passenger safety is paramount: a fully encased steel safety cell comprising twin roll-hoops and side-impact bars is integrated within the carbon monocoque.
The E10 has been designed from the driver out, so simplicity and functionality is the order of the day. The cockpit's ergonomics accommodate persons ranging from 5'1 to 6'3 in height with both driver and passenger seated in bespoke Zenos seats. The E10's driver focus is further accentuated with a visual display directly behind the steering wheel that communicates essential driving information, while in the middle of the dash is another larger screen that will include a choice of road or track data display.
Chief Executive of Zenos Cars, Ansar Ali said, on making the announcement of Zenos Cars USA, "We have always hoped the essence of the Zenos brand and its products would sit easily with the US motoring community of "light is right" aficionados. Randy and Joe are the very epitome and we are delighted to be helping them establish Zenos Cars in the US."
"There is something special about the people that appreciate a pure driving experience and who understand what low vehicle weight translates to on the street or track. I can't think of a car that will more perfectly fit this niche than the Zenos E10. Ali and the team at Zenos also are truly car guys who get it. We are thrilled to be partnered with them" said Randy Chase, CEO of Zenos Cars USA.
The E10 will be first sold in a special Launch Edition which includes as standard, a Limited Slip Differential, In-board Bilstein dampers, 4 point racing harness, bespoke Zenos composite seats, quick release steering wheel, Launch Edition Red paint, and more. Pricing for the E10 will start at $39,500 plus domestic shipping and taxes and the E10 Launch Edition will start at $43,750 plus domestic shipping and taxes.
About Zenos Cars
Zenos Cars, co-founded by Ansar Ali and Mark Edwards, who previously were senior executives at both Lotus and Caterham Cars, specializes in the design, manufacture, and retail of lightweight razor sharp handling sports cars.
During Ali's and Edward's time successfully leading Caterham through a recession and then taking it into F1, and prior to that their time at Lotus Cars, they have observed increasing vehicle weights, higher entry prices, escalating repair costs and distant customer relationships; all this leading to the needs and wants of the true driving enthusiast being increasingly overlooked. So Zenos Cars intends to deliver thrilling, engaging and affordable lightweight sports car experiences that go beyond simply driving a car; the driver, the customer, the enthusiast, the supporter will be at the heart of Zenos.
The Zenos principle is to design, assemble, and retail high performance, ultra-lightweight and affordable sports cars, courtesy of intelligent vehicle engineering, efficient material technology, the application of 'form from function' design, and the adoption of a direct Customer Intimate sales and marketing approach.
About Zenos Cars USA
Zenos Cars USA was co-founded by Randy Chase and Joe Schroeter. Randy previously founded ChaseCam, a global supplier for rugged data and video recording products. He has been active in the online community founding Lotustalk.com and Britishspeed.com and is also involved with SCCA motorsports. Joe is Managing Director of The Adrenaline Gallery, an integrator and dealer for Russell Savory Engines, Sadev transmissions, Life ECUs, and more. Together they saw the need for a pure sportscar that was both light weight and affordable and Zenos delivers on all of these fronts.
Zenos Cars USA has offices on both coasts and intends on being active in community based car events.