Preview: 2017 Mazda MX-5 RF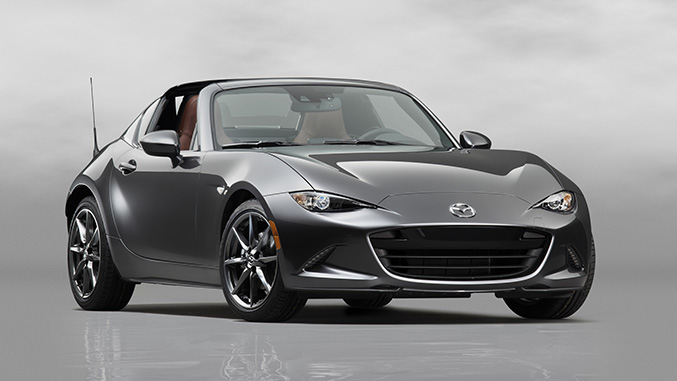 When Masahiro Moro, President and CEO of Mazda North American Operations, took the stage at this year's New York Auto Show to unveil the new MX-5 RF, he summed up how Mazda differentiates itself from other automakers when he delivered this gem: "Other companies have become quite successful by not caring if their cars are boring or not."
The numbers certainly don't lie – Honda has sold Civics by the millions, as Toyota has done with the Camry. Comparatively, Mazda serves as more of a niche company within the realm of Japanese automakers. And we can't help but love them for it, because it yields products like this gorgeous targa-topped MX-5 RF.
The original concept for the Miata was fairly straightforward – develop a light weight, rear wheel drive platform that focuses on the joy of driving above all else while maintaining bulletproof reliability and a low cost of ownership – something the cars that inspired the MX-5 were never particularly successful at. While the market in the late 1980s wasn't exactly chomping at the bit for a car like the MX-5, the Miata went on to become the best-selling two seater convertible sports car in history.
True to form, when the all-new fourth generation MX-5 debuted last summer, it was offered only as a convertible with a manually operated cloth roof. That top design is fantastic piece of engineering simplicity, requiring about 4 seconds to open or close the top and the entire operation can be done with one hand. But even with the cloth top's robust construction, it still leaves something to be desired as a year-round car.
Many had expected Mazda to bring a new MX-5 coupe of some form to the New York, but the assumption was that it would be a retractable hardtop similar to the treatment that Mazda has done to MX-5s in the past. The RF (Retractable Fastback) is something different though, with a streamlined silhouette and an electronically-operated targa roof that tucks elegantly into the rear clamshell. The result is arguably the most visually compelling Miata ever to roll out of a Mazda factory.
Mazda says that trunk space is unaltered when compared to the convertible MX-5, and the targa top can be operated at up to 6.2 miles per hour. Here in the U.S., the RF will be outfitted with the same 2.0-liter four cylinder Skyactiv power plant as the roadster, which can be optioned with either a six-speed automatic or six-speed manual gearbox.
Two things that remain a mystery is how much mass the RF treatment will add to this sports car – one which touted a curb weight similar to the original Miata when the convertible was unveiled in 2015 – and how much of a premium this may command versus the standard soft-top MX-5. The company expects to take customer pre-order this summer, a few months ahead of its launch. Check out the video below to see the MX-5's new targa top in motion.
+ Driven: 2016 Mazda MX-5
+ Racecar Profile: 2016 Mazda MX-5 Cup