PCA at CoTA: The Perfect Blend of Car Fans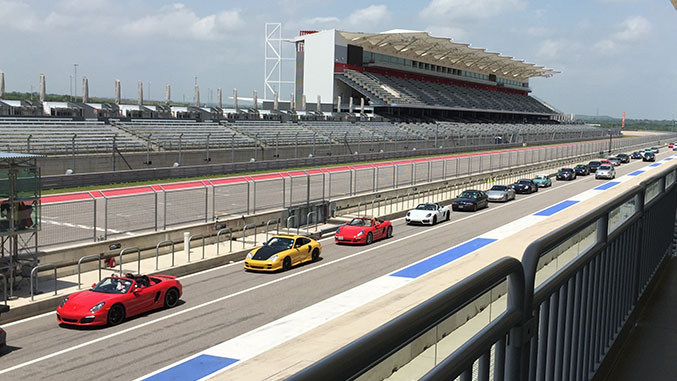 Patrick Hoffstetter is our guest contributor this week. Patrick is a young scribe from Austin, Texas who attended the same Porsche Club of America event where we
ran the 911 GT3 Cup car
back in May. Here Patrick offers up some perspective on what it's like to catch an event like this when you're not running around doing race prep and instead just enjoying the spectacle and comradery of it all. Be sure to check out more of Patrick's work over at
Hooniverse
. -Bradley
The weekend of May 8th was a special one, as it was the 3rd time that the Hill Country chapter of the Porsche club of the America descended upon the Circuit of The Americas for their track day. Club racing was the name of the game, and there were plenty of open sessions for everyone to enjoy their car without the pressure of going wheel to wheel. Driver education was also available, making sure anyone could get onto the track if they paid their dues and registered for the event.
As someone who is new to the world of Porsche ownership, I figured I owed it to myself to check out the local club and see if I would gel well with the crowd – to see if they would even accept the young writer with the Guards Red 944. I went in expecting people with titles like MD, or PHD, or CEO, but who I actually met surprised me more than anything.
When you approach CoTA on a race or track-day after it has already started, you are usually greeted by anything from the rumble of V8 race cars to the weird, almost humming sound of Prototype racers. But what do you get when you approach the largest Porsche track-day that CoTA had ever seen? You get the wail of race prepped flat six engines, courtesy of all of the various Cup cars that were there. It was then I realized this was going to be a very special day.
As I approached the gate however, the track went silent. The threat of rain looked like it could have drowned out the rest of the event much like it had drowned most of downtown Austin. Making your way to the paddock area of CoTA is always an event. Going under the tunnels under the front and back straights is always a novelty that never gets old. Bonus points if the cars are running at the time.
Moving into the paddock of CoTA was an experience like no other – I had never seen anything like it. Classic 911s all track prepped, survivor 356s being daily driven, and then brand new GT3s being tracked right from being picked up from the dealership. That, along with the modified 944 and 914 models, made for a combination that was just astounding to me.
But what was even more surprising was the group of people there. From older guys who bought their 911 new and have never parted with it to newcomers like myself who are just enjoying Porsche ownership at a young age, to race car drivers competing with a Cup car on a weekend. When you hear "Porsche meet-up" you might think dentists who bought a base Carrera to daily drive, but this eclectic group of people would prove you wrong.
Going to this event alone meant I had to find people to talk to and find friends so I wasn't just the guy with the field notes wandering around gawking at cars. The first place I went was the media center, where they had set up the info and registration. They immediately took me under their wing, pointing me in the direction of the stairs to the stands, explaining that a race between spec 944s, Boxsters, and 914s were about to start. It was a packed field with over 80 cars taking the start, and I knew I had to get up there to watch it.
When I went to the World Endurance Championship last year, I also made sure that I was in the main stands for the start, because I knew that turn one at COTA always has a reputation for being a tad chaotic, with contact and cars going wide. The amateur racers of the PCA? None of that. No contact, no running wide, no spins. It was amazing. Seeing that many cars take the start without incident was mega. I was on my feet, more excited seeing that than I was for most professional races. It was good clean racing, with all of the classes having their own great fights. It was absolutely fabulous.
After the race, there were parade laps in Honor of Bob Benson, a track worker who had passed away earlier in the year. It was after that I decided I was going to search out the amazing people running these incredible machines. The first person I really got talking to was an owner of a brand new Corvette Z06. Doug was proud of his new machine, and already had two sets of wheels and tires for it. He brought it to really put it through its paces on one of the greatest new tracks on Earth.
He was kind enough to let me poke around in it, answer my questions, and tell me all about the car. Seeing the car on track and hearing it blast past was amazing. That car was the odd one out in that it wasn't a product of Germany, but it and its owner were both remarkable.
The next person I met was a reserve F-16 crew chief named Kelly. Kelly was like me in that he was just there to observe the chaos and amazing machines on display. We talked about his job, and then decided that it would be great to see if we could help anyone that maybe needed help changing wheels or adjusting anything.
This is where Cathy comes in. Cathy is an older woman who has a 997.2 Carrera S. It's her daily driver. Oh, and she just happens to have two sets of wheels and tires, and tracks the hell out of the thing. She is a total track rat, but is still relatively new to it all. She told us as we were helping her change wheels that she wants to move up to a GT3 eventually. She was the exact sort of inspiration I need to keep moving forward with this hobby. You are never too old to start anything, and never too old to be rad.
After that, Kelly and I exchanged numbers and decided to split up for the day. This is when I spotted a man in a Porsche Motorsports jacket. I knew I had to go talk to him. Derrick was there from Porsche to support all of the Cup cars that were there, from the very newest 991s all the way back to the 996. Derrick was looking over telemetry and setups to make sure that the people that had these very expensive race cars were getting the most out of their time there. The Cup cars weren't invincible however, as a poor 996 met a tire barrier at some point during the day.
As the day wound down, I kept running into more and more nice people, all wishing me the best in both writing and Porsche ownership, and all of them encouraging me into joining the PCA. I went from expecting to be the young kid with the 944 being ignored to realizing that everyone started somewhere, and that the Porsche community is all inviting.