Pastrana Wins, Block Breaks, Ice Dominates At Rally America Sno*Drift 2010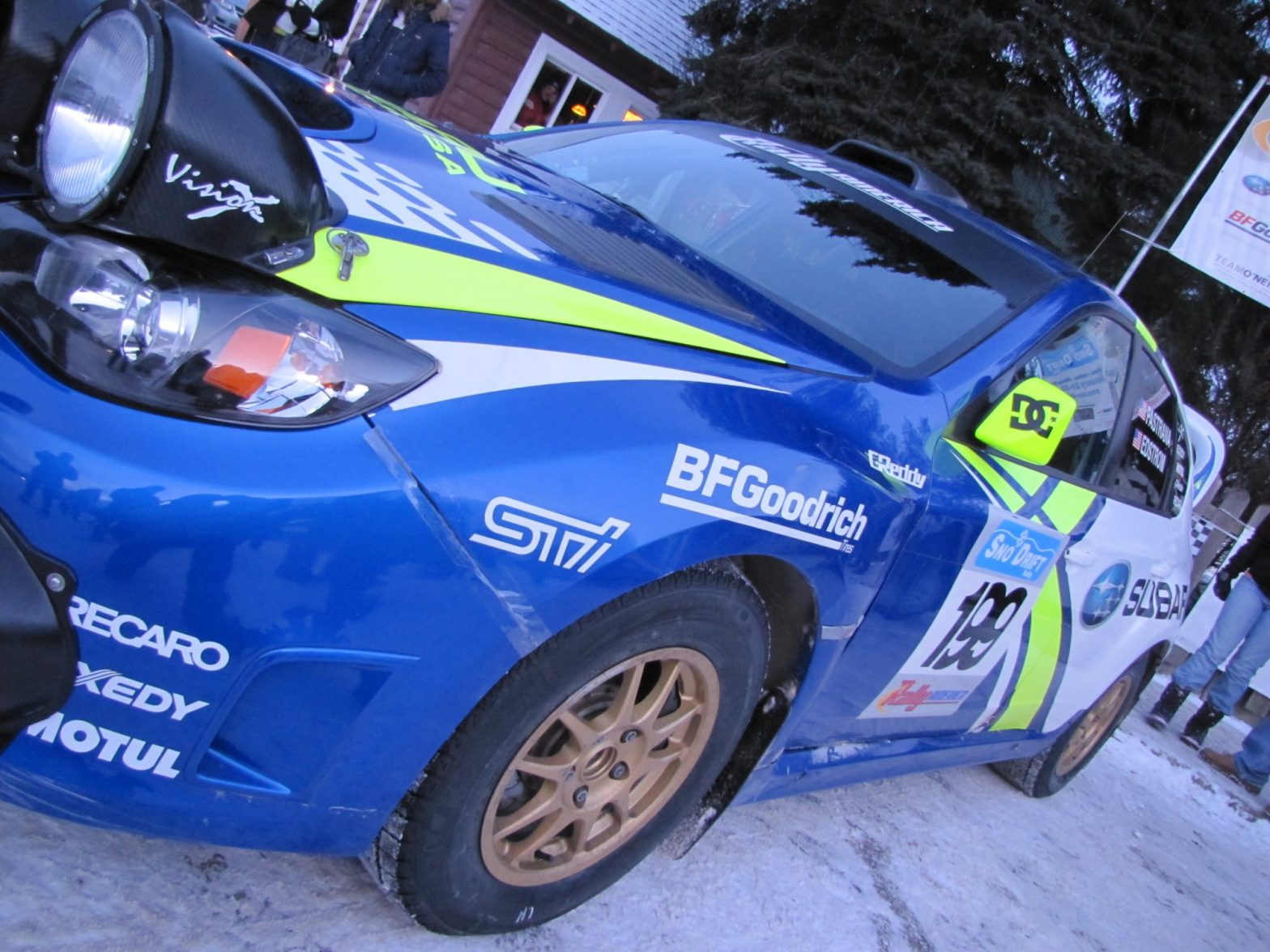 Travis Pastrana's enviable motorsports resume—which already features such mundane entries as double backflipping a motorcycle, jumping a car 270 feet across Long Beach Harbor, and capturing enough X Games gold to bailout Wall Street—expanded this weekend to include a new sport called vehicular ice dancing, and subsequently, his fourth Rally America Sno*Drift victory. Actually, ice drift might be a better term, as the Northern Lower Michigan roads used by the racers were the slickest in recent memory, thanks to a soaking rain followed quickly by a drastic drop in temperature—all less than a week before the race. As a result, the gravel roads were more like rivers of glare ice, and since studded tires aren't legal in Michigan, and since rally cars must be street legal, well, you see where this is headed.
The big news for Sno*Drift 2010 was Ken Block's Monster World Rally Team and the racing debut of the all-new Ford Fiesta rally car. Aggressively flared, adorned with skull and crossbones, and sporting a decidedly non-production turbocharged mill with all-wheel drive, the 2011 Fiesta was a hit with the crowds but dropped out of the event after a suspension failure left Block stranded on stage seven, unable to return to service. Block had been running well prior to the breakdown, claiming the quickest time on the first stage and running near the top until the Fiesta gave up the ghost.
"The Fiesta has so much torque, and was running so strong; it will be great to see what it can do with proper traction," said Block in a statement. This came after the team posted a shakedown video of Block pegging the Fiesta's 110 mph speed limiter on the aforementioned icy roads, leaving us wondering what his definition of "proper traction" really is. In any case, view the video at the end of the story and make your own judgments.
With the Fiesta out of the picture, the Friday-Saturday event came down to a duel between Pastrana and Canadian driver Antoine L'Estage, piloting a 2009 Mitsubishi Evo X. Pastrana steadily increased his lead through the duration of the event, ultimately finishing a minute and a half ahead of second place, and oh yeah, he did it with a broken collarbone held together by a metal plate.

"It's just pain," said Pastrana at the podium ceremony on Saturday. "Once they put the plate on, the bone isn't healed but it ain't going anywhere."
The real story of the event, however, was the ice. Just ask Pastrana's team mate Dave Mirra, who limped his Subie across the final mark literally dragging the front bumper and headlight assemblies after a late-stage altercation with a tree. Despite the crash, Mirra still salvaged a sixth place finish in a group of teams just happy to have finished at all. Many drivers remarked that conditions were the slickest they'd ever raced on; nearly every car showed at least some form of battle damage, and the situation was made worse by encrusted roadside snow banks that had the resilience of reinforced icebergs,
The bitter cold and slippery conditions didn't stop the crowds, however, which flocked to the stages en masse. Nor was it necessarily a local affair; Stephanie Monroe and her husband hopped a plane from Arcadia, California to attend Sno*Drift.
"After watching Travis Pastrana's rally car jump in Long Beach on New Year's Eve, both of us wanted to know more," she said. "I spoke to my husband about Sno*Drift 2010 and before I knew it, the trip was booked."
And of course, Sno*Drift is an unofficial car convention for enthusiasts who live to play in the snow, especially for the Subaru faithful. That's not to say the occasional Toyota Celica All-Trac or vintage Audi Quattro aren't welcome (see photo gallery), but even your author succumbed to the boxer rebellion, having spent the entire weekend driving and co-driving a 2002 WRX wagon. There's something to be said about bombing down the same tree-lined back roads that, two hours earlier, were the exclusive domain of drivers with much greater equipment—not to mention skill—than you have. Still, for just a few moments you think, yeah, I could've been a contender. And then you make a wrong turn and end up on a snowmobile trail.
Be sure to check out our Sno*Drift gallery for highlights and captions from the weekend, including rally action, cool cars, and the adventures in between.