New York 2012: Mazda Takeri Concept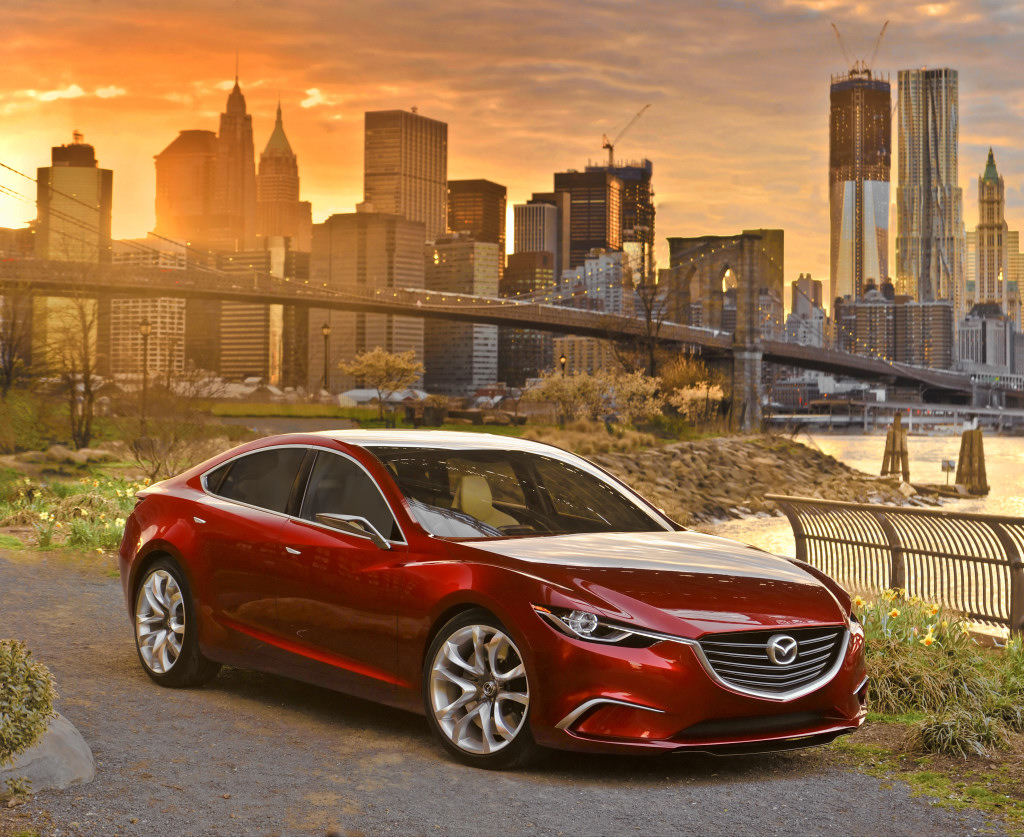 Officially, this is the Mazda Takeri Concept. Don't let the name fool you, though, this is essentially the 2014 Mazda6.
With the same Kodo design language that we first saw in production form on the
2013 CX-5
, the Takeri is a looker. The long, low profile is visually striking, and will hopefully translate well to production form.
A Skyactiv engine will be mated to a choice of a six-speed, Skyactiv manual (which, if the CX-5 and Skyactiv 3 are any indication, will be awesome) or a six-speed Skyactiv automatic. The end goal is a best-in-class fuel economy ranking, like the CX-5 achieved.
The 2014 Mazda6 will make its production debut at the 2012 Paris Motor Show in September.
Please scroll down for the official press release from Mazda.
2014 MAZDA6 TO BE MAZDA'S NEXT SKYACTIV TECHNOLOGY-BASED VEHICLE
All-New Mid-Size Sedan Expected to Go On Sale in 2013
NEW YORK (April 4, 2012) – Mazda North American Operations (MNAO) today will announce the production of the all-new 2014 Mazda6, whose design elements will be strongly influenced by the TAKERI Concept, also making its North American debut today, at the New York International Auto Show. Following last month's launch of the all-new 2013 Mazda CX-5, the 2014 Mazda6 will be the second of Mazda's next-generation vehicles to receive the full suite of SKYACTIV® technologies, and is expected to be released for sale during the first quarter of 2013.
"With SKYACTIV TECHNOLOGY and the SKYACTIV-G 2.0-liter gasoline engine, Mazda has showcased that improving engine and vehicle efficiencies can still produce a dynamic-performing driving machine, as evidenced by the 2012 Mazda3 and 2013 CX-5," said Jim O'Sullivan, president and CEO, MNAO. "The all-new 2014 Mazda6 will be the latest Mazda to break out of its segment's monotonous mold and be fiercely competitive versus the current sales leaders."
For North America, the 2014 Mazda6 will feature a SKYACTIV-G gasoline engine and be available with two transmissions, the SKYACTIV-MT six-speed manual and SKYACTIV-Drive six-speed automatic. Best-in-class fuel economy also is targeted, as was achieved on the CX-5 compact crossover SUV. Final specifications and pricing will be announced closer to the vehicle's sale date. The global lineup of the all-new Mazda6 is expected to make its world debut at the upcoming 2012 Paris Motor Show in late September.
Mazda North American Operations is headquartered in Irvine, Calif., and oversees the sales, marketing, parts and customer service support of Mazda vehicles in the United States and Mexico through nearly 700 dealers. Operations in Mexico are handled by Mazda Motor de Mexico in Mexico City. For more information on Mazda vehicles, visit the online Mazda media center at www.mazdausamedia.com. Product B-roll may be ordered online by visiting The News Market at www.thenewsmarket.com/mazda.