Mercedes-Benz Prices 2014 S-Class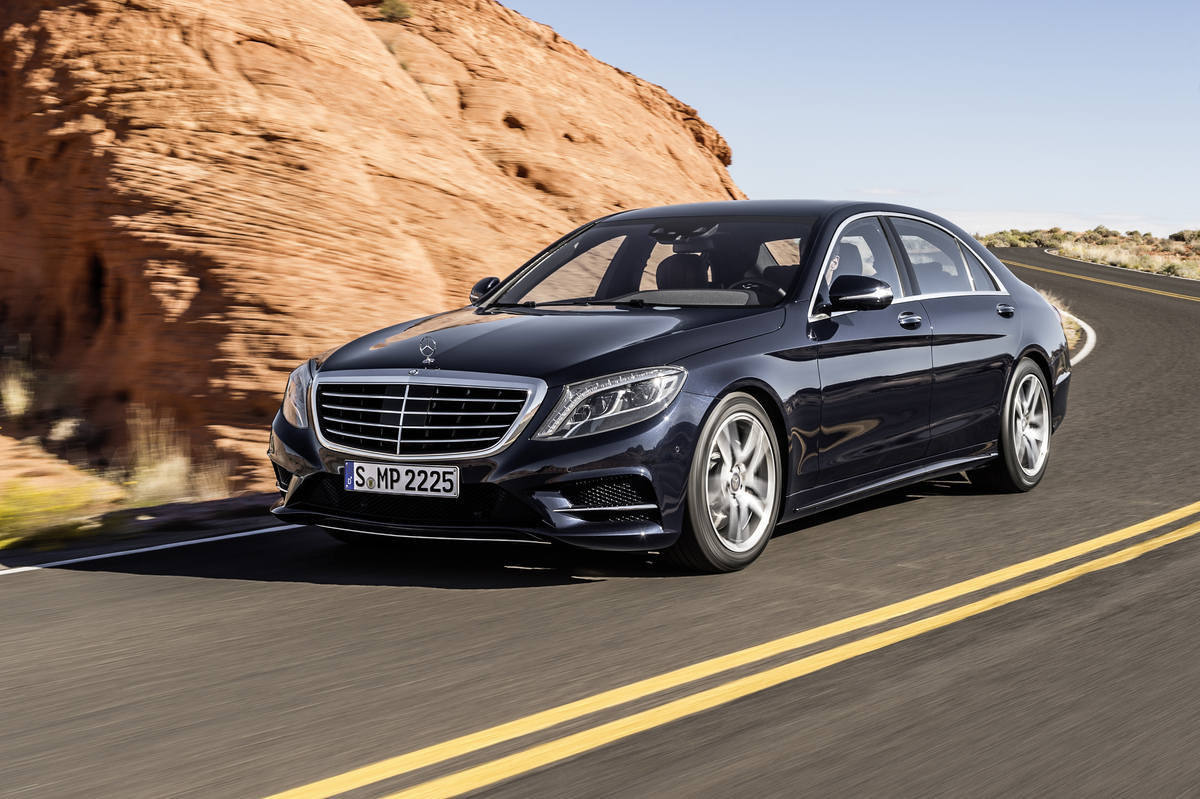 The S550 has a base price of $92,900 (plus $925 in destination charges), which undercuts the previous model's $95,000 price. With 4Matic all-wheel drive, the base price of the S550 goes up to $95,900. Those prices include some new standard equipment, such as a rear-view camera, panorama sunroof, interior and exterior LED lighting, keyless start, and Magic Vision Control. The new S550 also has 20 more horsepower than before.
The rear-drive S550 arrives in showrooms in October 2013, while the S550 4Matic goes on sale in November.
The 577-horsepower 2014 S63 AMG begins at $139,500, with 4Matic as standard. This top performer comes to market in November of this year.
Scroll down for more details in the press release, below, or visit our
Master Landing Page
for more information about the new S-Class.
Mercedes-Benz Announces Pricing on All-New 2014MY S-Class
Segment-Leading Flagship to Start at $92,900*
The all-new 2014 S-Class has raised the bar yet again within the automotive industry, featuring new levels of craftsmanship, refinement, and overall luxury. With a suite of intelligent safety and overall technologies that customers expect of Mercedes-Benz, its competitive position as an industry leader represents a price/value improvement of 2.8% vs. the outgoing model with an MSRP of $92,900* (the outgoing 2013MY model was priced at $95,000, a $2,100 difference).
Industry-Leading Luxury
The all-new 2014 S-Class appeals to all the senses. With its beautiful interior craftsmanship that features heated armrests and hot stone seating massage, ionized air purification via the AIR BALANCE PACKAGE, First Class rear-seat luxury, and a Burmester sound system, its character and overall presence is unmatched. Its fresh, confident, and sophisticated exterior design goes hand-in-hand with an intelligent suspension system called MAGIC BODY CONTROL, which sees the road ahead and adjusts the suspension accordingly.
"The S-Class is the embodiment of the four words which have served as the inspiration for our company since its inception, "The Best or Nothing." said Steve Cannon, President and CEO of Mercedes-Benz USA. "Every time we introduce a new generation, we have the opportunity to deliver more power, greater efficiency and unmatched safety, backed with an improved value proposition. Not only is the new S-Class the most intelligent car on the road, it's also a smart choice."
Industry-Leading Active and Passive Safety: Intelligent Drive
Mercedes-Benz focuses on real-world safety with the goal of accident-free driving, and the S-Class offers a portfolio of more than 30 standard and optional active and passive safety technologies called Intelligent Drive. For example, the Driver Assistance Package, available for $2800 in the 2014 S-Class and 2014 EClass sedan, wagon, coupe, and cabriolet, offers the following content:
DISTRONIC PLUS with Steering Assist: radar-based cruise control system with semi-autonomous steering inputs that can work from 0-124 mph depending on road conditions.
PRE-SAFE Brake: Autonomously brakes the vehicle up to 31 mph with or without driver input, and can partially mitigate accidents up to 45 mph.
PRE-SAFE PLUS: rear-facing radar that senses possible rear collisions and prepares the vehicle for a possible secondary incident into an active intersection.
BAS PLUS with Cross Traffic Assist: reads cross-traffic encounters with stereoscopic cameras and adds appropriate brake assistance to prevent an incident in an active intersection.
Active Lane Keeping Assist and Active Blind Spot Protection: one-sided braking.
Other Intelligent Drive safety features include Attention Assist and Night View Assist Plus with human and animal detection.
Segment Leadership in Overall Value
The 2014 S-Class base price starts at $92,900,* which represents a 2.8% price/value improvement over the outgoing model year 2013 version. Some of the new standard equipment includes 20 more hp, rearview camera, Panorama Sunroof, All-LED lighting (entire vehicle, inside/out), Keyless Start, and MAGIC VISION CONTROL. The combination of competitive pricing, luxury, technology, and overall content is compelling.
The high-performance S63 AMG 4MATIC will be priced at $139,500* with a 4.5% price/value improvement over the outgoing 2013 version. Pricing on the new model now includes standard 4MATIC all-wheel drive and 577 hp. The outgoing MY2013 S63 rear-wheel drive model was priced at $140,000 without all-wheel drive and with 536 hp as standard (563 hp with the optional performance package).
In calendar year 2014, more powertrain and body style variants of the S-Class will make their respective debuts at various periods of time.
Fall 2013 S-Class Lineup
2014 S550 – $92,900* – October 2013 Launch
2014 S550 4MATIC: $95,900* – November 2013 Launch
2014 S63 AMG 4MATIC: $139,500* – November 2013 Launch
* excluding MY2014 $925 destination/delivery charge