McLaren Unveils Its 2010 Formula 1 Car, The MP4-25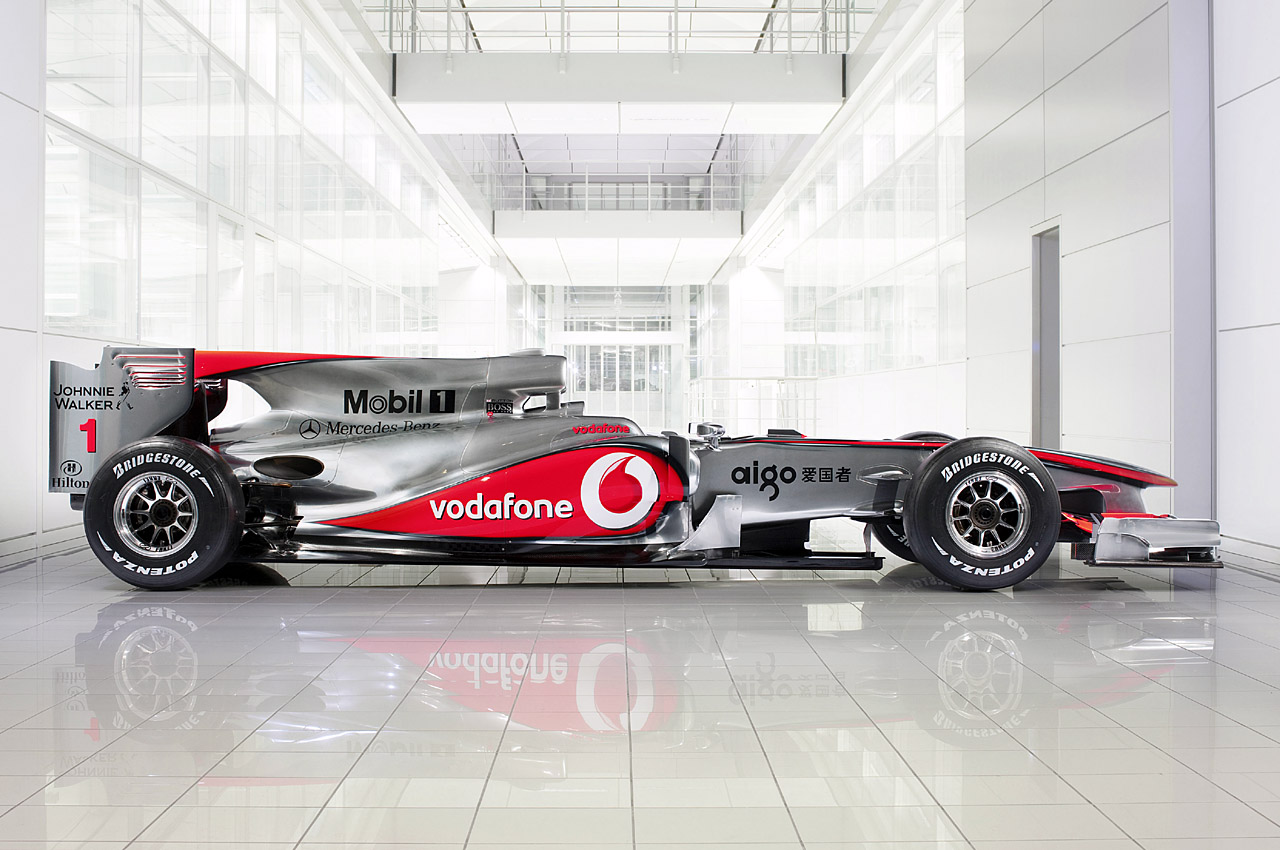 In 2009, McLaren took third place in the Formula 1 World Champion with its MP4-24 race car, only shadowed by Brawn GP and Red Bull Racing. But now, for the 2010 season, the team has a really superb driver lineup (Lewis Hamilton and Jenson Button), and an all-new MP4-25 race car to set out on the track.
Power once again comes from a Mercedes-Benz-sourced V-8, and McLaren says that the 25 features "a radical aerodynamic overhaul," along with a much larger fuel tank than the previous car. McLaren is pretty confident that the MP4-25 will perform to its full expectations, but we'll have to wait and see for ourselves.
Scroll down to read the official press release, and click through our attached gallery to see larger photos of the MP4-25.
PRESS RELEASE
The Vodafone McLaren Mercedes team today revealed its brand new MP4-25 chassis – the car in which reigning world champion Jenson Button and Lewis Hamilton will contest the 2010 FIA Formula 1 World Championship.
Unveiled at Vodafone UK's stunning headquarters in Newbury, the 2010 car looks noticeably different from last year's race-winning MP4-24. MP4-25 features a radical aerodynamic overhaul and a significantly larger fuel tank to take full advantage of this year's new regulations, and its design team is confident it has explored every possible avenue to maximise the car's performance.
Horsepower once again comes from our friends in Stuttgart. Mercedes-Benz's FO 108X V8 subtly improves upon an engine which has become the benchmark in Formula 1, winning the last two drivers' world championships.
The team kicks off its 2010 campaign with a stunning driver pairing: 2009 world champion Jenson Button and 2008 title winner Lewis Hamilton. It is the first time since 1989 – when it ran Alain Prost and Ayrton Senna – that the team has fielded a joint-world champion driver line-up, and marks the first time in Formula 1 history that the sport's two most recent world champions have been partnered together.
However, the driver line-up represents only a fraction of the team's remarkable strength in depth. Members of the design team who contributed to the development of MP4-25 can also trace their involvement back through an incredible seven drivers' world championships, five of the team's eight constructors' world championships and 112 of the team's 164 grand prix victories.
The Vodafone McLaren Mercedes team begins pre-season testing with MP4-25 at the Circuit de la Comunitat Valenciana Ricardo Tormo on Monday.