Mazda Sets Unofficial Lap Record At Daytona In RT-24P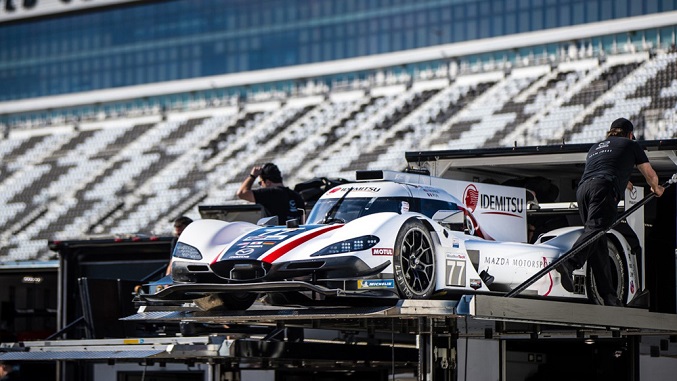 Racer.com
Reported by Marshall Pruett over at Racer.com, Mazda Motorsports has set the unofficial lap record at Daytona International Speedway's 3.56-mile roval at the Roar Before the 24. The brutal 1:33.324 was put down by Olivier Pla in the #77 RT-24P DPi car, fresh out of the wrap shop with a beautiful Mazda Motorsports and Idemitsu livery (proudly displaying their new 2020 partnership). While it was set during an official qualifying session, it will not overturn Acura's 1:33.398 set during last year's Rolex 24 qualifying.
Acura was not far off from Mazda this year at the RBT24, with Team Penske clocking in a time just 0.219 slower with their #7 ARX-05 piloted by Juan Pablo Montoya. Barely a whisker faster than Mazda Team Joest's record of 1:33.685 over the same weekend. The top 5 times from this past weekend are awfully close to each other; this year's Rolex 24 is shaping up to be one heck of an event that will surely be looked back on for years to come.
Elsewhere in grid, Daytona 24 2019 GTLM second place finishers Risi Competizione set the fastest qualifying lap in GTLM with their their trusty ol' Ferrari 488 steed with a 1:42.685, ahead of a Porshe RSR driven by Nick Tandy (.001 of a second slower!). Of the two, the Ferrari is the only non-factory entry.
Risi Competizione driver James Calado summed up the excitement and anticipation produced by the RBT24 perfectly. From Racer.com:
"'I think putting a qualifying session in the Roar spices thing up and makes it real interesting,' Calado said. 'It gives a taste of what is to come, and it's nice to have that little bit of pressure. It's where you see the cars at their quickest as well. When it's that close, it's extremely competitive. If you saw big gaps, the racing wouldn't be as fun. The main priorities of the Roar is to make sure the car is reliable and make sure we have a good setup. But this little qualifying session gives us a chance to perform.'"