Mazda Previews 2013 CX-9 Ahead Of Down Under Debut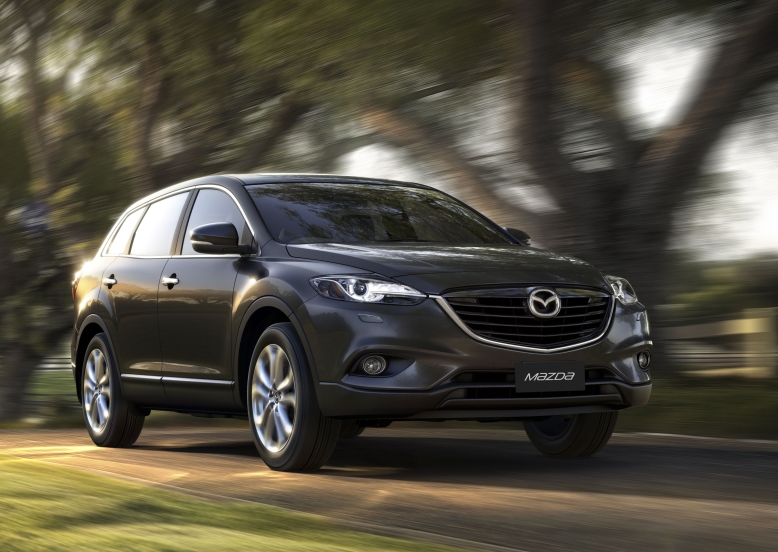 That whole "beauty is in the eye of the beholder" sentiment rings pretty true, especially when it comes to cars. The Nagare design language (you probably know it as the smiley face front grille on all Mazdas) on the outgoing generation of the Japanese manufacturer's lineup that garnered rather lukewarm acceptance, is being phased out in favor the more muscular Kodo design theme. Kodo has already been shown on the
CX-5
and
all-new Mazda6
, and now the
full-size CX-9
will be benefiting from the restyling.
While the range-topping Mazda crossover isn't set to receive a full public debut until the Australian Motor Show next month, we have a few preliminary details on what the refreshed 2013 CX-9 will feature courtesy of a Mazda press release. We can expect a full compliment of safety and entertainment technology, as well as Mazda's i-ELOOP regenerative braking system. When it is launched later this year, the CX-9 will be the first Mazda to feature i-ELOOP.
Under the hood, the CX-9 will come equipped with a 3.7-liter V-6 engine mated to a six-speed automatic transmission. Customers will likely have the option to order their car with all-wheel-drive. Keep an eye out for all the new CX-9's details when the Australian Motor Shows kicks off on October 18.
Please scroll down for the official press release from Mazda.
2013 Mazda CX-9 World Premiere at Australian International Motor Show

– Incorporating elements of KODO design with Mazda's new family face –
HIROSHIMA, Japan-Mazda Motor Corporation will hold the world premiere of the refreshed Mazda CX-9 crossover SUV at the 2012 Australian International Motor Show.
Held in Sydney, the 2012 Australian International Motor Show begins October 18 and runs through to October 28, 2012. The 2013 CX-9 will be launched in Australia later this year.
Mazda CX-9 is a crossover sport-utility SUV featuring a distinctive sporty appearance, a high-quality cabin, the flexibility of three-rows, and Mazda's exciting "Zoom-Zoom" driving dynamics. The current CX-9 has sold over 210,000 units* in 74 countries, including North America and Australia, as Mazda's range-topping SUV.
The 2013 Mazda CX-9 carries over the utility and dynamic driving performance of the current model while adopting Mazda's "KODO – Soul of Motion" design theme at the front and rear for even sportier styling and stronger presence. Enhancements in craftsmanship and interior design further the feeling of quality and refinement. With regard to equipment, the infotainment system features the latest audio, navigation and speech-recognition systems based on the Human Machine Interface (HMI) which is intuitive to use. In addition, advanced active-safety features, such as Forward Obstruction Warning System, Lane Departure Warning System, and High Beam Control System, help drivers recognize and avoid danger.
As with the current model, the 2013 CX-9 features the MZI 3.7-liter V6 engine and a six-speed automatic transmission for powerful and refined driving pleasure.
The all-new Mazda6 (known as Atenza in Japan) will also make its Australian premiere in Sydney. It is the second of Mazda's new generation of products that adopt the full range of SKYACTIV technologies and the KODO – Soul of Motion design theme. It is the first model to be equipped with Mazda's unique brake energy regeneration system, i-ELOOP.
The 2012 Australian International Motor Show will open to the press on October 18, and to the public from October 19 to 28, 2012. Mazda will hold its press conference on the morning of Thursday, October 18 from 9:12 to 9:22 local time.