Mazda Drives To Second Place In Rolex 24 At Daytona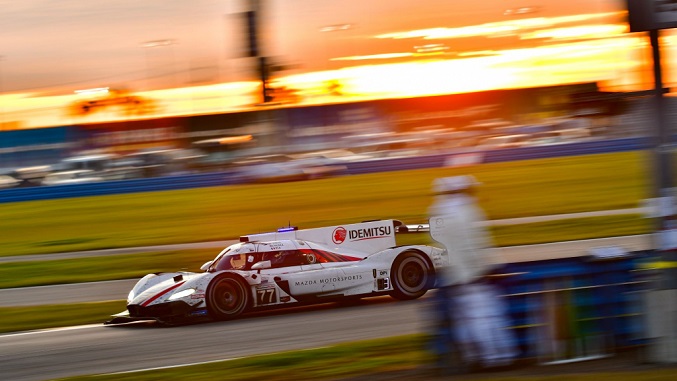 mazdausa.com
Mazda earned its best overall finish this past weekend at Daytona! Achieving 2nd and having led 190 laps of the grueling race, every member of the crew and driving team has a ton to be proud of. Check out the press release below from mazdausa.com:
DAYTONA BEACH, Fla. (January 26, 2020) – Two Mazda RT24-Ps battled over 24 hours of racing at Daytona International Speedway to record the company's best overall finish at the Rolex 24 at Daytona.
The No. 77 Mazda RT24-P driven by Oliver Jarvis, Tristan Nunez and Olivier Pla finished in second position, completing 833 laps over the 24-hour race. Jarvis qualified the car on pole position, and from the drop of the green flag it was a factor for the victory, leading 190 total laps in the race.
mazdausa.com
Nelson Cosgrove, Director of Mazda Motorsports, had some great things to say about the teams efforts: "It's a great day for our program to finish on the podium at Daytona and to bring both cars to the checkered flag. One of our goals for this season is to win one of the endurance races, and this result shows that the work that the team has put in during the off season has paid off. No one team in the field had a perfect day, but our guys had to be patient and battle back from the adversity they faced throughout the race. It's a great result for Mazda and one that every person on the team should be proud of."
After having to serve a penalty just before the halfway point of the race, the team's three drivers battled back into contention for the win and ran in second position throughout the final hours of the race, with Jarvis ultimately taking the checkered flag one minute and five second behind the overall winner. This result improves on Mazda's previous best overall finishing position, which was fifth place in 1989 with a Mazda 767B.
The No. 55 Mazda RT24-P driven by Jonathan Bomarito, Ryan Hunter-Reay and Harry Tincknell overcame a challenging race to finish in sixth position. The drivers had to battle back from incidents in traffic and were slowed by damaged bodywork as well as a penalty, but remained in contention for the victory throughout the race. Although it was slowed by a mechanical problem in the final hours, the No. 55 Mazda RT24-P finished the race in sixth position and collected valuable championship points.
The next round of the IMSA WeatherTech SportsCar Championship is the 12 Hours of Sebring at Sebring International Raceway on March 21.