Lotus To Launch Lifestyle Clothing Line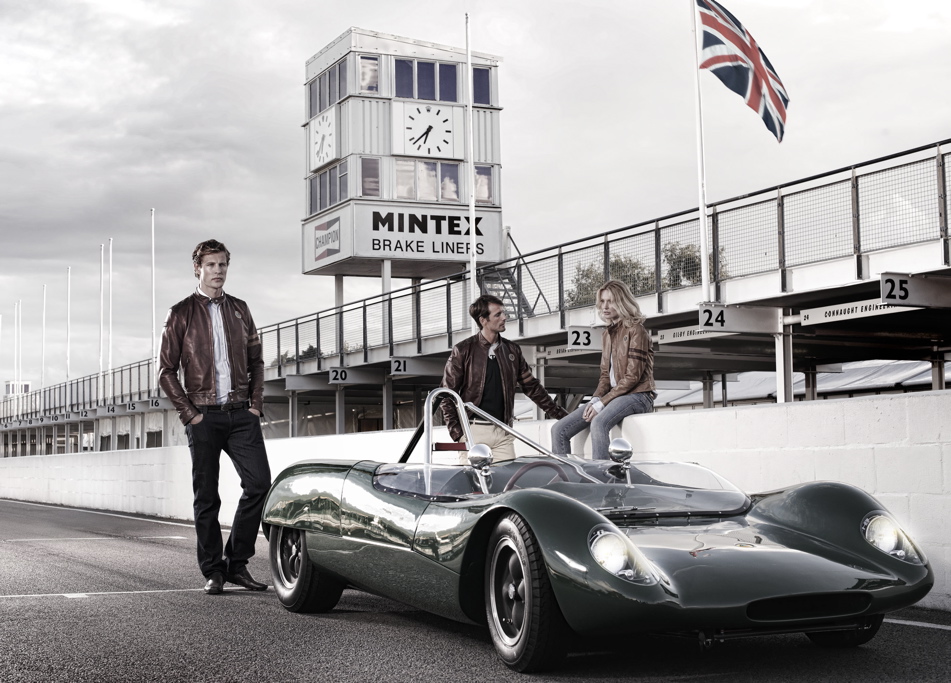 As plans go ahead for
Lotus to launch its reinvented model range
, the UK-based manufacturer of lightweight sportscars has announced plans for an upmarket clothing range. Named Lotus Originals, the clothing range is designed to "really capture the true spirit of our iconic British brand," according to Director of Licensing and Merchandising Wiebke Bauer.
The range of new clothing products includes outerwear, knitwear, polos, t-shirts, and a variety of leather items. Lotus is claiming that the inspiration for the new line comes from the brand's racing and sportscar history. Some items feature embossing meant to resemble tire treads, while others feature white armbands reminiscent of race track markings.
The range will receive its official launch
online
on February 23, to coincide with London's Fashion Week festivities. A flagship store is planned to open later this year in London.
Please scroll down for the official press release from Lotus.
Who Says You Can't Buy Style?
Lotus launches luxury lifestyle concept – Lotus Originals
February 2011 will mark the launch of new luxury lifestyle brand, Lotus Originals. Inspired by the Lotus DNA of innovation and design excellence, the debut collection is a range of performance outerwear, refined, luxury knitwear and leather goods that reflect the craftsmanship, heritage and spirit of Lotus. Lotus Originals will be exclusively available from the Lotus website (www.lotusoriginals.com) from February.
The launch of the new range is a natural step in the repositioning of Lotus as a lifestyle brand. As the saying goes, the devil is in the detail and the Lotus Originals range is no exception to this. Lotus have carefully hand picked the very best suppliers and materials to work with ensuring that the range reflects the future of Lotus. Those who appreciate the finer things in life can indulge themselves with 100% cashmere sweaters and hand-treated leather in the form of a stunning leather jacket, inspired by the 1970s drivers' suits.
Wiebke Bauer, Director of Licensing and Merchandising for Lotus said: "Our goal with the Lotus Originals concept was to create a range of apparel and accessories that really capture the true spirit of our iconic British brand. Lotus Originals isn't just for traditional car enthusiasts, on some of the pieces the branding is very subtle allowing the style and quality to shine so we hope that it will appeal to a much broader audience. We have developed a collection that is luxurious in a classic, understated way so it is easy to wear every day yet still make you feel part of our very special brand."
Motor racing and sports car heritage have been used as inspiration for the collection. For example selected pieces are textured in a stylised way to signify tyre treads whilst elsewhere a white 'armband' design shows the interpretation of race track markings. Throughout the collection each piece is detailed thoughtfully to reference the brand's unique DNA and automotive history. Polo shirts and T-shirts feature double stitch edging and a playful approach to branding, with vintage Lotus logos, racing stripes and car silhouettes. Block colour numbers relate to the dates of famous racing victories of the 1960s and 70s, as well as 1948 – the year that Lotus founder Colin Chapman built the first car.
The clothing collection is accompanied by a range of Lotus Originals lifestyle accessories. Hand-crafted luggage is available in sumptuous tan leather or lightweight canvas and calfskin leather driving gloves in tan, black, Lotus green and bright yellow are the ultimate driver's indulgence. Exclusive gaming sets in lacquered carbon fibre and leather wallets, belts and luxury desk accessories are also available as part of the Lotus Originals lifestyle range.
The Lotus Originals collection will be exclusively launched online at www.lotusoriginals.com on February 23, 2011 to mark London Fashion Week's Menswear Day.
A London flagship store is scheduled to launch towards the end of 2011.