Local Motors Currently Building a Crowdsourced Sports Car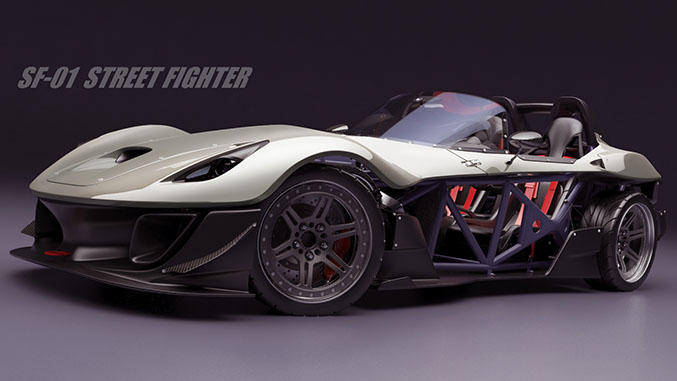 Best known for the
Rally Fighter
– a Road Warrior-esque, V8-powered offroader – Local Motors recently set their sights on designing a new street legal, track-focused sports car. However, instead of giving Local Motors' own designers the task of creating the concept, they instead turned to the enthusiast community, holding a design challenge to create a light weight, modular, and affordable sports car based around platform guidelines provided by Local Motors engineers. After receiving more than 200 entries, Local Motors chose the SF-01 Street Fighter, penned by Greg Thompson. Featuring inboard suspension, tubular bodywork, the ability to accept engines ranging from an inline four cylinder to a V8, and some eye catching bodywork, it's not hard to see how Greg's concept became a favorite amongst the community and the Local Motors judges.
When first announcing the challenge, Local Motors included the full requirements for the design
here
, but we've narrowed them down to some of key elements:
A two-seat side by side configuration
Front engine, center mounted transmission, rear wheel drive
No doors, no roof
Wheelbase between wheel axes front to rear must be between 2270mm (89 3/8 inches) and 2570mm (101 1/8 inches)
Centerline of tires must be between 1295mm (51 inches) and 1549mm (61 inches) apart
Should accommodate a turbocharged four cylinder engine producing approximately 250 hp
Independent front and rear suspension
Total build cost under $30,000
In the end, Greg's design won out with Local Motors judges despite the
LM Track Fighter
being the top pick among the community votes due to the Street Fighter's "beautiful design featuring an exposed frame and strategic use of body panels to create a dynamic design that definitely turned a few heads… even on the computer screen."
Here's what Greg had to say about the Street Fighter when he submitted the design for consideration:
"The SF-01 aims to be the ultimate affordable high performance track enthusiast platform on the market. This sports car will be the first in a line of vehicles based on a strong light weight tubular frame that is both suited for inspired commuting and track day events and approved race series. Featuring unique inboard suspension and the ability to accommodate various engines including Inline 4's, Inline 6's, V8's and more all within a mid engine front orientation layout.
The SF-01 combines the best in light weight performance with the practical needs required to use the vehicle as a sparse and enjoyable commuter. The longest wheel base configuration was chosen for the SF-01 for several reasons. One, it allows for a roomier engine bay. This allows a larger variety of engine candidates while still keeping a mid-engine layout. Another reason is to allow for a lower frontal cross section from the bodywork. This provides better aerodynamic stability, performance, and gives the SF-01 more of a rear engine stance and look."
For winning the design challenge Greg will receive $7500 and royalties for every Street Fighter sold. Local Motors has already begun the process of the research and development required to turn Thompson's concept into a real vehicle, and you can follow the process via the
project website
.