Like Clockwork: BMW Team RLL Scores Second Win At Daytona In GTLM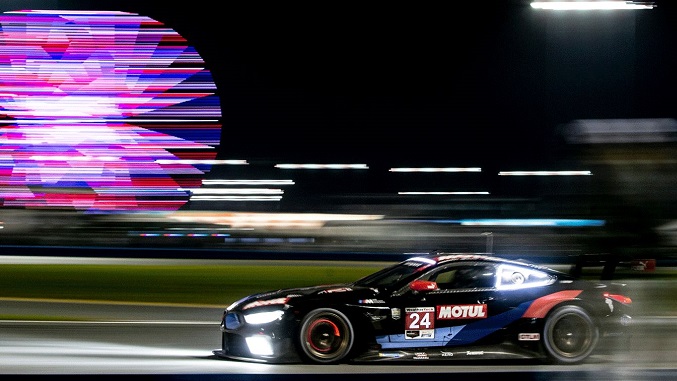 BMWMotorsport
BMW Team RLL ran one heck of a race at Daytona over the weekend. It was great watching the lumbering-yet-limber #24 M8 battle it out with the #912 and #911 Porsche 911 RSRs, because on paper one would expect the high-winning-ratio factory RSRs to make quick work of it. But Team RLL had other plans, and its definitely a testament to their crew and driver lineup.
As Chris Medland discusses in this Racer.com article, it was a very stressful race. Due to the lack of yellow flags throughout afternoon, evening, and morning, they had to be on it for the entire twenty-four hours. This wasn't just a long-game type of strategy, but also a (very long) sprint strategy.
Augusto Farfus, who co-drove the #24 car, had an excellent quote in Medland's: "It was a 24 hour sprint race. There was no time to rest, no time to save (the car) because it was all about pushing to the limit. Sometimes saving fuel, sometimes attacking to the maximum. The race was very fast because we didn't have a lot of yellow, so it was very stressful — there was no room for mistakes."
"This year, I have to say, we did a perfect race," Farfus continued. "All the calls, all the pit stops, all the drivers — we didn't do a single mistake; we didn't put a single wheel on the grass; and it paid off.
"We had to push. This was different to other 24 hour races where sometimes you have to kind of manage and just look to the end. This one, we didn't know the winner until the last lap probably! The gaps were always within 10 seconds, and we were always pushing."
BMWMotorsport
Unfortunately, the #25 sister car ran into issues on track: an oil line was severed by on-track debris. Though, had the large coupe not suffered this fate, it might've filled the #2 spot on the podium with ease (or grabbed the lead), considering how well the team worked together. Considering the car had to come in for repairs during such a tight race, 5th place is still commendable.
There was tons of talent taking shifts driving the two cars throughout the race, including two-time 2019 IndyCar race winner Colton Herta. Another member of the team who will be racing this weekend at the Liqui-Moly Bathurst 12 Hour is Australian Chaz Mostert, who won the 2014 Bathurst 1000. Talk about one heck of a busy schedule. Next up in North America is Sebring, where despite being half as long, will present its own special brand of challenge for drivers across all classes.