Leica M9 Titanium Camera Designed By Walter de'Silva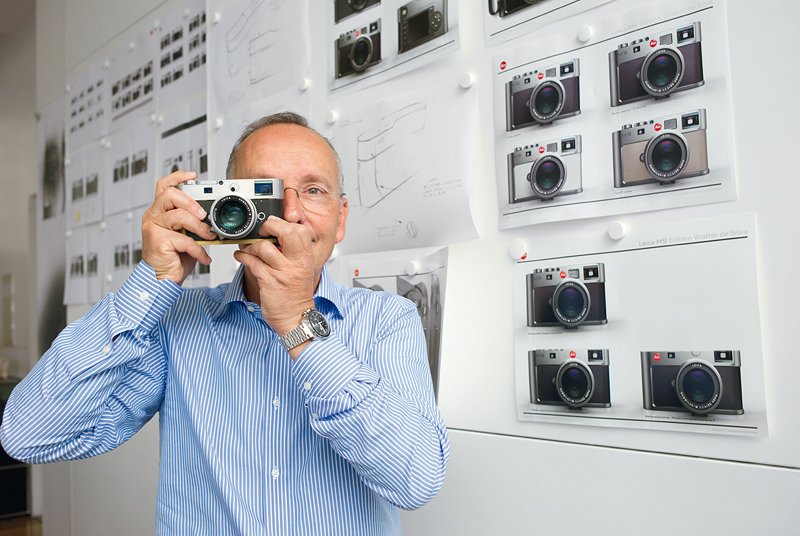 Leica's new M9 limited edition camera was designed by Volkswagen Group's chief designer, Walter Maria de'Silva. A photographic tool, as well as a collector's item, the Leica M9 is constructed of titanium, limited to 500 units, and offered as a set with a Leica Summilux-M 35mm f/1.4 ASPH lens.
In addition to the use of strong, lightweight titanium, the camera monitor is protected with scratch-resistant sapphire-crystal glass, and camera trim comes in the form of Audi-interior leather.
Special attention even went into the carrying concept of the Leica M9 Titanium, which features a single mounting point on the camera body, and an ergonomic, leather-clad metal finger loop. The specially designed holster, also made of Audi leather, offers a practical and stylish way to tote the M9. The set comes in a handcrafted black case, lined in red Alcantara microsuede.
Often, we find gadgetry specially designed by automotive professionals, and they usually are products near and dear to car lovers, such as limited edition timepieces. Photography is another art that goes hand in hand with the love of cars, and de'Silva's Leica M9 is a fitting tribute to collectors and photographers, particularly within the automotive world.
Technical data from Leica follows.
Technical Data
As a special edition of the world's most compact, full-format, digital system camera, the Leica M9 Titanium offers its users the sheer pleasure of photography with the unchallenged precision of the Leica rangefinder and the best 35-mm format lenses the world has ever seen. An 18-M P image sensor with specially arrayed microlenses and image capture in future-proof DNG format guarantee excellent imaging results in full Leica quality.
Leica M9 Titanium
Camera type
Compact digital view- and rangefinder system camera.
Lens mount
Leica M bayonet with additional sensor for 6-bit coding.
Lens system
Leica M lenses from 16-135 mm.
Picture format / image sensor
5270 x 3516 pixels (18.5 MPixels) CC D chip, active area approx. 23.9 x 35.8 mm / 5212 x 3472 pixels (18 MPixels) (corresponds to the usable format of analog Leica M models).
Sensitivity range
ISO 80/19° to ISO 2500/35°, adjustable in 1/3 ISO steps; with aperture priority A and manual exposure modes, choice of automatic control or manual setting, with snapshot profile automatic control.
Exposure metering
Through the lens (TTL ), heavily center-weighted with working aperture. Center-weighted TTL metering for flash lighting with system-compatible
SCA- 3000/3002 standard flash units.
Metering range
(for ISO 160/23°) At room temperature and normal humidity
EV 0 to 20, or f/1.0 and 1.2 s to f/32 and 1/1000 s. Flashing of the left triangular LED in the viewfinder indicates values below the metering range.
Exposure mode
Choice of automatic shutter speed control with manual aperture selection – aperture priority A – with corresponding digital display, or manual setting of shutter speed and aperture and adjustment using LED light balance with indication of correct exposure, or risk of over/ underexposure (with snapshot profile only).
Flash exposure control
Flash unit connection Via accessory shoe with center and control contacts.
Flash synchronization speed
= 1/180 s; slower shutter speeds possible.
Flash exposure metering
(with SCA- 3501/3502 adapter or SCA- 3000 standard flash unit such as Leica SF 24D / Leica SF 58) Control with center-weighted TTL- pre-flash metering.
Flash exposure compensation
±31/3 EV in 1/3 EV steps settable on the SCA- 3501/3502 adapter. On Leica SF 24D, ±3EV in 1/3 EV steps with computer control, or from 0 to –3EV in 1EV steps / on Leica SF 58 settable in all modes ±3EV in 1/3 EV steps.
Viewfinder
Viewfinder principle Large, bright-line frame viewfinder with automatic parallax compensation.
Image field indication
By activating two bright-line frames each illuminated with LEDs: For 35 and 135 mm, or for 28 and 90 mm, or for 50 and 75 mm. Automatically switched when lens is attached.
Parallax compensation
The horizontal and vertical difference between the viewfinder and the lens is automatically compensated according to the relevant distance setting, i.e. the viewfinder bright-line frames automatically align with the subject recorded by the lens.
Matching of viewfinder and actual picture
The size of the bright-line frames correspond to the sensor size of 23.9 x 35.8 mm at a setting distance of 1 meter. At infinity setting, depending on the focal length, approx. 7.3% (28 mm) to 18% (135 mm) more is recorded by the sensor than indicated by the corresponding bright-line frame and slightly less for shorter distance settings than 1 m.
Enlargement
(for all lenses) 0.68x.
Large basis rangefinder
Split or superimposed image rangefinder shown as a bright field in the center of the viewfinder image.
Effective measurement basis
47.1 mm (mechanical measurement basis 69.25 mm x viewfinder enlargement 0.68x).
Displays
Viewfinder
LED symbol for flash status. Four-digit seven-segment digital display for exposure control. LED light balance with two triangular and one central circular LED for manual setting of exposures.
On the rear panel 2.5 inch monitor (color TFT LC D) with 230,000 pixels, protected by scratch-resistant sapphire glass cover.
Shutter and shutter release
Shutter Microprocessor-controlled, exceptionally low-noise, vertical travel metal blade focal plane shutter.
Shutter speeds
In aperture priority mode (A) steplessly from 32 s to 1/4000 s. Using manual setting 8 s to 1/4000 s in half steps, B for long exposures of up to 240 s (together with auto release
T function, i.e. first release = shutter opens, second release = shutter closes), shortest shutter speed for flash synchronization 1/180 s.
Series exposures
Approx. 2 pictures/s, approx. 8 pictures in series.
Shutter release button
Three steps: Exposure metering on – Metering memory lock (in aperture priority mode) – Shutter release.
Camera body
Material
External parts made of solid titanium with special coating to protect against fingerprints. Partially covered with slip-resistant calf leather.
Tripod thread
A ¼ (¼ inch) DIN made of stainless steel in bottom cover.
Operating conditions
0 to +40 °C / 32 – 104 °F
Dimensions
(width x depth x height) approx. 141 x 43 x 82 mm
Weight
approx. 335 g (incl. battery)
LEICA SUMMILUX-M 35 mm f/1.4 ASPH.
Angle of view
(diagonal, horizontal, vertical) 63°, 54°, 38°.
Optical design
Number of lenses/groups: 9 / 5
Aspherical surfaces: 1
Position of entrance pupil (from apex of 1st lens element): 16.8 mm.
Distance setting
Operating range: 0.7 m to ∞.
Scale: Meter graduation
Smallest object field/maximum scale: approx. 420 x 630 mm / approx. 1:17.5.
Aperture
Setting / functioning: Indexed setting, intermediate values available.
Lowest value: 16.
Bayonet
Leica M quick-change bayonet with 6 Bit bar code lens recognition for digital M models.
Viewfinder
Camera viewfinder.
Material
External parts made of solid titanium with special coating to protect against fingerprints.
Dimensions and weight
Length (to bayonet mount; without / with lens hood): approx. 46/59 mm
Largest diameter: approx. 56 mm
Weight: approx. 335 g.